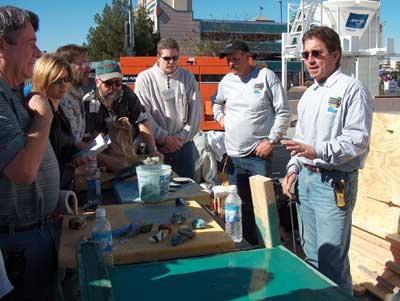 Tom Ralston is a third generation concrete contractor who has made decorative concrete his vocation and avocation. Tom is an author on concrete countertops and has been on the Decorative Contractors Board of Directors. Tom has taught seminars since 1996 and continues to do so and has been consulting on concrete matters for over 20 years.
Due to his extensive knowledge and the many unique and wonderful concrete projects that Tom has built and been a part of, he has been asked to be an expert witness on occasions. Tom's expertise has taken him to New York, North Carolina, Georgia, Panama and will soon be in Aruba for consulting work. There are very few people in the Decorative Concrete Industry that do not know of Tom Ralston's work.
You too can benefit from Tom's extensive knowledge for consulting.
Tom can be reached at his office in Santa Cruz, CA at 831-426-0342. More contact methods.