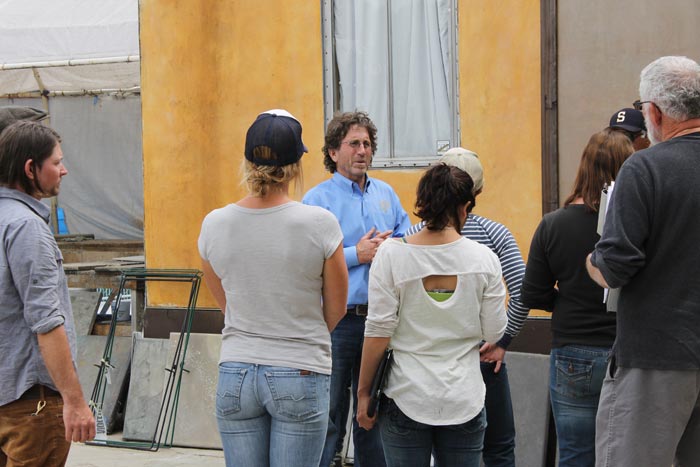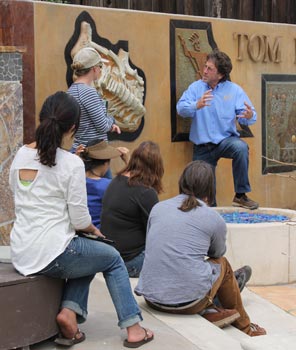 April 2014 - Local community college Cabrillo College Landscape class taught by Michael Arnone had a special seminar by Tom Ralston at the Tom Ralston Concrete "show yard."
There were approximately 12 students that attended while Tom presented decorative concrete, trends in decorative concrete, and concrete and art in public works.
Tom Ralston has hosted Landscape Architect Michael Arnone's Cabrillo College Horticulture class at the Tom Ralston Concrete Yard for the past several years. Students are never disappointed as they are led through the TRC office and grounds where many exotic decorative concrete samples are exhibited throughout the compound. The "gallery" has samples that have been grouted and stand proud in acid stained stucco walls in fern green and amber colors.
The lit firepit adds to the ambiance as Tom speaks about his concrete passion to attendees that are showered with interesting and amusing anecdotes about the adventures they can look forward to when working with decorative concrete in conjunction with landscaping.
Tom is serious and playful at the same time during seminars and his sense of humor keeps the class amused while being taught and informed.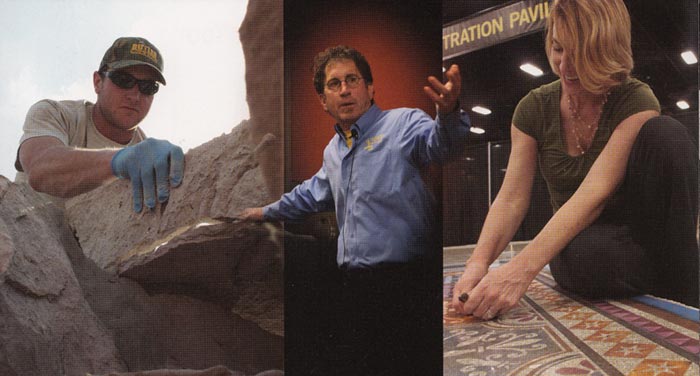 September 2013 - Columbus, Ohio, California Businessman Tom Ralston of Tom Ralston Concrete presenting at the Annual Conference for American Society of Concrete Contractors.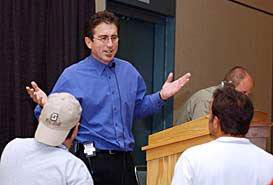 This year's convention boasted over 70,000 attendees, with people traveling from all over the world to learn the latest trends and innovations in the concrete industry. Tom's informative discussions on concrete countertop fabrication and concrete acid staining, both hot new trends in concrete construction, were among the convention's most popular. It was a packed house at Tom's concrete countertop seminar with many attendees forced to stand in the aisles once seating was filled, and in the end convention organizers were actually forced to turn people away for lack of space. Tom has also been giving similar seminars in San Francisco since December 2003 and would invite any homeowners interested in beautifying their homes to attend.
General Information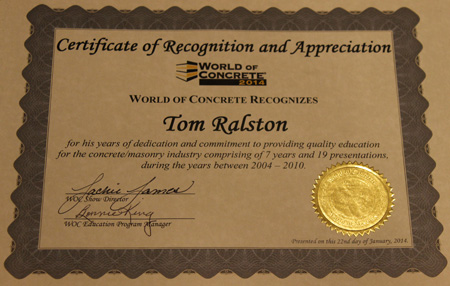 Tom Ralston has hosted, created and given various seminars on decorative concrete for over 15 years. For over 8 years Tom presented seminars at the World of Concrete in Orlando and Las Vegas. On 23 February 2012 Concrete Décor Magazine hosted an Event for decorative concrete which was held in San Antonio Texas. Tom created and presented the seminar "Sculpting Hillsides with Decorative Concrete". The name for this particular seminar will also be the title of Tom's new book that Tom hopes will serve to help other Decorative Concrete contractors as well as providing insight for anyone interested in Hillside applications for concrete and masonry. The book is scheduled for distribution sometime in April of 2014.
Providing and Hosting Seminars for Architect's Continuing Education, Construction Firms and Schools
In September 2011 Tom hosted a seminar and event at Tom Ralston Concrete for the Northern California Landscape Architects Association. It should be noted that Tom has presented seminars on Concrete Countertops, Decorative Hardscapes, Concrete Basics and Acid Staining. Tom has also spent time traveling to provide in-house seminars at various Architectural firms. These classes can be used as credit for an Architect's continuing education requirements. At various times Tom has traveled to Chico State University and to Cabrillo College to present seminars on an array of subjects that relate to decorative concrete. Tom is also on the Board of Directors at Cabrillo College for their construction management courses. Upon request and depending on availability, Tom can host seminars for Groups of Architects, Construction Firms or Schools.
Seminars at Tom Ralston Concrete
Tom and Tom Ralston Concrete have also hosted "demonars". A demonar is in the Decorative Concrete vernacular which provides a place where interested people are not only shown various applications and techniques, they are also encouraged to participate by making a variety of concrete samples.
Any upcoming Seminar or Demonar that Tom or Tom Ralston Concrete will either be providing or hosting will be posted on our website. Tom is also available for consulting and anyone interested should call Tom Ralston Concrete at 831-426-0342 or This email address is being protected from spambots. You need JavaScript enabled to view it..