News
Details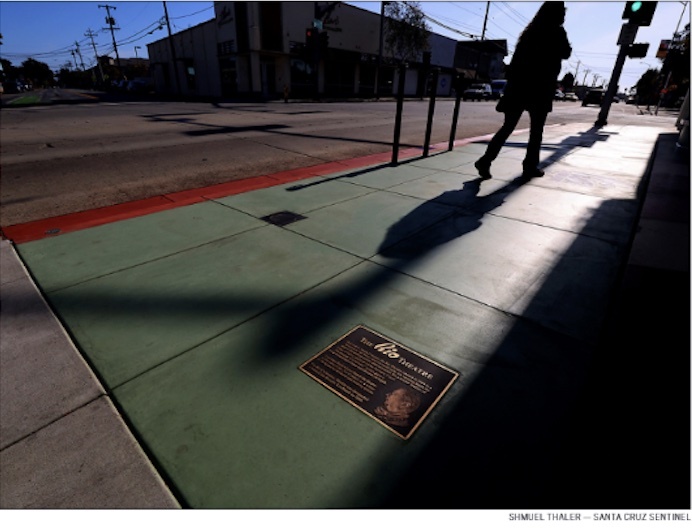 Front Page Feature from Santa Cruz Sentinel Wednesday, October 11, 2023
A pedestrian casts a long shadow in the late afternoon sunlight on the new green sidewalk at the Rio Theatre in Santa Cruz. Tom Ralston, who designed and installed the sidewalk with his concrete company crew said, "I have had a special fondness for the Rio for as long as I can remember. I also have a great respect for Laurence Bedford who took over the Rio in 2000. I was able to get the city's approval to revamp the sidewalk with a "'leprechaun green* concrete, a bronze logo and a bronze plaque with Laurence's profile. We also were able to mount a Historie Land- mark plaque from the MAH." Ralston also installed three protective bollards in the concrete to protect the theater and ticket booth. In 2014, a 34-year-old Santa Cruz man drove a Mercury hatchback into the lobby of the Rio, smashing the entrance and then stabbing himself to death.
Details
Tom Ralston spoke at the ribbon cutting ceremony on Friday, October 28, 2022. He spoke about how inpsiring the Evergreen Cemetery's Renaissance has been, and how that inspiration was contagious. It inspired Tom, his concrete company and employees, and all who contributed to the project.
Evergreen Cemetery is one of the oldest public cemeteries in California, and it is the final home to many of Santa Cruz County's early pioneers, leaders, and makers of history. The Cemetery is owned and managed by the Santa Cruz Museum of Art & History (MAH) with the leadership of a group of energized volunteers.