TRC Acid Stain Projects
As of 2020, Tom Ralston Concrete will refer all projects that require acid staining to other contractors.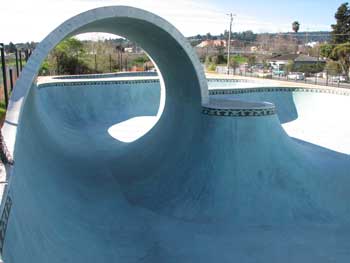 At first, skateboarding and decorative acid-stained concrete may not seem to have much in common, but think freedom, creativity, passion - sheer love of the art - and you'll see the two were meant for each other. In 1974, Wormhoudt Inc. built the world's first public skate park in Santa Cruz, Calif. Long before construction began, Wormhoudt had been thinking about how to color the park. He had worked with Tom Ralston, owner of Tom Ralston Concrete in Santa Cruz, to have accents in an earlier park acid-stained, and together they thought it was time to bring this technique to an entire project making it the first ever Skate Park that was entirely colored with Acid Stain. The Tom Ralston Team led by Colorist Bill Goff used 3-different acid stains a combination of extension handles, brushes and sprayers to create a dramatic and colorful skate park.