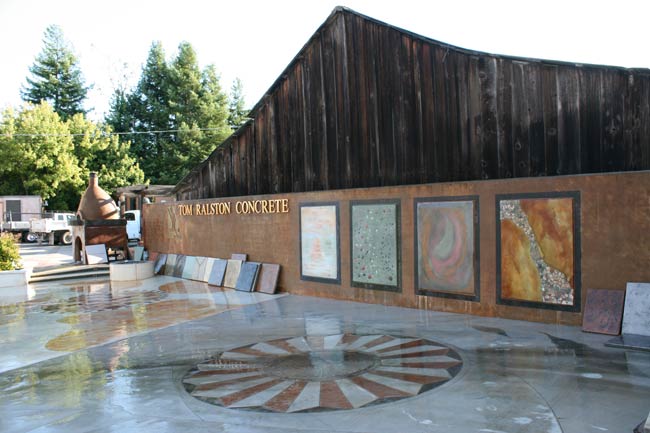 What we do:
Tom Ralston Concrete is a company comprised of talented craftsmen who are involved in producing a wide variety of quality concrete and masonry products. Our products and services range from interior to exterior applications including: radiant heated concrete floors to hillside foundations; concrete countertops to commercial slabs; thin topping overlays to exotic swimming pool decks, driveways and patios. Our masonry work includes flagstone, brick, block; pizza ovens, BBQ surrounds, slate and concrete pavers.
Who we are:
Tom Ralston Concrete is a third generation concrete company founded by Wilbur Thomas Ralston of Santa Cruz County in 1928. Tom has been involved in the concrete industry since 1964 and took over the company when his father, Jim, retired in 1989. Tom's company has been guided by his passion for researching and developing new techniques and designs in the concrete and masonry industry. Over the years Ralston and Concrete have become synonymous.
Philosophy:
It's simple... to put a smile on your face. We achieve this with friendly service and quality work. We strive to make you happy. Our mission is your satisfaction. At Tom Ralston Concrete, we take pride in delivering the best possible product and service available. Our positive values are reflected at all levels of our company. See and hear our employees at work... their excitement and passion. Just ask one of our past customers, or better yet watch us work on your own project. Drop by our showroom and see us.
Our Company has a collective passion for creative, unique, and well crafted concrete work that has reaped many local and National accolades. Over the years, Tom Ralston Concrete has been the recipient of multiple National Awards at the World of Concrete and has had its work featured in Architectural Digest, Concrete Decor, Sunset Magazine to name a few. Our reputation for producing stellar and exiting work has brought our company to Panama, New York and Atlanta. All of our projects ranging from $500.00 to $500,000.00 are treated with respect and professionalism. Our many testimonials will bear this out.
Tom Ralston
A third-generation concrete contractor out of Santa Cruz, Calif., Tom Ralston has the uncanny ability to understand concrete by recognizing its underlying beauty. He's taken his family-owned business to a whole new level by venturing outside long-established boundaries and discovering new uses for an age-old medium.

From building homes out of concrete and crafting concrete countertops to acid-staining a public skate park and creating a rock wall and staircase that won him a historical restoration award from the Santa Cruz Historical Society, this artisan time and time again pulls the uniqueness out of a concrete slab and exposes its characteristics in a very beautiful way.

And the best part is he doesn't keep his findings to himself. When Ralston learns something new about concrete, he reaches out to his constituents to share his knowledge. For more than 15 years, he's conducted seminars and delivered hands-on training at events sponsored by such organizations as the American Society of Concrete Contractors Decorative Concrete Council, the American Institute of Architects and the National Ready Mix Association.

For the past seven years, Ralston has addressed various topics at World of Concrete seminars. He was awarded a first-place ASCC Decorative Concrete Award in 2011 for Best Cast-in-Place Concrete. In 2009, he also received first-place Decorative Concrete Award honors for Best Structural Decorative Concrete, Best Concrete Countertop and Best Artistry in Concrete.

In 2008, Schiffer Publishing published his book, "Cast-In-Place Concrete Countertops." A recognized expert in the field of decorative concrete who is certified by the American Concrete Institute, Ralston has had his work featured on the covers of seven magazines and has appeared in numerous architectural, trade and design publications.

Ralston currently serves on the Advisory Committee for Construction Education at Cabrillo College, in Santa Cruz, Calif., and has served on the ASCC Decorative Concrete Council board. A graduate of the University of Santa Cruz, Ralston has been at the helm of Santa Cruz-based Tom Ralston Concrete since 1989. He oversees 27 employees who tackle projects in structural, decorative, masonry and specialty concrete.