Blog
Details

Written by:

Tom Ralston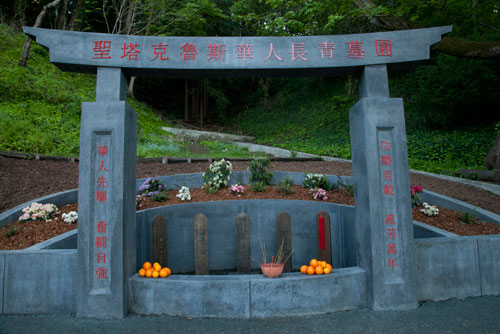 Tom Ralston Concrete has built quite a few very cool and interesting concrete and masonry pieces for Santa Cruz County. However I could make a strong case that to date the Chinese Monument that TRC built in 2014 in the Santa Cruz Evergreen Memorial is the most meaningful and significant.
There were many that contributed to the idea, the vision, and to the construction of the Chinese Memorial. The George and Emily Ow Family primarily funded the project. The Museum of Art and History helped to generate momentum and was led by Director Nina Simon. Nina's husband Sibley diligently worked with volunteers and organized labor to help pull the project together. The initial monument concept and inspiration was from Geoffrey Dunn and George Ow who met with me to begin brainstorming ideas for the memorial.
The Chinese that were buried in the Evergreen Memorial were immigrants that came to California and Santa Cruz to escape rebellion and civil war; but also to fulfill a dream of prosperity and to make a better life for their families. To paraphrase historian Sandy Lydon: the contributions that the Chinese made were fundamental to the region's economic development they were not treated as such. As history tells us many if not most of the Chinese settlers were treated like second rate citizens there are ample examples of gross prejudice.
Again from Lydon in his book Chinese Gold "No Monuments, no prominent place names, no gilt "Chinese-style" buildings, and no large concentrations of Chinese people attest to the presence [and contributions made] in the Monterey Bay Region."
Now, with the Chinese memorial built in the Evergreen Cemetery, there finally is a place that people can honor and memorialize the Chinese settlers. Last year on April 5, 2014 the Santa Cruz Museum of Art and History organized a funeral procession that started on Front Street near Old Chinatown and ended in the Chinese section of the Evergreen Cemetery. Along the way the procession was joined by Chinese "lion dancers" who provided a very colorful addition to the Chinese celebration.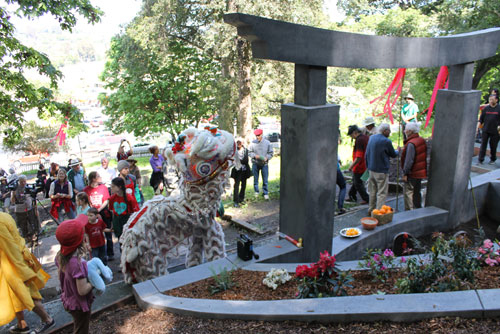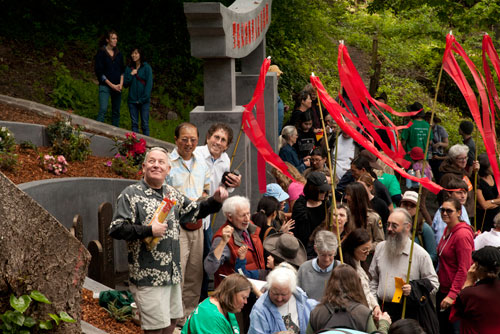 My vision for the concrete memorial was carried out by TRC's dedicated and hardworking crews and were led by master carpenter Rex Nicoliason. The structure, which was all poured together with a special colored SCC (self-consolidating concrete), when fully cured will be in excess of 8,000 PSI. Regular concrete starts at about 2500 PSI. Sean Monaghan who has partnered with me on many creative projects over the last 2-decades cast some incredible solid bronze headstones that had names of Chinese actually buried in Evergreen. The headstones were originally made with simple wooden 2 x 12's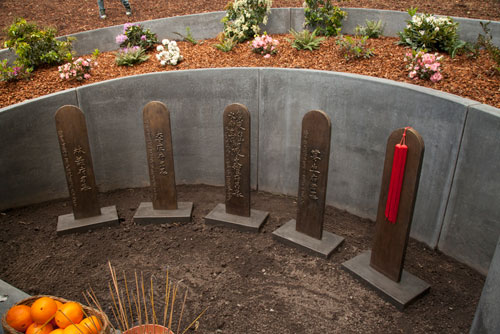 which had the deceased names carved into them. Sean beautifully replicated the wooden headstones with bronze and had his student, Yue Yu, provide the translation and calligraphy for the headstones. Ralph Royer and Josh Roton of RCR fabrication made exacting Chinese characters that were later powder coated a brilliant red. The red characters played beautifully off of the charcoal colored concrete. The translation and poetry for the monument was provided by Professor Yuming Shang. Other local contractors that contributed to making this happen was Landscape Contractor Randy Quilici, Lewis Tree Service, E Clampus Vitus Branciforte Chapter 1797, The Landscape Company, Homeless Services Center, Y.E.S. High School and many other volunteers.
Sibley Simon who is the chairman for the Evergreen Cemetery committee for the MAH took the lead for overseeing construction and making sure that the Cemetery was cleaned up and ready to go for the Quing Ming Festival or "Tomb Sweeping Day". According to George Ow in Chinese folklore, "if something is not settled during a lifetime, you have hungry ghosts, like angry spirits." Barring a nuclear warhead striking the memorial with a direct hit the structure will stand for thousands and thousands of years, forever feeding and pacifying the hungry ghosts.
I will be forever grateful for being asked to create such an important and significant monument. My thanks go to all!
Tom Ralston
Details

Written by:

Tom Ralston Concrete
When it comes to the world of concrete third generation contractor Tom Ralston has seen everything under the sun, and he's picked up quite a few lessons and tricks of the trade. Most of the advice found below is not limited to the concrete world and can be applied to running a successful business of any kind. Read on to gain years of experience in just a few paragraphs. What drives you to become the best in your field?
How have you seen the decorative concrete industry change over the decades that your family has been in the business?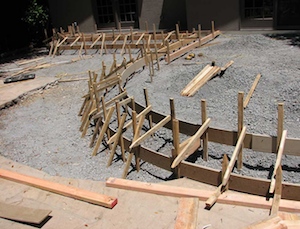 Tom Ralston: I should clarify that my grandfather and my father weren't involved in decorative concrete specifically. The work they did was more standard concrete work; the laying of foundations, sidewalks, and patios.
Occasionally they would cast and place an exposed aggregate patio, something with a little color. However, not really much in the way of decorative concrete when compared with what some folks are doing with concrete today.
So to answer the question, the concrete industry has changed dramatically. I come from a small family business where my father and grandfather used to do business on a handshake. Today there's just a lot more competition and now you've got to make sure you're covering your bases with contracts. People are more inclined to go to litigation these days and it's really somewhat rampant. So, you have to protect yourself a lot more, at least that has been my experience.
What has your experience been with specializing in decorative concrete?
TR: It is a risky business in that it's really hard to control every facet of what makes the concrete decorative concrete. Once you go with a decorative concrete piece the expectations rise exponentially. People look at decorative concrete work with a magnifying glass, exploring every detail. It's not like standard grey concrete where expectations aren't as high.
How do you make a profit in the concrete industry while running a successful business with happy employees and clients?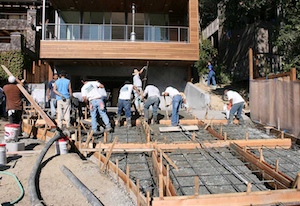 TR: The only way you can make a profit in the concrete industry is by having good employees. If you have good employees hopefully they're happy employees. That brings up the question, "how do I keep them happy?" To answer that the basic tenet is that you have to get work for them constantly.
You can't let your employees go without work. That's the key to an employee's satisfaction. He or she needs to work. So you have to be responsible as an employer to make sure that you have work for your employees. Of course you need a steady flow work to make a profit as well!
As for happy clients you just do good work, do what you say you're going to do, and show up when you say you're going to show up. Hopefully you not only meet a client's expectations but exceed them.
Going back to the first part of the question, it's a really tricky business to make a profit in. First of all, you need your estimates to be correct and have enough profit built into them. Much of the work that we do is so risky so we instate a contingency for each job.
Secondly, you need good management. Managers that understand what the project is and how much time you should have to do it. It's important to develop and manage efficiencies. You need to estimate your project well, manage your project well, and third, of course, you need to make a good product for your client.
What are some of the most important lessons you have learned from your experience?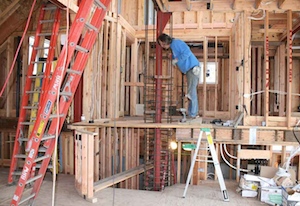 TR: Oh there's so many lessons that I've learned! To begin always stay green and growing, always be a student of what you're doing, and always learn. It's important to keep your talent, by that I mean keep your good employees. You need great employees in the decorative concrete field.
Usually you're only getting a five hour window of opportunity to get everything right. So you need to understand that and having great employees increases the chance of a successfully completed job.
In order to keep a successful business running, you have to keep the pedal to the metal. You have to be aggressive with your leads and go after work. You have to be revved up with a lot of energy so you can keep work flowing. You need that, it's very important.
What do you do try and do on a daily basis to keep things at TRC running smoothly?
TR: I'm always keeping my finger on the pulse of the company. I'm looking at details and processes, I try to be proactive with my procedures, and using foresight to see any potential pitfall so I can prevent a problem from occurring. Because, in the decorative concrete industry there are so many pitfalls and so many landmines that you need to be aware of and try to avoid.
Do you have any advice for dealing with those inevitable moments when things don't work out as planned?
TR: Take notes, make a study of what went wrong. Record the reasons things haven't worked out. Treat it like something that's continually growing and needs to be thought out and worked out. So then, in the future you don't make the same mistakes twice. That's achieved by duly noting what it was that you did.
For example; with decorative concrete sometimes we're mixing three or four different colors together or we're acid staining with one part acid four parts water as a ratio, or we're sealing concrete with an impregnating sealer and others with a satin or an epoxy sealer, and on and on... So you need to record all of these things and to be a student of process and study things especially when they don't work out.
If you could end this Q&A with some fundamental advice for a young person trying to break into the concrete business what would it be?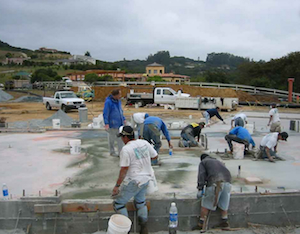 TR: Well, in hindsight it would be hiring great people. If you hire great people your company will become great. As long as you have the understanding of the necessity of talent. Be Careful for who you hire. I've made some bad hires and some incredibly good hires.
There's a book that James C. Collins, a stanford business professor, wrote called Good To Great. One part of the book talks about hiring and to paraphrase, there's a part that goes, "if you don't have the right people on the bus you're not going to have a very good journey."
I would say that it is key to know your own business, know what you want to do, and be driven to do it. Make those really good hires and be on the lookout for really good talent. Keep good records, watch out for really risky projects and watch out for clients who may be problematic.
Some of the best experiences I've had have been through failure. There's that old saying that goes, "necessity is the mother of invention", and I say, "desperation is the father".
When everything goes wrong it can be an opportunity to get really creative, and that's a good thing. Unfortunately, it can be painful at times but pain can drive you too. By the end you find out how resourceful you can be and moving forward every failure makes you a better contractor.
Alright folks, that's it for this week's Decorative Concrete Master Q&A, join us next time for more stories and knowledge from decorative concrete master Tom Ralston. We post these Master Q&A's on the first and third Fridays of each month.
Submit your own questions here, and to find more information check out Tom's books on decorative concrete. Also, we'd love it if you'd come over and say hello on one of our social sites. Follow us or like us for more expert decorative concrete knowledge on Houzz, LinkedIn, Facebook or Instagram.
Details

Written by:

Tom Ralston Concrete
In this week's Q&A Tom speaks about how the Volatile Organic Compound Laws have affected many niche trades. In the concrete world the VOC laws have changed the make-up of concrete sealers. Read on, learn the facts, and go do great work.
How effective were sealers before the new, stricter VOC laws? What have the VOC laws done to sealers in terms of their effectiveness?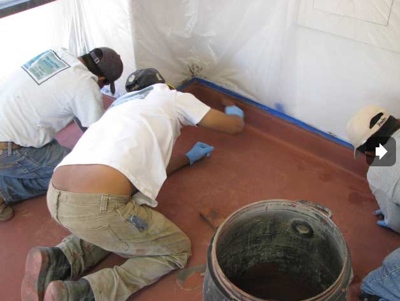 Tom Ralston: Well first, VOC stands for Volatile Organic Compounds. Before they started restricting the organic compounds contained in each sealer they were much more effective. In fact, we could get away with sealing concrete the day after a pour because they were so "hot".
They had a much higher percentage of the organic compounds. They flashed off a lot quicker and performed significantly better. So the VOC laws have weakened the sealers and they are not nearly as effective today in 2014
What are the most common problems and misconceptions concerning the VOC laws?
TR: A common misconception is that the sealers are as effective as they used to be and they're not. The most common problem is that they fail. Today's sealers fail in many different ways; they fail by fish-eyeing and not laying down flat, they fail by scaling and coming off, and they fail by whitening.
We've found that the solvent based acrylic sealers are less prone to whitening than the water based sealers. However, both the solvent and the acrylic will fail regardless if the conditions aren't right.
There are all kinds of sealers; there's acrylic, epoxy, penetrating, polyurethane sealers, polyaspartic sealers and the list goes on. Also, there are all kinds of different combinations of components. In other words there are different formulations of each one of those categories. So every manufacturer can potentially have their own formulation of these particular types of sealers.
How have the VOC laws changed the way you do business? How have they affected other contractors in the decorative concrete world?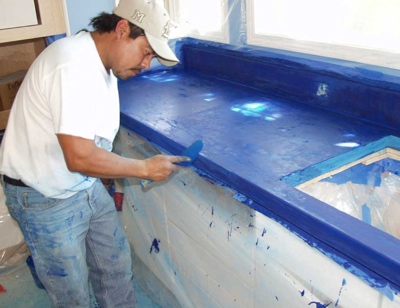 TR: Well, they have changed the way I do business at TRC by being considerably more careful. We do not guarantee any sealer used because the sealers are so ineffective. It's almost like, "seal at your own risk". That being said, when they do fail we come back because we're a good concrete company.
Either way, sealers can be very problematic especially in the colder and wetter months. You simply don't want to seal when those months come around, unless you go to great lengths to dry the concrete. Sometimes we heat the concrete to bring it to an ambient temperature of 60 degrees or more. That's usually the rule of thumb, you need your concrete surface to be 60 degrees or more. How ever you don't want to seal anything that's warmer than 85 degrees. This is because the sealers, especially solvent based, can bubble.
I have also specified this in my statement of limitations that it's pretty much a "seal at your own risk" policy.We just can't be responsible for sealer failures. If a client wants us to come back and fix a failed sealant we will, but we're going to have to charge them to do that. It can get to be a sticky situation when you have a client that has spent quite a bit of money with you or is just a really good client. So we pretty much bend over backwards to make things right. It's just good to have in writing that you're not going to guarantee a sealer so at least you have a leg to stand on if you're going to try and seek remuneration or be recompensed.
The new VOC compliant sealers have affected other contractors the same way. We all have to be a lot more careful with what we do and how we seal.
How do you deal with the problems that the less-effective sealers create?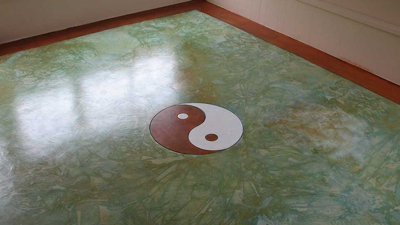 TR: Well, we're just more careful. We make sure that we always have optimum conditions. In the winter when we get good weather we usually don't start sealing till noon or one o clock. And then sometimes we'll heat the sealer with a torch. If it's a small area we'll heat the sealer with a blow dryer. When we use the acrylic solvent sealer we cut it in half with a solvent like lacquer thinner so it can be applied with an airless sprayer. With this style of application the sealer lays on extremely thin and that promotes a successful seal because it can help the sealer cure and not be as problematic.
Is there anything you can add that isn't covered in the above questions that would be important information for both contractors and clients alike? Particularly up and coming decorative concrete contractors?
TR: Well, I would say that you should do tests on any given sealer that you use. Do copious amounts of tests and see exactly what it does on different applications. If it's a concrete counter top, an outside patio, or an interior floor, do plenty of mock ups. Use different products and compare those products.
If you want to see if a particular impregnating sealer is going to prevent concrete from staining you can use 3 different impregnating sealers and come up with one that is more resistant to salad oil, table wine or things of that nature. Although no sealers are impervious some perform much better than others. The only way you can get this information is to do your own mockups and tests.
Do you have any other advice you would share with regard to the VOC laws and still creating projects that look great?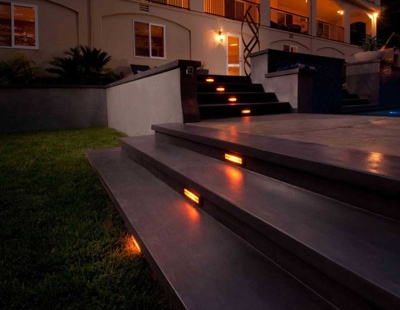 TR: Well, you need to be very careful. Take notes and record what works and what doesn't. See what products work what products don't. One thing that I didn't mention was that we have an infrared temperature gauge. It will tell you how warm or cold the concrete is. The same with moisture, you want to get a moisture reader so that you can see if your concrete is dry enough to seal. Because moisture laden concrete is going to prompt your sealer to fail just as cold concrete will cause a sealer fail.
Alright folks, that's it for this week's Decorative Concrete Master Q&A, join us next time for more stories and knowledge from decorative concrete master Tom Ralston. We post these Master Q&A's on the first and third Fridays of each month.
Submit your own questions here, and to find more information check out Tom's books on decorative concrete. Also, we'd love it if you'd come over and say hello on one of our social sites. Follow us or like us for more expert decorative concrete knowledge on Houzz, LinkedIn, Facebook or Instagram.
Details

Written by:

Tom Ralston Concrete
In this volume Tom gives us the run down on aggregate. Everything from what its basic function is, to what kind of aggregate looks best in an exposed finish. Warning: Learning this information may lead to you becoming a concrete master.
Can you please explain what aggregate is and what is its function in a concrete mix?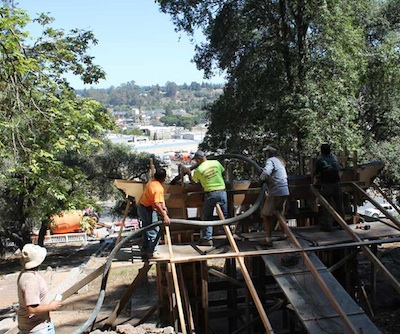 Tom Ralston: Aggregate is a term used to describe sand, gravel, crushed stone, slag, or anything like that. It is the material that is used to turn cement into concrete.
Cement placed by itself is typically very weak and will crack or craze. The aggregate is necessary, and when added it becomes concrete. So, the function of the aggregate is that it adds strength and holds everything together. It makes everything more structurally sound.
Why is larger aggregate superior to smaller aggregate (pea gravel)?
TR: The larger the rock, the more mass you have in a cubic yard of concrete. A cubic yard of concrete is 3' x 3' x 3'. So it's basically a big box. If you add aggregate that is larger it will fill up more of the box with a solid component. Thus, it will make the mix that much more structurally sound.
The shape of the rock is also important. Angular rock locks together better than round rock. Round rock really can't clasp on as tightly as an angular rock that's chipped. The chips fit together more easily and intermesh better than round rock.
We always use the larger aggregate for slabs, as large as we can fit in the mix. Typically three-quarter inch aggregate. Also, the larger aggregate means less sand, and if there's less sand there's less water needed to make it workable.
Water is a necessary evil, it allows the concrete to become supple and workable, but if you use too much of it there's a likelihood of excessive shrinkage cracking. So, if you can eliminate the smaller aggregate and increase the amount of larger aggregate you then decrease the amount of sand, thus making your mix stronger.
Is the amount of aggregate used in a mix always the same or does it vary?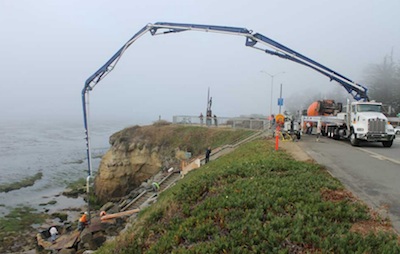 TR: Yes it varies, and the different mixes means using different equipment. Sometimes the smaller concrete pumps cannot pump a mix that's loaded with large aggregate/rock. Because it won't go through the hose. The small pumps need more cement and more sand.
A grout pump will pump pea gravel and smaller aggregates easily. When you get into three-quarter inch aggregates you need a larger hose and different pump. That's called the line pump. And then when you get into a bigger pump, which is a boom pump or overhead pump, it's possible to pump mix designs that have a higher aggregate content. Tom Ralston Concrete uses an overhead pump when we're doing seamless floors with a really high aggregate amount in the concrete mix design.
Do you need to add aggregate to your mix even if you're not seeking an exposed aggregate finish?
TR: Yes, aggregates are a necessity in all concrete mixes. Even when you're not exposing the finish. Sometimes we add a special aggregate so we do not have to seed or additionally broadcast aggregates. Exposed aggregate is a whole different medium, actually an art form.
What's your go to aggregate for a project, and which one looks the best?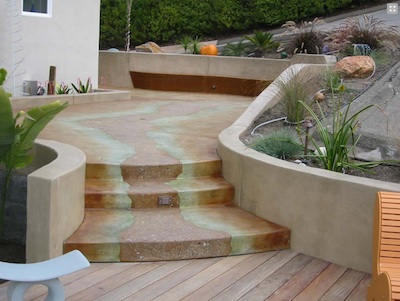 TR: I love mexican pebble, I love black la paz, pammy, I'm not a fan of yuba quartz which is black and white. But we have used it and it's been done tastefully.
Do different types of aggregate change the cost of a job?
TR: Absolutely. One time we used this sunburst cobble, which is bigger than fist size going down to two or three inches. Its imported from the Grand Canyon, any time aggregates have to be imported it gets very expensive. A ton can cost you $800-1200 while a typical ton can cost you $200-300. So yes, it can change the cost of the job.
Will you share a remarkable or funny story that could be relevant to this discussion?
TR: One time we had to do a client's driveway down at the Santa Cruz yacht harbor. We had to import aggregate from Arizona and make planks so we could broadcast this aggregate and place it in artful ways and positions. And It was really quite a process. Sometimes we had 20 foot planks so we could get across the expanse and drop in the aggregates to create a big vein.
Another time, we worked with an architect in Carmel named Ray Parks where we used aggregates as big as 30 inches in diameter, huge rocks that were 3-400 pounds a piece. And we placed those at the outside perimeter of the job and then we made these veins that went in and out of the deck surface. It was gorgeous, absolutely gorgeous.
What is the biggest lesson you've learned about aggregate that could help out a novice or someone just starting in the Concrete business?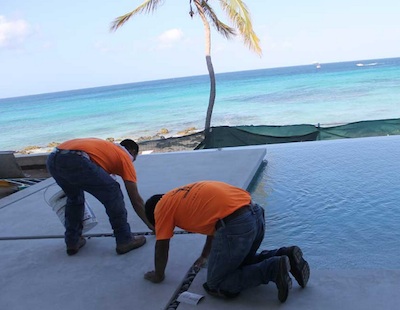 TR: One of the biggest lessons I could share is not to use pea gravel or small aggregate in flat work. Because the amount of sand used and the amount of water the pump adds to make it wet/slick enough for it to pump through does a huge disservice to the slab and usually jeopardizes its integrity and the slab ends up cracking.
And I'll also warn that although the exposed aggregate finish is one of the oldest decorative concrete treatments in the 20th century it's also one of the most difficult. Don't think that doing a good exposed aggregate job is going to be easy. When we do it we have one man responsible for about 250 ft, when you start doing a really good exposed aggregate job, that calls for the aggregate to be blanketed and tightly spaced, we only figure 1 man every 90 feet. It's a huge impact on labor and hence affects cost.
Alright folks, that's it for this week's Decorative Concrete Master Q&A, join us next time for more stories and knowledge from decorative concrete master Tom Ralston. We post these Master Q&A's on the first and third Fridays of each month.
Submit your own questions here, and to find more information check out Tom's books on decorative concrete. Also, we'd love it if you'd come over and say hello on one of our social sites. Follow us or like us for more expert decorative concrete knowledge on Houzz, LinkedIn, Facebook or Instagram.
Details

Written by:

Tom Ralston Concrete
In this volume of Decorative Concrete Master Q&A, Tom Ralston enlightens us on the subject of using color in concrete. There are two methods discussed, the first is integral color, the second is dust-on color hardener. Tom explains processes, do's and don'ts, cost, and shares personal experiences with using color in decorative concrete - giving expert insight from his 30+ year career.
Briefly, what is integral color and what is dust-on color?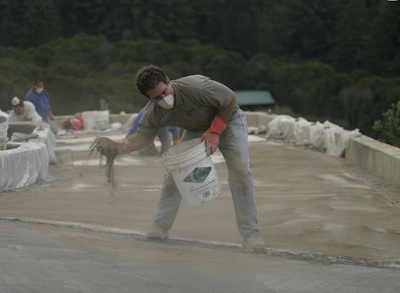 Tom Ralston: Integral color is simply pigment, pure pigment, put inside the drum of a concrete mixing truck. This is all done at the concrete plant. Pigment is added with water and the water is then mixed in the drum with the cement, sand, and aggregate.
Dust on color is pigment mixed with sand and cement. It's stored in a bag or bucket and it is broadcast mechanically or by hand after the natural concrete has been poured.
What are the benefits and downsides of the dust-on and integral color methods?
Tom Ralston: Well, we here at TRC prefers dust on, but here are the benefits and downsides of each...
Integral Color
Integral color is much easier to use because it's less labor intensive. The finishers do not have to open a bag, manually broadcast the color onto the surface, and then work it in.
The integral color that comes from the concrete plants is already mixed in the load so it's much more convenient. However, the integral color from the plant can be much more inconsistent.
There's very little control. If it takes three to four trucks to finish a job and one truck comes to the job with too much water, the color in that load will be different than the other trucks. If they come back to the plant and don't wash their trucks the loads can be a completely different color. That's an inherent problem many times with integral colored concrete. When the person mixing batches at the plant introduces color, they must be very consistent. If they're not the colors will vary between batches.
Dust-On Color Hardener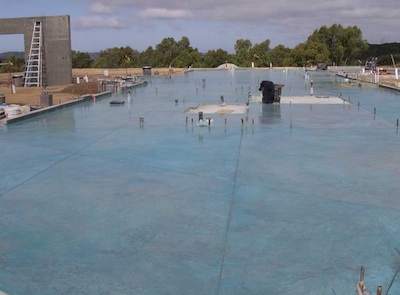 With dust-on color hardener, a finisher uses the same batch over and over. As long as the entire project has one batch from a manufacturer you should be good. If, however, you use batches of dust-on color from different years or manufacturers, you can have a similar problem in that the batches are not the same. One way to rectify that is to open all the color hardener buckets or bags and blend them together.
One of the benefits of using dust-on color is that you can use buckets from the original pour, store them, and if you ever have chips in the concrete or areas that need repair you can use the dust-on color hardener to repair the chips and get a perfect color match. If your concrete chips with integral color, even though the color is mixed throughout concrete you will have a difficult time matching the integral color, because you don't have the benefit of having that exact batch from the original pour.
One of the reasons a lot of concrete contractors don't use dust-on color hardener, is because it requires more effort, experience, and concrete craftsmanship to apply it. A lot of concrete masons aren't experienced with using dust-on color hardener.
The benefit for using dust on-color is that it becomes more of a dense surface, more scratch resistant - the colors hold better.
Integral color will variegate more easily, especially if you use some water on an integral color concrete. Using water on integral color usually spells disaster. It will bleed and come out in an unsightly mottled fashion.
What are your personal favorite applications of integral color?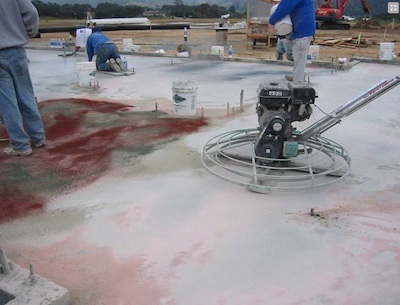 Tom Ralston: You can use integral color on a countertop, a pool deck, on a swimming pool coping, on an interior floor... virtually any concrete pour can use integral color.
One of my favorite applications is when you have an exposed aggregate surface. For example say you use a red river rock as an aggregate, if you just put a small hint of red as your integral color when you do a wash off to expose the aggregate you don't see grey spots that will show up if you pour with no color added.
Predominantly in exposed aggregate surfaces there is going to be some negative spaces where the aggregate is not carpeted or tightly matrixed on your surface. Wherever there is a hole or space without colored aggregate, if you have an integral color in the load, those spaces become a lot less noticeable.
What is the cost difference of using integral color versus dust-on color?
Tom Ralston: Usually integral color starts with one pound per sack of cement. Each pound is around five dollars so it's around thirty dollars a yard. Two pounds of color-per-sack is sixty dollars a yard, three pounds of color per sack is ninety, four pounds of color per sack is one-hundred and twenty dollars. So you can see how expensive it can get. If you use green or a blue color they are more expensive for integral concrete - up to two-hundred dollars a yard.
The cost of dust-on color usually starts around sixty cents per square foot and it can go up to one dollar and fifty cents per square foot for using a bright white color. White colors get dusted on in four different applications! Whereas just using grey or brown you don't have to dust as much on, hence it costs less.
Can you tell a story about a remarkable use of integral color? A favorite project where you used it?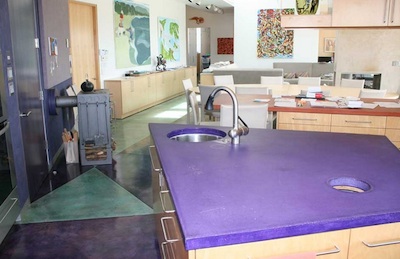 Tom Ralston: A few years ago we used a taupe color, where we had strips of brass running through the work. The walls that we poured were acid-washed later to give it a sand-wash exposure. It was for the Watson family Victorian home in Santa Cruz. The Watson home was owned by the family that Watsonville is named after. It was a remarkable use of integral color.
There is one other funny story I can think of using integral color- it was a last ditch effort. The client wanted a black color and when we got to the job we hadn't ordered the black color. The client was very upset, and I was trying to hold my calm. I said, "I'll be right back, I'll take care of it. Don't worry".
So I went to the concrete company (this is before I was introduced to dust-on color hardener), and grabbed bags of the black powdered pigment and then I flew back to the job in my truck. When I got there I dusted all the pigment on (this is not recommended practice) - just threw straight pigment on the concrete and worked it in with wooden floats until it was black as black could be.
Then we seeded aggregate on top of that and when we washed it off the next day the black held really well! That job was done in 1992 and 22 years later the project still has that black color hardener. When I finished the client looked at me and said, "Uh, I don't think this is the way you're supposed to do things". It was beautiful and it worked out for the best, I completely lucked out.
Alright folks, that's it for this week's Decorative Concrete Master Q&A, join us next time for more stories and knowledge from decorative concrete master Tom Ralston. We post these Master Q&A's on the first and third Fridays of each month.
Submit your own questions here, and to find more information check out Tom's books on decorative concrete. Also, we'd love it if you'd come over and say hello on one of our social sites. Follow us or like us for more expert decorative concrete knowledge on Houzz, LinkedIn, Facebook or Instagram.