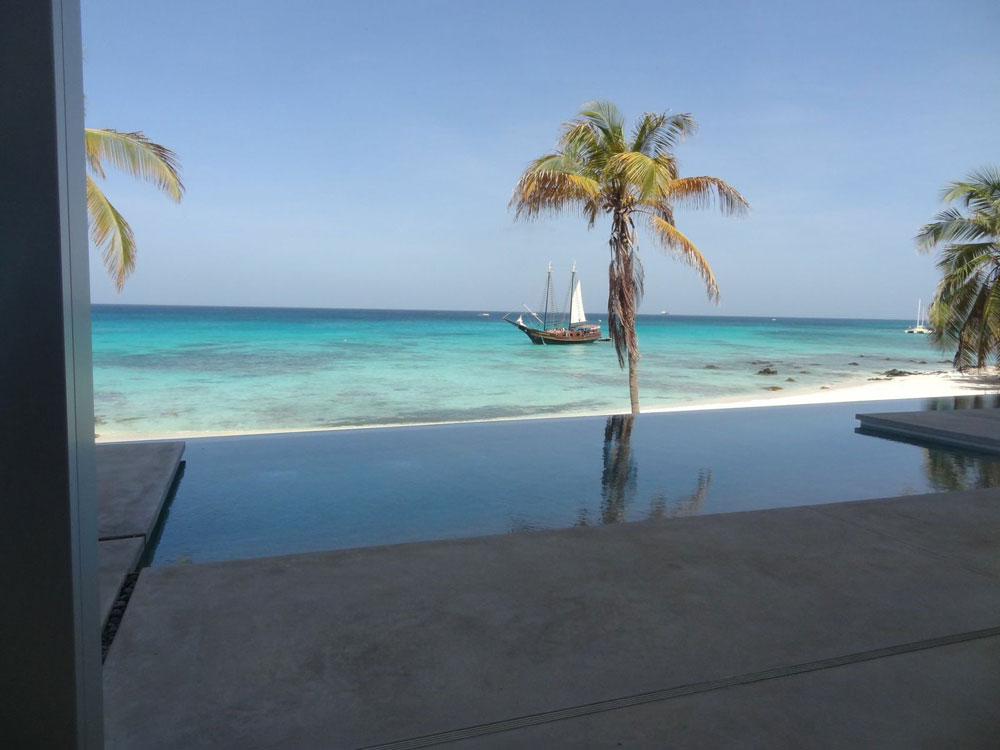 Aruba is a small island in the southern Caribbean. It is a tropical getaway for travellers seeking sunshine and crystal blue waters. In 2012 Tom Ralston was invited to consult on a building project located on this idyllic island.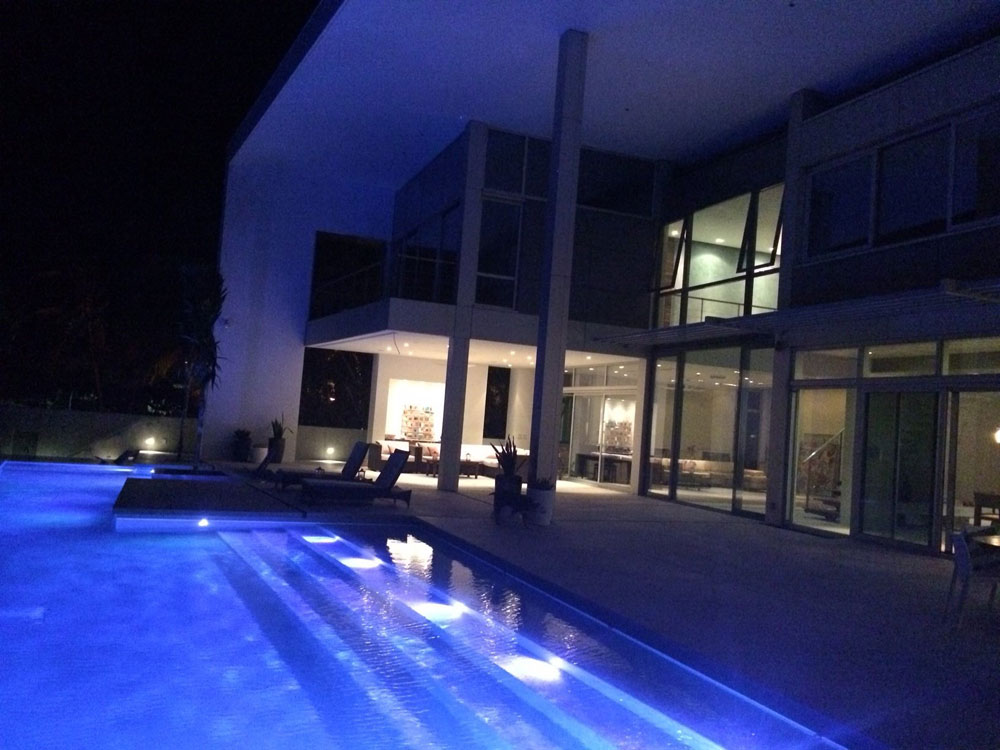 The 8000 square foot modern home, designed by Architect Gary Ostermann was no small task. Started in the fall of 2013, they finished the project on Easter Sunday, 2014.
Tom Ralston and the crew took on the massive project and after working hard all day, they'd cool off and dive along the world class reefs that lay just beyond the deck of this ocean front home. A little perk to the job site.
On top of the 8000 square foot residence, an additional 8000 square foot exterior, including a gorgeous lap pool with an endless edge, was added to the overall project. The house and surround has an incredible modern architectural flair that is light bright and serves homeowners and guests extremely well.
The upstairs library and study, bedrooms, and guest rooms have a blend of color hardener that is different from the lower concrete floors while the pool deck and exterior have another blend of color and texture. All in all, the project is simply stunning.
Tom remarked that the project came together due to his rock star crew, tedious preparation and planning everything out well in advance. He would also like to thank the client for being a positive and knowledgable person to work with.
Tom shares some of his stories, insights, and advice about the Aruba project in the question and answer session below. See more Q&A sessions with Tom in the Master Q&A blog.
Aruba Project Q&A
How Did You Get Connected with the Client for the Aruba Project?
TR: The client is the CFO for a state of the art concrete plant in Aruba called ATCO. It happened that a representative from Granite Rock, our concrete plant here in Northern California, was connected with the client and his company ATCO. When asked about who to call for concrete floors, Granite Rock mentioned Tom Ralston Concrete as someone who does a lot of decorative concrete floors in California.
Even more serendipitously, the client's architect, Gary Ostermann, is from Berkeley. So Gary came down to Santa Cruz to discuss the possibility of the Aruba project. Soon after we flew down to Aruba to interview with the client and put a proposal together. Things went well and we got the job.
The client ended up being one of the most enjoyable and informed clients I've worked with. It is always a treat to work with someone like that - clients like him are often hard to find.
How Do Your Years of Experience Play into Completing a Job Like This?
TR: The Aruba project was project management on steroids. There are so many things you have to consider ahead of time. You have to do an extreme amount of planning - if you forget anything, any specialty tool, any material, any piece of equipment you might need - you're out of luck.
My office manager Rachel Chatham was very instrumental in helping me put this project together. Without her aid, I don't know if we could have done this - of course, having a reliable and professional crew is crucial to the success of any project.
The reality is that things become much more complicated when you're working in such a remote environment - Aruba is something like 4,000 miles away from Santa Cruz as the crow flies. Difficulties include the fact that you're working in a foreign country, on a remote island, in a place that is known for high winds and hot temperatures.
One of the difficulties we had was dealing with the wind, the sun and the heat - we had to pour in the dark when it was cool and less windy. We even had a t-shirt made up that said, "Team Aruba: Pouring at Dark-Thirty".
We had to tarp the entire expanse on the exterior everytime we poured to protect the concrete from the sun. A few times the wind almost blew over the tarps, but we did a very good job of securing them. The company from Holland named ALBO, were tremendous in their efforts and their help.
Another difficulty was the continued planning and strategy that was necessary every single day as the project moved forward - how we were going to tackle the next day's pour, how we were going to get everything done in the timeframe that we had. We went down there 5 times for ten-day stretches. We had to pack a lot of work into those time periods. Basically, we poured 16,000 square feet in that time - there was a lot to consider. There was blending color hardeners - three different colors to blend in order to get the color that was desired. Every expanse - lower floors, upper floors, exterior decks - all had different blends. There were different blends of color and they all had to kept straight and consistent. It was a challenging project in that way as well.
What Are Some of The Enjoyable Aspects of Taking a Project Like This On?
TR: One of the enjoyable aspects is meeting new people - meeting all of these Dutch construction workers from this company, ALBO. Also, getting immersed in the culture of Aruba, the culture of the Caribbean. We were blessed to have great accommodations - the house that we worked on was right on the beach with a stellar ocean view. It had an endless-edge lap pool.
One of my favorite parts of specialty projects like this is getting so much appreciation from the locals and from the Dutch construction company - they loved what we did there and we all appreciated each others' work and involvement. That's always a great feeling. My guys that I brought with me were kind of like rockstars over there - we ended up giving t-shirts back and forth with everyone involved. You know, the relationships were great, the island was exceptionally nice - it's one of the most popular vacation spots in the world with beautiful beaches.
It just so happened that right in front of this 8,000 square foot home is one of the most pristine diving areas in the world. In fact, every day it had 20-40 people that were dropped to dive and see all the beautiful ocean life.
We would go out diving after work some days and enjoy it ourselves.
Do You Have Any Other Thoughts or Advice from Taking on the Aruba Project?
TR: One thing I would mention is that, if you ever decide to take on a project as large as this one that TRC did in Aruba, you have to be very detail-oriented with what you are going to need, what kind of crews you'll need. You need to do a vast majority of the work ahead of time. Do as many mockups as it takes to get to the final product that you will be providing to the owner. For the Aruba project we did a lot of mockups and color examples with the architect.
Any Story that Stands Out?
TR: There was a little area that we had to do a skim coat on. It only needed to be about a 10 millimeter thickness and it had to match another complex color blend. What we had to do was sift our color hardener, which was sands and cement and pigment, so that we could sift the sand out so that we could make this very thin skim coat. I needed something like a strainer to sift it in, and I couldn't find a strainer anywhere! None of the paint stores had any strainers, and typically that's where we get our strainers here on the mainland. So finally I decided to go to a women's hosiery shop and asked if they had any nylons. And the woman who spoke some English said, "For You?". And I said, "Well of course!" - and we got a good chuckle out of that.
All in all the Aruba project was an amazing experience, and I am always excited to work with international clients to create challenging and rewarding projects.
Stay tuned for next month's featured project. Check out more of Tom Ralston's work here. Have any questions or comments? Feel free to contact us.
You can stay updated with the latest from Tom Ralston Concrete by following us on, Facebook, Instagram, Linkedin, or Houzz.