Greetings and welcome to the Master Q&A. In this edition Tom shares the history of his years in the concrete world, illuminates the importance of inspiration, and describes why to maintain a balance of form and function in creative work. Inspiration and information for the home owner, contractor, and designer.
Can you give us a brief history of how your family got started in the concrete industry, and when TRC was founded?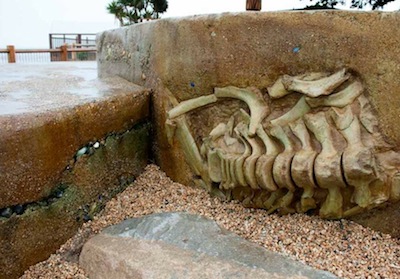 Tom Ralston My Grandfather, Wilber Thomas Ralston started the Ralston concrete company in 1928. He started in Boulder Creek, CA about 14 miles north of Santa Cruz. My father, Jim Ralston got his license in 1959. Finally Tom Ralston Concrete was founded in 1989.
What are some notable works your grandfather and father have completed around town?
T.R. My grandfather worked on the boulder Creek Dam. My Father would tinker around with artful things in concrete all the time. I remember my dad and I built this drive way for Janet Stagnaro on the west side of town. He made his own set of wooden stamps that embossed the concrete in a very unique way. It looked like the way they pour and stamp concrete on the steep hillsides in San Francisco.
When did you take over the business and what inspired you to take it in the direction you did, (with more of an emphasis on decorative/artistic inspired works)?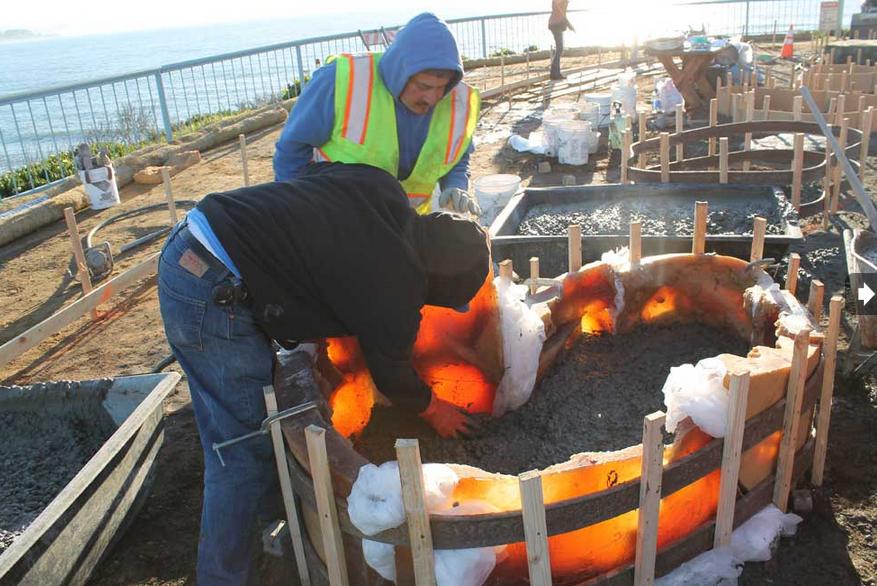 T.R. I was just doing concrete work on the side, which I thought I would never want to do. I had been in Kauai for a few years, living the life over there.
I felt it was time to settle down and my dad said he was going to retire. The initial inspiration was to be able to support myself in a good way.
I started doing more concrete work and within a few months I was asked if I wanted to do a house for a local business man. He had us work on his Victorian home. It was very inspiring to take something that is soft and formable like concrete, and turn it into a piece that's durable and long lasting. So that's where I got my initial inspiration.
What are some of your inspirations outside of the concrete world that have helped spark your imagination for what is possible with concrete?
T.R. I believe that architecture is a huge inspiration. I love going to big cities and looking at the architectural work. So much of it is done in concrete. Cities like; Rome, London, Paris, Prague, and Dubrovnik. Those places have huge inspiring works, and they show you what is possible.
I also find inspiration from nature. We deal with coloration of concrete in very unique and artistic ways. So we are inspired by a sunset, the ocean, rocks, a mountainside, or in a meadow...it's endless. So I get a lot of inspiration from just looking out my windows sometimes.
Are there particular artists, designers, or architects you derive inspiration from?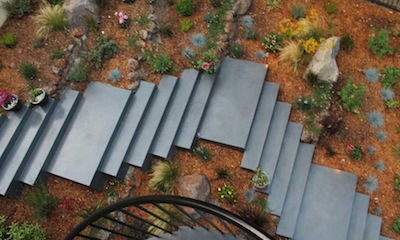 T.R. Absolutely there are tons of them! If I start with artists, Van Gough is one of my favorites, also Picasso. Picasso in particular was a man who could paint but also sculpt. He actually would use concrete to sculpt with.
For designers there's Antonio Gaudi. He has amazing works in Barcelona that he's famous for. Projects that have gone on for hundreds of years. The things that he did with concrete and stucco are mind boggling and absolutely amazing.
There's a female architect named Zaha Hadid and she has done design work all around the world. She's done these serpentine structures in Abu Dhabi and in New York. She's an incredible inspiration.
Of course, Frank Lloyd Wright loved to build with concrete. He's an inspiration.
You might not know this but Thomas Edison was a huge concrete aficionado and actually built a concrete piano. He wanted to build houses on an assembly line out of concrete.
What advice would you give to a young decorative concrete contractor in terms of balancing function with artistry? Or balancing both of those with the needs of the client?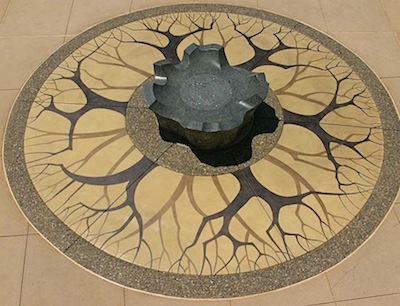 T.R. Always stay green and growing. Also, function and artistry are equally important. Most of my work has to have a function and it has to function correctly.
You can have all the artistry you want but if it doesn't function well, then it's really kind of useless.
So with your art you have to incorporate science. It's important to write copious amounts of notes and mockups, in order to incorporate art and function.
When it comes to the client you need to know exactly what the client wants. So mock up what they want and go from there!
-Alright folks, that's it for this month's Decorative Concrete Master Q&A, join us next time for more stories and knowledge from decorative concrete master Tom Ralston. We post these Master Q&A's on the first and Friday of each month.
Submit your own questions here, and to find more information check out Tom's books on decorative concrete. Also, we'd love it if you'd come over and say hello on one of our social sites. Follow us or like us for more expert decorative concrete knowledge on Houzz, LinkedIn, Facebook or Instagram.