Welcome to Volume 8 of the Master Q&A. In this installment Tom Ralston fills us in on how to create functional and beautiful concrete work integrated into any hillside. Structurally sound and pleasing to the eye, that is the definition of decorative concrete. Read on and do great work!

When is concrete the right choice for holding up a hillside?
TR: Any walls that are designed for retaining a hillside are adequate. There are block walls, segmented walls, rock walls, it becomes a matter of preference. If a hillside warrants it, an engineer needs to be involved and they will specify what size and type of wall is the best option. At the end of the day it really is up to the client, their budget, and what the hillside calls for.
What are some of your favorite solutions for functionally controlling erosion that results in a beautiful product?
TR: When we talk about erosion usually we're talking about the soil that is around a particular hillside.
A wall will help with erosion, but there is also bio-structural erosion control. It is essentially the use of vegetation and it is ecologically friendly.
My favorite choice is to use plants and vegetation because you can really see the beauty in the plants. It can be both the most functional and beautiful choice, especially using native or indigenous plants.
Do you have any stories of exceptionally difficult hillsides or slopes to troubleshoot?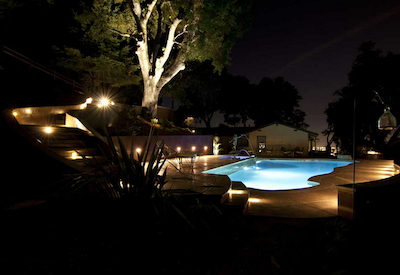 TR: I've had entire hillsides cave into our form work and into our footings. One was at the Coast Guard Building in the Santa Cruz harbor. The other was the Boys and Girls club up in Pescadero. Both collapeses were caused by rainstorms that came through before we had the walls backfilled, so they were very vulnerable.
We had to dig out our forms and reconfigure the rebar all at our own expense.
How does lighting play a part in a finished decorative concrete hillside walkway or wall?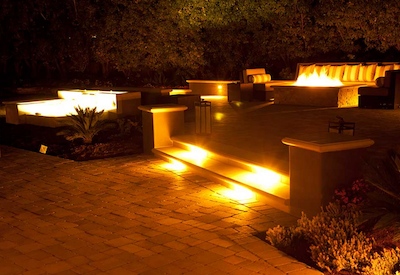 TR: Lighting can sometimes be downplayed or overlooked, that is a huge mistake. Lighting makes any hardscape on a hillside look exceptionally dramatic and beautiful. Hardscaped walls, stairs, patios, and even trees can exponentially enhance the hard and softscapes.
For someone looking to hold up a hillside with concrete, what are some important things to look for before getting started? Some best practices when assessing how to move forward?
TR: You have to have a design and then you can get some kind of a grasp on cost. That's where everything starts, how much is this going to cost. So, you need some conceptual plans. After that hire a soils engineer and civil engineer to make drainage plans and any other factors that need to be addressed prior to starting construction. Then the structural engineer comes and figures out the footing and wall size. Best practice is getting the right people involved so you know what you're up against.
Any other advice for balancing function and artistry?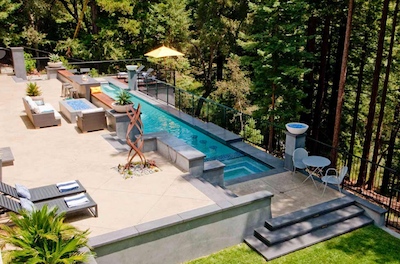 TR: It just so happens that I published a book called, "Sculpting Hillsides With Decorative Concrete". There are many points made in there about balancing function and artistry. You need to establish function first, and then the footings and walls need to be specified so they can last beyond a lifetime.
It's all about the right blend of concepts. Carving into a barren hillside to produce walls, stairs, patios, and firepits can be one of the most beautiful hardscape creations there is.
-Alright folks, that's it for this month's Decorative Concrete Master Q&A, join us next time for more stories and knowledge from decorative concrete master Tom Ralston. We post these Master Q&A's on the first and Friday of each month.
Submit your own questions here, and to find more information check out Tom's books on decorative concrete. Also, we'd love it if you'd come over and say hello on one of our social sites. Follow us or like us for more expert decorative concrete knowledge on Houzz, LinkedIn, Facebook or Instagram.