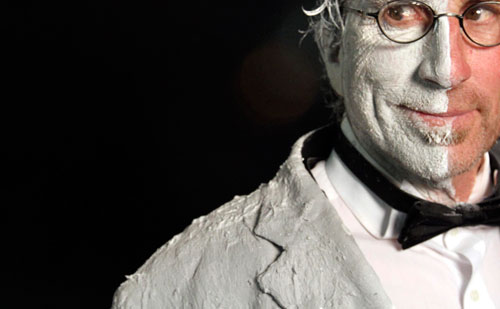 Wow…all I can say is "Wow"!!
I received a visit from Sentinel journalist/writer Wallace Baine a week ago and he said that I was chosen to be a recipient of the esteemed Gail Rich Award. The award celebrates the spirit of arts in Santa Cruz by "recognizing those who inspire our diverse and culturally rich community".
My friend Jeff Luhn who is a musician, photographer and conceptual artist had an idea for my upcoming CD release. His idea was to cover half of me with cement and leave the other half alone. I donned a tuxedo to provide an distinct yin-yang. Awesome idea!!
I mentioned this to the amazing photographer, Shmuel Thaler has been photographing the Gail Rich Award honorees (and countless other subjects and events) since its inception and thought the idea was awesome as well. Here are a few of the behind the scenes shots that I wanted to share with my friends on my blog.
I also want to thank close to 300 dear friends and supporters that responded with so much love and enthusiasm. What a high you have all given me and I didn't have to smoke, drink or snort nuttin!!