News
Details
Tom Ralston Concrete was honored to be able to work on the monument for the City of Santa Cruz with Chinese philanthropist George Ow. Tom was interviewed for a documentary on the Chinatown Bridge on Inside Santa Cruz after the work was completed. In this episode, Inside Santa Cruz documents the inspiration, design, and construction of the Chinatown Bridge Dragon Gate Monument over San Lorenzo River, and discusses the history of Santa Cruz's Chinatowns.
In the documentary, George Ow introduces Tom saying, "Tom Ralston is a master cement artisan and artist. He wrote the book on fancy cement and we get the benefit of three generations of experience and knowledge. Tom and I have worked on a previous Chinese gate over at Evergreen Cemetery, and we had so much fun with that we decided to do one here."
Details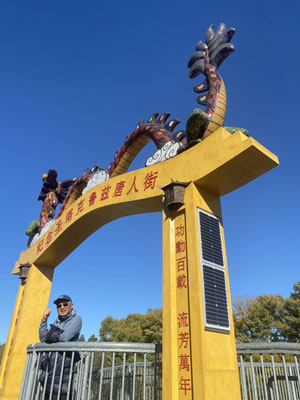 Santa Cruzans love our local history. Now there's a beautiful art piece connecting us to our past, right by the river. The Santa Cruz City Council formally named the pedestrian bridge from San Lorenzo Park to the Galleria and Trader Joe's as Santa Cruz's "Chinatown Bridge" in 2019 and now a non-traditional Chinese style gate and twenty-three foot water dragon, covered in colorful mosaic tile, adorn this bridge spanning the San Lorenzo River.
CWC led the effort because the artwork will beautify the Santa Cruz Riverwalk, the longest city park in Santa Cruz and because relearning or remembering river history is important. There's an important chapter in the river's story that's been forgotten, that of Chinese immigrants living in Santa Cruz who faced severe discrimination, both informally and in the form of racist legislation such as the Chinese Exclusion Act. And yet, they significantly shaped this city, our region and the state of California. This bridge, this art, honors them, remembers them and recognizes their contributions.
George Ow, Jr., with Ow Family Properties, was the main funder of the work and Ow shaped all aspects of the work. Ow grew up in Chinatown, staying with his grandmother, who lived there. Tom Ralston of Tom Ralston Concrete designed and crafted the stunning yellow gate, atop which sits the water dragon, designed, built and decorated by community artist and art educator Kathleen Crocetti, aka "dragon maker."