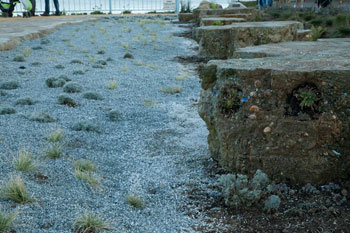 The Cowell's Garden Project is located on beautiful West Cliff Drive in Santa Cruz CA. Tide pool stepping stones fashioned by Tom Ralston Concrete will meander and undulate through the garden.
Ralston borrowed 13-different large stones from Granite Rock to make molds at The Bronze Works from the various rock outcroppings which will be laden with shark teeth, sea glass, shells and aquarium sand and finally acid stained with blends of different colors.
The Cowells Garden Project was well received and a Ribbon Cutting with left to right Sean Monaghan of the Bronze Works, Bill Goff of Tom Ralston Concrete, Santa Cruz Mayor Hilary Bryant, Tom Ralston and Designer Karen Toole featured in the picture below. View more images in the Cowell's Garden Blog Post by Tom Ralston.