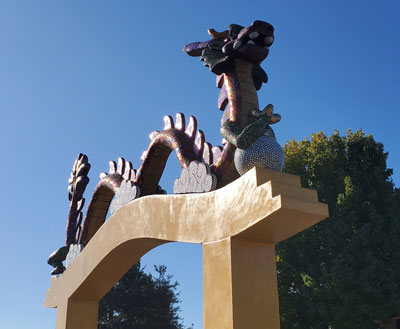 From 1975 until its destruction in the flood of 1955, Santa Cruz had a Chinatown located on River St. where Trader Joe's, CVS Pharmacy and The Galleria are currently located. It was a bustling community of Chinese people. My Great Grandmother who was from Monte Carlo Italy worked there from 1900 to 1902! This memorial is in recognition and rememberance of the Chinese community.
Solar powered lanterns signify longevity, good fortune, and prosperity. Two plaques honouring the fourth Chinese community in Santa Cruz. The dragon is a symbol of power, strength, and good fortune in chinese culture paying homage to the tenacity, endurance and ingenuity of those who survived in Santa Cruz despite persistent anti-Chinese racism and hostilities.
This project is still a work in progress. Please enjoy the progress images here. We'll update them when we have more.
Check out a couple of News articles about this incredible Monument to the Santa Cruz Chinese Community.
Mockups
Pouring and Detailing the Monument
Lanterns and Dragon
Plaques
Chinese Characters
Progress