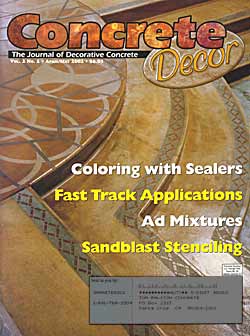 Industry Spotlight
The British Are Coming!
BY JIM PETERSON
PRESIDENT, CONCRETENETWORK.COM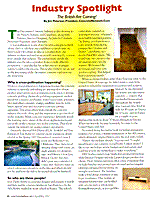 The Decorative Concrete Industry is also drawing in the French, Italians, and Canadians, along with Painters, Interior Designers, Architects, Ceramist, Structural Engineers, and Chemists.
Cross-pollination is one of my favorite concepts to think about. (Isn't it odd that one could have so much time on their hands!) It's when an idea or a product from one industry is taken and used in an entirely new way by a person from outside that industry. The person from outside the industry sees the idea or product from a totally different perspective - and also has his or her own set of unique talents to add to the process. This is why I believe we a. just in the first inning of the decorative concrete explosion we are witnessing.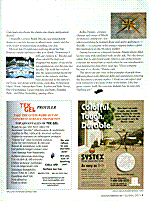 Why is cross-pollination happening?
I believe cross pollination is happening because the concrete industry is currently unleashing an amazing slew of new product innovations such as texturing tools, micro-toppings, concrete profiling chemicals, polishing equipment, molten metals for concrete, acid stains, water based stains, polymers, dyes and other colorants, stamps, sandblast stencils, form linen, special saws and decorative concrete cutting apparatus. This gives others from outside the concrete industry the tools, ideas, and the inspiration to get involved in the industry. While concrete experience definitely speeds the learning curve- many of the above applications require you work on the concrete, not in the concrete. Thus those outside the industry are seeing a major opportunity.
I recently observed Bob Harris of L.M. Scofield and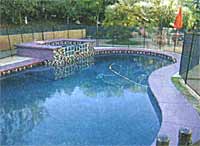 Tom Ralston of Tom Ralston Concrete create a gorgeous design on slab at the Spring 2002 Decorative Concrete Council event in Oklahoma City, Oklahoma. They did a lot of amazing things with stains, an angle grinder, eye droppers, tape, and Miracle Grow (yes, Miracle Grow), but they didn't pour any concrete (of course they did have input on which admixtures should be in the mix and which should not be, and how the slab to be treated should be finished).
So who are these people?
Jean-Pierre Berthy is a popular designer and painter of murals and faux-marble concrete finishes in San Francisco.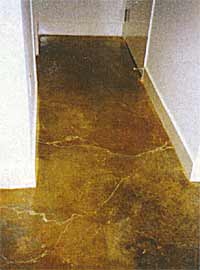 In the '60s, Berthy studied at an art school in France. The school's
curriculum centered on learning fro. some of history's most highly regarded painters. "In France, you learn how to copy artwork from the big painters like Cezanne and Monet," said Berthy in a recent PaintPRO article. "We would take our canvas to the art museum and copy the masters. We learned the technique, and I was very good at copying. This helped lead to painting murals."
When acclaimed Italian artist Marco Lucioni came to the United States 14 years ago, he didn't want to start from scratch to rebuild his reputation as a painter and sculptor.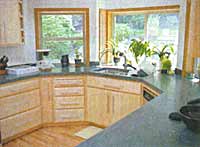 Instead, he incorporated his artistry into decorative concrete - a move that has thrilled homeowners throughout the Seattle area. Lucioni, who lived in Italy for 45 years, in Greece for 10 years, and in France for a couple of years, displayed his work in about 50 shows throughout Europe. When his first wife became homesick, he came to the United States with her.
He started doing decorative work for Italian restaurants, making a lot of faux columns reminiscent of the old country, which ultimately inspired him to give the real stuff a whirl.
"I knew the medium already," Lucioni said. "I taught myself how to use concrete; I read books, I asked around. I like to use my Italian artistic background and culture and combine it with the technology to make everything."
DEX Studios owner Craig Smith does product fabrication while Interior Designer and wife Lauriel designs products for clients.
Their Atlanta operation offers a line of furniture that includes benches and assorted sizes of round and rectangular tabletops (designed for mounting on wrought-iron bases). The benches make a bold design statement in my foyer or entrance. They feature an integrated planter that can be filled with accents such as wheat grass, floating flower petals, or river pebbles. Customers can choose the planter size, shape, and position desired.
Originally a potter, Buddy Rhodes was immediately drawn to concrete because it offered more variety and the work wasn't as monotonous as toiling over clay.
He now has 25 employees scurrying about his San Francisco studio and has to take it in slowly. "Sometimes I still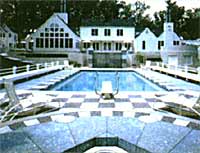 can't believe it," Rhodes said when asked if he had ever imagined the degree of success he has experienced over the past two decades. His work has evolved into the quintessential model for many in the industry and has been showcased in the nation's top home and design publications, including Architectural Digest, Home, Metropolitan Home Kitchen and Bath, Sunset, Fine Homebuilding Luxury Kitchens and Baths, Beautiful Baths, and Home Remodeling, among others.
Kelley Firmin, a former chemist and owner of Minds in Motion Contractors , has taken everything he learned about acid and is applying it literally - to concrete as his young company makes a great first impression on the Houston market.
During his years as a degreed chemist, Firmin always filled his free time with unrelated work on the side. He's the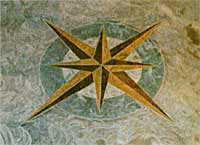 first to admit that he gets bored easily, which is one of the reasons concrete fascinated him so much when he was introduced to acid staining less than three years ago. I love concrete because it's so diverse", Firmin said.
The above are just a few of the examples of people from different places with different skills and experiences entering the decorative concrete market. I think we can expect and look forward to a lot more of this in the future. Like this great country itself, the concrete industry has its very own "melting pot."