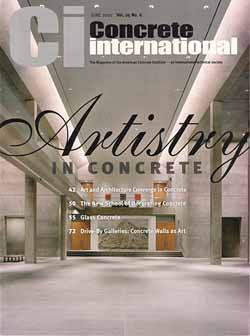 Special Products & Practice spotlight
DCC-Enhancing The Evolution of Decorative Concrete

The Decorative Concrete Council, and its contractor members, continue improving durability, utility, and aesthetics
BY BEV GARNANT
Founded in 1998, the Decorative Concrete Council (DCC)--a specialty council of the American Society of Concrete Contractors (ASCC)--has as its mission the advancement of the quality and use of decorative concrete systems for both horizontal and vertical applications. Decorative concrete isn't new. Concrete stamping tools have been in use since the early 1950s, and coloring of concrete began long before that. Yet, for as long as it has been around, decorative concrete is still the fastest growing segment of the concrete industry. According to concrete contractor Tom Ralston, it is still evolving, offering designers and owners new capabilities elements, and options for interiors and exteriors alike. Ralston, who is President of Tom Ralston Concrete, Santa Cruz, CA, believes decorative concrete has merely scratched the surface with regard to applications and techniques. In fact, all of the members of DCC perceive their industry as booming and not yet close to reaching its peak.
EVOLUTION AND MANSION
Jay Fangman, Sales Manager for Colorado Hardscapes, comments, "The design community has come to realize the breadth of the new materials and new tools that are expanding the limits for floors, walls, and more. Decorative concrete is really gaining momentum in that sphere."
The "Artistry in Concrete" demonstrations at World of Concrete (WOC) 2003 revealed the extent to which concrete finishing has evolved into an art form. Ralston, one of the participating artists, embedded metal objects,
colored aggregate, glass, and other natural materials into a concrete countertop and diamond polished its surface to a 3000-grit finish. At the same demonstration, Dana Boyer, of ConcretiZen, created an exquisite ocean scene on concrete, texturing it with overlay and enhancing it with chemical stains, dyes, and tints. Other demos showcased metallic epoxies, patterning with sandblasted stenciling, the cutting of three-dimensional graphics and images, and the creation of images with a diamond-blade angle grinder and
colored stains.
"So many intricate, elegant designs can be created out of concrete at half the cost of stone or other natural materials," says Ralston. "The selection of finishes, textures, and colors is hard to believe. I would guess that that there are now probably 800 colors we can incorporate into a design." To get its message across, Ralston's company takes 1/32 of a cubic yard of concrete, breaks the color pigments into grams, and makes color samples for clients.
Doug Bannister, of The Stamp Store, a distributor of decorative concrete tools and materials in Oklahoma City, OK, explains that more people are beginning to understand that decorative concrete contractors can improve existing concrete as well and are not limited to treating only newly placed material. "For a while, concrete had to be new to be able to apply any significant decorative element," says Bannister. "With the advent of products such as stains and overlays, old, gray concrete can be transformed into a fantastic 'new' floor." Today, people are often standing on concrete and don't realize it, Ralston adds.
Aside from pure aesthetics, some of the techniques used to create decorative concrete floors also have functional applications. Concrete floors installed over radiant heating elements, for example, are becoming increasingly popular. Ralston is finding a growing market for such applications among homeowners and the proprietors of office buildings and industrial facilities. "Radiant heat is a clean, energy efficient heat, much more effective at warming rooms and people," says Colorado Hardscape's Fangman, "and concrete is the best medium for diffusing this type of heat."
Ralston is also handling more requests for polished floors, both in industrial and commercial facilities. Diamond polishing now makes it possible to grind and polish much faster on concrete surfaces at up to 3000-grit finishes, eliminating the need for sealers and waxes. Ralston often blends stains to create a marbleized appearance that is enhanced with polishing. Polished floors reduce the time and money spent on maintenance, permit better water vapor transmission than floors with sealers, and improve aesthetics.
EPOXY COMEBACK
Jim Engelman, of Engelman Construction, Inc., Macungie, PA, believes colored epoxy flooring is the next big market. First popular in the '50s, epoxy floors, however, proved difficult to install; produced strong, often toxic odors; and eventually yellowed when exposed to ultraviolet (UV) rays.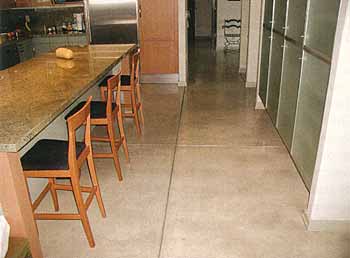 A multipte-cotored kitchen floor over radiant heat In Santa Cruz, CA, installed by Tom Ralston Concrete, Santa Cruz, CA
The development of resins having 100% solids, waterbased emulsions, and UV-resistant resins has revived the interest in epoxy flooring options. Finished epoxy floors are tougher, tolerate more abuse than terrazzo, and are less labor-intensive to install. They are excellent choices for restaurants, schools, hospitals, industrial plants, and numerous other applications, Engelman says.
Vertical applications, both new and to enhance or correct existing walls, are also becoming more prevalent. A concrete mortar can be applied, then stamped, molded, or shaped with other techniques, and finally stained, sealed, and textured. Engelman notes that gelled acid stains can be applied to vertical surfaces without running.
Concrete countertops, becoming commonplace to veteran decorative contractors, are catching on with homeowners, restaurateurs, and retailers. Ahal Contracting Co., St. Louis, MO, recently installed a concrete bar in the sports bar/restaurant at a new casino and a concrete sales counter in a florist shop. Tom Ralston built a concrete kitchen island, then utilized chemical stains to give it an old and worn appearance. He also frequently embeds aggregate, glass, shells, and other materials in his concrete, rendering the results functional works of art.
KEEPING ON MISSION
As part of its mission, the DCC is doing its best to tell the design community, the end user, and the general public about decorative concrete's extensive possibilities. The DCC was formed by the ASCC, in response to the growing popularity of decorative technology. Its members are concrete contractors who install decorative concrete, as well as manufacturers, suppliers, and other interested parties.
The idea for the council was generated by Frank Piccolo, President of Artcrete in Natchitoches, LA. Membership quickly grew to more than 100 companies, and it now stands at 140.
In 2000, the DCC presented a seminar and a mega-demo at the World of Concrete. It was the most well-attended technical seminar in the history of the show. In 2001, the council presented two seminars and six action-exhibit demonstrations. Both seminars had been sold out in advance, and thus had to be scheduled for repeat presentations to accommodate the demand. The DCC was a co-sponsor of the WOC 2003 "Artistry in Concrete" demonstrations, several of its members being among the artists displaying their skills.
The DCC now produces two stand-alone events each year, one in the spring and one in conjunction with ASCC's Annual Conference. This year's fall event will be held September 20 in Dallas, TX. It will feature seminars and demonstrations, with live running commentary on the latest decorative possibilities in concrete.
The DCC is perhaps the most visible and active organized group that promotes improvements and uses of decorative concrete. The story of this expanding technique is spreading more quickly and more powerfully because many companies have united, through the council, with one voice. "The DCC gives our industry credibility," says Fangman. "A group of affiliated contractors will always have more strength and effectiveness," he explains. "There's a comfort level in dealing with a group of professionals concerned with education and quality."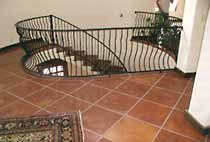 Interior floors in Soquel, CA, feature multiple-colored acid stains and grouted joints, installed by Tom Ralston Concrete, Santa Cruz, CA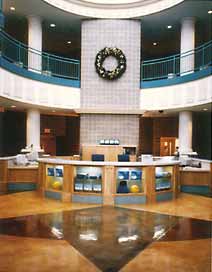 In the rotunda of The Heights, a new St. Louis, MO, community center, Ahal Contracting Co., Inc., stained a topping stab over a base slab. Bronze terrazzo strips were attached to the base slab in a geometric pattern, and a cement-based topping containing microfibers was placed. After 2 weeks of curing, reactive concrete stains in three colors were applied to the surface. Multiple coats of acrylic seater were applied and the final coat was burnished to a high sheen
Kitchen countertops in Aptos, CA, with Oysterwhite color and Antique Amber stain, created by Tom Ralston Concrete, Santa Cruz, CA
The concern about education, and the training needed to maintain a high quality product, is prevalent among DCC members. Jeff Yoder, owner of Yoder Concrete Construction, DeGraff, OH, recalls suggesting that a nearby small town install decorative sidewalks. The town fathers, however, pointed to a botched job by another contractor and turned him down. "We go out of our way to provide clients a high quality concrete product," says Yoder. "One bad installation by someone with only a couple of days' training, however, can taint all of us."
"There's no other organization accomplishing what the DCC does," Yoder continues. "That's why we are involved. It's free training from the best contractors in the country. DCC members are always raising the bar."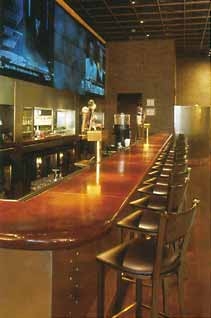 This bar In the Ameristar Casino, St. Charles, MO, received a reactive stain finish. Ahal Contracting Co., Inc., applied the same finish to the adjoining restaurant floor
NEW PUBLICATION
DCC members are currently working on The Contractor's Guide to Quality Decorative Concrete. An earlier publication, The Contractor's Guide to Quality Concrete Construction, has long been a best seller in ASCC's bookstore. The decorative version will have chapters covering: spray overlays, stamped overlays, stamped concrete, stenciled concrete, acid staining, water-based staining, countertops, and engraving' The new guide will provide insight into proven construction practices that, when properly executed, will produce quality decorative concrete.
Doug Bannister's company offers training classes on a variety of decorative techniques. "We thought about starting a beginner's class," says Bannister, "but finally determined that working with experienced concrete contractors was a better fit for us. The idea of inexperienced people doing decorative work is a bit scary."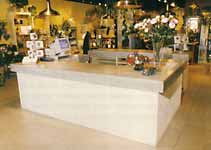 The concrete countertop at Mary Tuttle's Flowers, Chesterfield, MO, was custom-formed and cast-in-place by Ahal Contracting Co., Inc.
Bannister believes that the DCC's affiliation with ASCC enhances credibility for the decorative organization. In addition to working to improve their own companies, ASCC members work as a body to advance the use and quality of conventional concrete. The ASCC mission is straight forward: "To enhance the capabilities of those who build with concrete." "There's no better way to elevate the entire industry than to work together," says Bannister. "We all make each other better contractors."
Companies wishing to join the DCC must be members in good standing of the ASCC. For information on joining the ASCC, call (866) 788-2722; or visit www.aseconline.org.