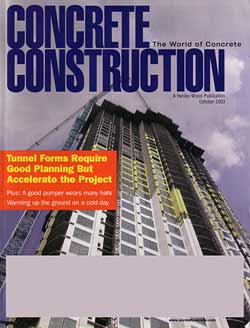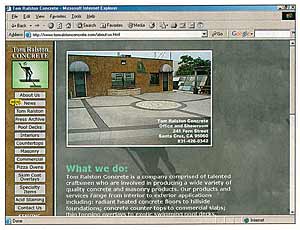 Web sites
that work!
by Jim Peterson
Your Web site is speaking volumes about you, and your company. What is it saying?
Tom Ralston's Web site is a winner. Tom Ralston Concrete, located in Santa Cruz, Calif., offers a variety of concrete and masonry services.
At www.tomralstonconcrete.com, the visitor immediately sees Ralston's decorative concrete showroom and the concrete paving surrounding the showroom. The result is immediate credibility. Most decorative concrete contractors don't have showrooms.
Next on the site is a comprehensive navigation bar that outlines many of the services offered by Tom Ralston Concrete. The navigation bar categorizes those services: concrete countertops, pool decks, and interior concrete, for example. This breakdown is critical because site visitors may not know what they want or whether they need staining or stamped concrete. What they do know is they want a pool deck or an interior floor. It is important to communicate, not just in our own industry-centered language but in the language of the customer, whether that customer is a homeowner or a general contractor looking for a concrete sub.
Another navigation bar category tells about Tom Ralston himself and the history of his company. It is important to talk about yourself, or others in your company to convey the personality of the company. Potential customers are looking for a personal touch, a connection they deal with enough faceless corporations each day.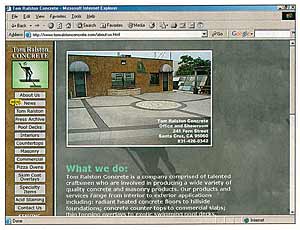 Presenting your personality is particularly important when marketing decorative concrete. A large part of the appeal of concrete countertops, interior concrete floors, and stamped concrete pool decks, patios, and driveways, is that these are craft products. Buyers enjoy the interaction with the craftsperson. So show your personality! If you don't give any details about yourself, it makes people wonder if you don't have anything to say about yourself.
Still another important category on the Tom Ralston Concrete Web site is his press archive. Articles in various magazines such as CONCRETE CONSTRUCTION and Sunset Magazine show Ralston as an industry leader.
Tom Ralston's Web site gets the job done in several important ways. The site serves customers by making it easy to find what they are interested in. It uses language that potential customers understand and presents the firm's personality. It shows Ralston's firm as an experienced industry leader.
Another company with an effective Web site is Colorado Hardscapes. At www.coloradohardscapes.com visitors immediately know that they have discovered a professional company. The August 2003 recent projects section of its Web site includes a spectacular concrete wall and sand finish pool deck it built at Village at Five Parks in Arvada, Colo.
Easy to navigate, the Colorado Hardscapes Web site also shows off its decorative concrete showroom and classifies the concrete applications it offers: commercial, municipal, residential, and theming (checkout the 350-foot-long sea creature built at the Arvada Center for the Art and' Humanities).
Action steps to a Web, site that works
1. Give your Web site visitors information. Explain a process. Show a special job. Provide available -colors, patterns, styles, or finishes. Web surfers are information gatherers give them the information they are looking for.
2. Invest in a design. A Web site put together quickly and void of design is going to present a poor image of your company.
3. Organize site navigation using language your potential customer understands. Don't get caught up in concrete industry speak.
4. Talk about yourself. Give potential customers a flavor of what it is like to work with you. Tell them about your background.
5. Update your site regularly. Have a current projects page. Keep adding to your galleries of work.
6. Organize galleries by the type of work. Show interior floors all together, for example. This will help when you call a potential customer to ask about bidding a project-you can e-mail your Web page showing your gallery of interior floors, for instance.
7. Have a pressroom on your site. Media stories about your company establish your role in the industry and in your geographic location.
8. Show your address and phone number prominently. Not all clients want to e-mail your company or fill out a form. Make it easy for potential customers to reach you in the manner that is most comfortable to them.
In the future, it will be even more vital to have a Web site that works. Each month over a million more people sign up for high-speed Internet connections provided by DSL, wireless services, or cable modems. Your potential customers, those "information foragers" with connections that are always on, can maneuver around the Internet easier and faster than ever before. They can be gone from your Web site in seconds if they don't immediately see that your site will help them.
On the other hand, a Web site that works can engage and communicate with potential customers and make a major contribution to your company's success in attracting new customers and growing your business.
-- Jim Peterson is founder and president of ConcreteNetwork.com (www.concretenetwork.com), a Web site serving the concrete industry, and a principal in High Grade Form, a foundation contractor located in Riverside, Calif.