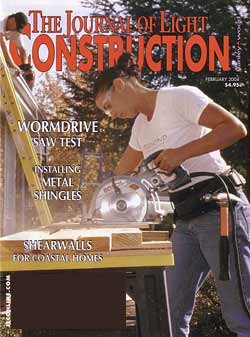 DECORATIVE FLOORS WITH POLYMER OVERLAYS
By Tom Ralston
Tradesmen have been applying decorative finishes to freshly placed concrete for as long as the material has existed (see "Decorative Concrete," 1/03). By coloring and texturing concrete surfaces, skilled applicators can produce concrete floors that are indistinguishable from stone, brick, tile, and slate. Dyes and stains can create murals or abstract patterns while maintaining the look and texture of a monolithic pour. The color typically goes into the surface of the concrete, so the finished product is as durable as a conventional slab.
In recent years, the development of new polymer-modified concrete overlays has made it possible to apply decorative finishes to existing slabs. It has also made it possible to put concrete floors in structures that won't support thick layers of conventional poured material. Our company has been using these thin toppings to produce decorative finishes for more than ten years. Polymer materials allow us to create decorative concrete floors in rooms where it's neither practical nor economical to use conventional concrete.

What Is Polymer Concrete?
Conventional concrete contains Portland cement, water, and mineral fillers such as sand and aggregate. When the cement hydrates, the ingredients bind to form a solid matrix. Polymer-modified cement concrete is concrete that has been modified by replacing some of the Portland cement with ingredients that react to form a synthetic organic polymer when the material is mixed. (A polymer is a type of plastic that is produced by chemically linking a large number of chemically separate molecules into larger stable molecules.)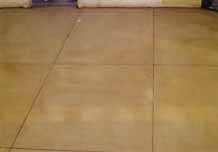 These thin toppings make it possible to create colored concrete surfaces over existing slabs and wood-framed floors.
The most common additives contain latex polymers, which are the among the least expensive. This family of polymers includes poly acrylic latex (methyl methacrylate), poly vinyl acetate, polyvinylidene chloride, styrene-butadiene copolymer, and nitrile and natural rubber. Other polymer additives are based on epoxy or polyester that has been crosslinked to styrene. Each type of polymer produces concrete with distinct physical properties. Depending on the formulation, the additives might produce material that is stronger, less porous, more flexible, or faster curing than conventional concrete.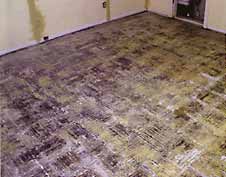 Most of the polymer concrete manufactured is used to resurface existing concrete slabs. It's expensive and messy to remove and replace an existing concrete slab. So if the existing slab is structurally sound, it's cheaper and easier to top it with a thin polymer overlay. Common applications include the repair of spalled or damaged surfaces on bridge decks, parking garages, and factory floors. Polymer concrete is much more expensive than Portland cement, so it's usually applied as a thin overlay, typically between 1/8 and 1/2 inch thick. Some products are formulated to go on thicker, while others can be taken to a feather edge.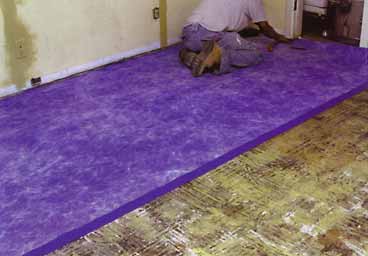 After removing linoleum tile and scraping away the loose mastic from this wood underlayment (top), a worker lays down NobleSeal CIS crack isolation membrane (above). A layer of diamond lath will I follow.
The featured "courtyard style" residence, designed by Hayer Magnus Architects of San Diego, was "inspired by the client's appreciation of Arts and Crafts architecture in a modem, open plan layout. Indoor rooms open to outdoor spaces that encourage al fresco dining and gathering," explains Hector Magnus, fomer Principal Architect, now in his own practice.
According to Magnus, the terracing, landscape and hardscape designs were created to capture views towards the Monterey Peninsula. The south-facing courtyard, which includes a negativeedge pool and outdoor sitting area with fireplace, utilizes the prevailing breezes for natural cooling in the warmer months and captures solar energy for warming in the cooler months. The design also features radiant heat underneath the outdoor patio for year-round eating and entertaining.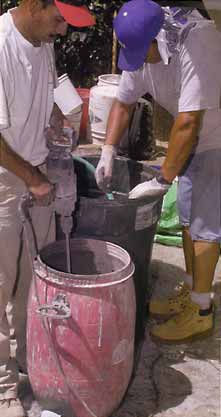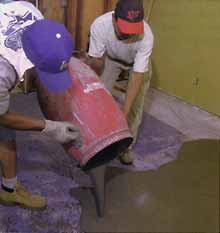 Workers combine a ready-mix topping product with water (top). It's also possible to buy liquid polymer and add it to conventional dry materials. The overlay is then poured over a wood-frame floor (above). Note the diamond lath nailed over the blue CIS crack isolation membrane.
Many polymer overlays are designed specifically for producing decorative concrete floors. Some products can be stamped or textured; others should be finished smooth. All can be colored with stain or dye. Most overlays are designed to be used on slabs, but some of them can be applied to plywood subfloors, which is how we create decorative floors in structures that won't support a thick layer of concrete. For example, a 2-inch slab weighs 24 pounds per square foot, while a 1/2-inch overlay weighs only 6 psf and can be installed flush to the existing floors in adjacent rooms.
Substrate Prep
Polymer overlays are tough, but they're only as good as the substrates they're applied to. The toppings will crack or delaminate if you put them on floors that are dirty, overly flexible, or structurally unsound. Good prep work is a must, so if you attempt an ' overlay job, be sure to carefully read the instructions for the material you are using.
Slabs. Some manufacturers recommend that you acidetch concrete substrates, while others specifically prohibit it. The concern there is that you won't properly neutralize all the acid and some will remain to off-gas and break the bond between topping and slab. We neutralize acid by flooding the surface with a solution of baking soda and water or ammonia and water. We remove the solution with a wet vac or mop and then repeat the process with clean water. Another way to remove contaminants is to use a stiff broom to scrub the surface with a cleaning agent or cleaner degreaser.
We are frequently asked to apply decorative overlays on slabs that are covered with linoleum tile. Typically, the tile is attached with cutback adhesive. We start by manually scraping the tile and as much mastic as possible off the slab. If the slab is in good shape, we'll attempt to remove every bit of mastic. Sometimes we can get it all off by scraping alone; other times we have to use chemical strippers. Occasionally, we'll pay a sub to bring in a shotblasting machine, which shoots a large number of small steel balls into the surface of the slab. It's like sandblasting, but removes more material - from 1/16 to 1/8 inch off the top. The bottom of the machine is enclosed to prevent the balls from escaping; an internal vacuum collects the dust. Shotblasting is one of the best ways to create a good bonding surface.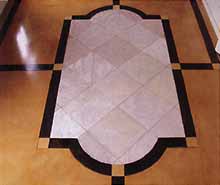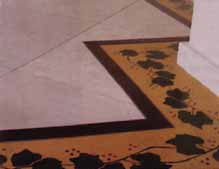 The stains and dyes used to decorate overlay concrete penetrate, the surface of the material, making them as durable as integral color. A top coat of sealer enhances the color. Skilled applicators can produce concrete floors that are indistinguishable from stone, brick, tile, and slate. They can also create murals or abstract patterns while maintaining the look and texture of a monolithic pour.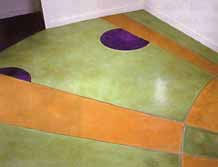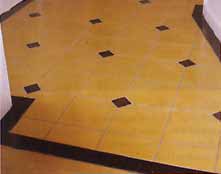 Isolation membrane. Unless you take preventive measures, the cracks and control joints in the existing slab will telegraph through the new polymer topping. The overlay might hide them for a while, but they will eventually show. When the existing slab has control joints, we cut new ones at the corresponding locations in the polymer topping or install a crack isolation membrane (NobleSeal CIS, Noble Co., 800/878-5788, www.noblecompany.com). We use the membrane when the location of existing control joints would interfere with the decorative pattern, on the finished slab. Control joints are still required, but the membrane allows you to choose where to put them. We also use the membrane when an otherwise sound substrate has a crack.
Primer. Once the substrate is clean and dry, you need to apply a specified primer or bonding agent. These materials can be brushed, rolled, or sprayed onto the surface. With shotblasted or especially porous concrete, we may have to use two coats. Polymer overlay can be applied directly to the primed concrete substrate. If a crack isolation membrane has been installed, it has to be coated with the bonding agent.
Wood-ftamed floors. Wood-framed floors have some give, so we always inspect them carefully with an eye toward future problems. Because the overlays are relatively light and flexible, most floors that are framed to code are strong and stiff enough. The subfloor should be of the required thickness and material per the overlay manufacturer - usually 3/4-inch plywood. It should be solidly nailed or screwed to the joists. Some manufacturers recommend adding a layer of 1/2-inch plywood underlayment, with staggered joints. We always use crack isolation membrane on wood floors, with diamond lath nailed over it,
Mixing and Applying Polymer Concrete
Like conventional concrete, polymer concrete is made by mixing wet and dry ingredients. Some overlay products come bagged in dry ready-mix form, with the polymer already in t he dry ingredients - all you add is water. In other cases, the polymer comes in a liquid form and is fieldmixed with water and typical dry ingredients - cement and sand, as well as crushed stone or aggregate when the overlay

is exceptionally thick. We use such a thick overlay when we're leveling floors that are seriously out of whack. Some products can be built up in layers, but it's easier to do a continuous pour and put aggregate in the material that goes in the low spots. This is possible because overlay is mixed on site in small batches.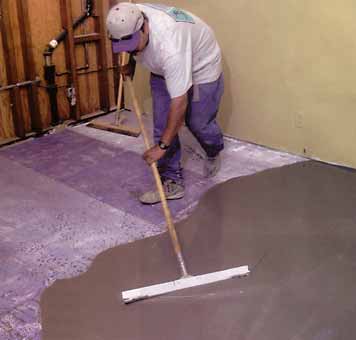 Polymer toppings cure quickly, which is a major selling point when there's not much time to do the job. Some of the products I use can support foot traffic in 3 or 4 hours and develop compressive strengths of 3,000 psi in 3 hours, 6,000 psi in 24 hours. Overlay products come in two types, trowelapplied and self-leveling. It's usually more economical to use trowelapplied toppings: They generally cost less up front, and unlike self-leveling products, they can be applied in a thin even coat. It usually takes more material to do a self-leveling overlay because the topping might be 3/8 inch thick at one end of the room and 3/4 inch thick at the other.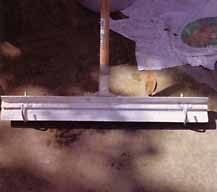 Spreading self-leveling toppings (top) has to be done with care. It's important to work out any air bubbles, but the material shouldn't be touched once it starts to set. A gauge rake (above) is a handy tool for spreading trowel-grade material. Adjusting the wire bales on each end raises or lowers the blade, making it easier to spread an even coat of material.
Trowel-grade materials also have longer working times; some can be stamped or textured before they set. To maintain a consistent thickness, we spread the overlay with a gauge rake or notched trowel. Afterward, we go over it with a regular trowel to produce the texture and finish we want. Some trowel-applied materials are referred to as microtoppings because they can be applied in layers as thin as 1/16 or even 1/32 inch.
Self-leveling overlays set up very quickly, which makes them tricky to use. It takes some experience to know when to stop spreading self-leveling overlay. The material starts to set in 10 or 15 minutes, so you have to work fast to maintain a wet edge as you work your way across the floor. Spreading puts the material where you need it and removes air bubbles that can cause imperfections. But you shouldn't touch the surface after the polymer starts to set. If you do, it leaves a mark that's hard to repair. If you do it right, the floor will be dead flat and have a glossy sheen.
Self-leveling overlay is soupy when it's wet, so you should make sure there are no leaks or holes in the substrate. We recently missed a small nail hole in a bathroom floor and ended up with a cone-shaped depression where the overlay leaked out. We happened to be using a product that's difficult to patch. The client was very particular, so we ended up tearing out and redoing that part of the job.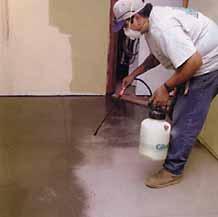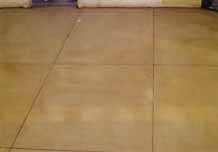 Polymer overlays cure so quickly that they can be stained and finished a day or even hours after they're applied. Here, acid stain sprayed onto the surface leaves a pleasing rnottled effect. Note the decorative grid of scored control joints. Though it looks like a colored slab, the concrete topping is only 1/2 inch thick.
Coloring and Top-Coating
There are many decorative options. One of the most popular with our clients is to treat the partially cured surface with add stain. This produces subtle variations in color. Integral color can also be created by adding pigment to the overlay before it's applied,. or dry color hardener can be worked into the topping after it has been spread and troweled.
Similar techniques are used to color conventional concrete, but because polymer overlays cure so fast, you can complete a job in much less time. For example, a conventional slab is supposed to cure for 21 days before acid stain is applied. We know from experience that we can do it sooner, but if we do it too soon, the stain Will eat away the surface layer of cement and expose the sand. By contrast, we can add-stain a typical polymer topping the day after it's applied. Some overlay products have to be stained within a few hours after application; otherwise, the fully cured material will be too dense for the stain to take. When that .happens, the colors are not as bright or intense as they could be. Sometimes we lightly sand the floor to open up the surface so it will accept the stain. The sanding also removes minor blemishes like popped air bubbles.
Acid stain can be brushed, sprayed, or rolled onto the surface. We allow it to sit for 8 to 12 hours, then wash it off and neutralize it with water that contains baking soda or ammonia. We then rinse the surface with clean water and allow it to dry before applying a clear sealer coat. A basic sealing job is done with wax or acrylic lacquer. A top-of-the-line job gets a coat of waterborne epoxy followed by a coat of polyurethane resin and multiple coats of acrylic wax.
Polymer toppings cost $1 to $2 per square foot for a 3/8-inch layer. Self-leveling material is typically more expensive than trowel-grade material because it contains costlier types of polymer. Pre-mixed bagged overlays contain everything except the water, so they cost more than the material you make by adding liquid polymer additive to dry ingredients such as Portland, sand, and aggregate that you supply yourself. Installation labor runs about a dollar or two per square foot, including a basic decorative treatment. The final price would include an additional markup for overhead, profit, and the degree of difficulty for the particular job.
Tom Ralston is a third-generation concrete contractor in Santa Cruz, Calif. Photos for this article were provided by Tom Ralston Concrete.