COUNTERTOPS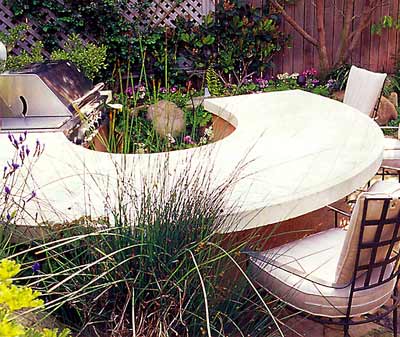 Above: Almost white natural stone tiles add an elegant touch to a curved countertop. Matching white chair cushions accentuate the clean design. Below: A granite stab countertop typically is made with an edging piece under the top piece. Once the pieces are mortared in place, the joint between them is ground and polished until it becomes almost invisible, giving the appearance of a very thick stab.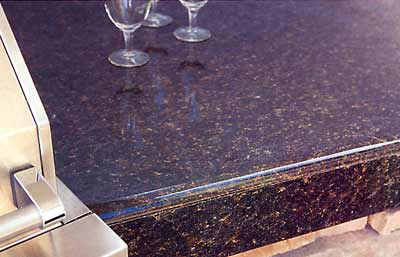 Indoor countertops are typically 24 inches deep, while outdoor countertops are 30 inches or deeper. If the counter, top wilt be accessible from both sides, you may want to make it 42 inches or more.
SUBSTRATE
If the countertop will be made of concrete or thick stabs of stone, it will likely not need support other than the counter's walls. However, most other finish materials will need to rest on a solid subsurface that spans the counter and extends 3 inches or so on either side. The most common substrate options are a steel- reinforced concrete stab (see pages 136-139), or two thicknesses of concrete backerboard that are glued together with thinset mortar (see page 132).
FINISH MATERIALS
The kitchen's working surfaces, which may also be used as dining surfaces, should be durable and easy to clean. There are several finish materials that will achieve these goals beautifully.

STONE TILE
Stone tiles of any sort can be used on a countertop as long as they are protected with a coat or two of acrylic seater. Some stone tiles that do fine on a vertical surface may be unsuitable for countertop duty, either because they are not strong enough or be, cause they stain easily. See pages 22-23 for basic information on stone tiles and pages 130-131 for installation. Consult a tile dealer before making your choice.
GRANITE
Large, gleaming stabs of granite make ideal countertops, both indoors and out. Granite is typically speckled or flecked, and it comes in a wide variety of shades ranging from very dark to very light. Cutting and installing a granite slab is best left to professionals. Usually there is no need for a substrate, since the granite slab is very strong. Installers will measure your counter, cut the slab or slabs at their shop, and set the counter. To achieve the illusion of a very thick slab, they may attach a facing piece, typically 2 inches wide, below the front edge of the slab, then grind and polish the seam until you can barely see it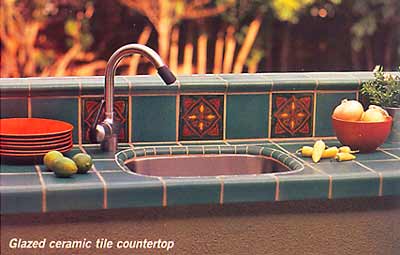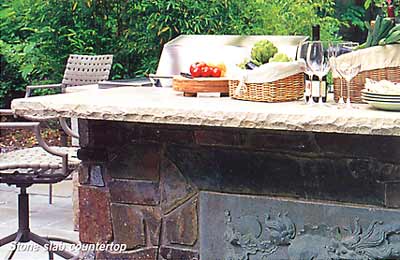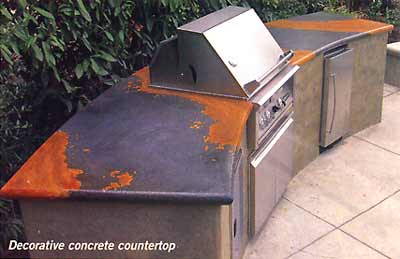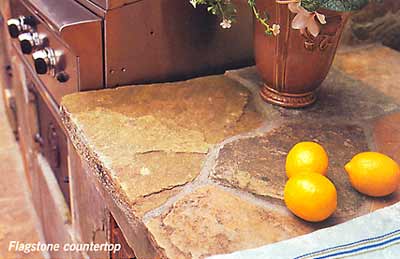 GLAZED CERAMIC TILE
This is a popular choice for indoor and outdoor counters because glazed tiles are easy to wipe clean. Take a drawing of your countertop to a tile dealer and choose an ensemble that includes field (regular) tiles as well as all the special pieces you will need to cover edges and corners. See pages 132-135 for installation instructions.
STONE SLAB
A smooth slab of stone, typically 3 inches thick, can simply be laid on top of the counter. In most cases, you will want to hire a mason or a stone yard to cut the slabs to fit. Popular choices include bluestone and limestone.
DECORATIVE CONCRETE
Once thought of as irredeemably dull and gray, concrete now offers exciting decorating possibilities. It can be imbued with color while it is wet or acid-stained after it has cured. A concrete top may have a rough surface, especially at the edges, or it can be ground smooth as polished marble. Many contractors who specialize in concrete counters are artisans who can create a one-of-a-kind top for you. If you have basic masonry skills and are ambitious, you may want to try it yourself. See pages 136-139 for techniques.
BRICK AND FLAGSTONE
These may seem unlikely choices for a working surface, since they are not smooth and tend to be porous. However, many types of brick and some flagstones (especially granites and slates) have a hard finish that can be kept clean. An application of acrylic sealer every year or so can make even common brick or Tough limestone fairly easy to clean. (Sandstone is simply not a good option.) Brick and flagstone will never be as easy to maintain as other countertop options, but they may be the right design choice in rustic settings.