What's In Your Decorative Toolbox?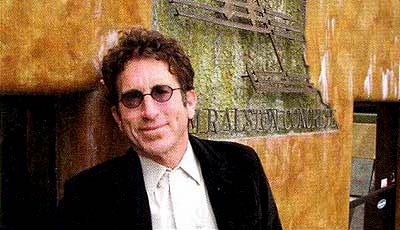 TOM RALSTON CONCRETE
Santa Cuz, Calif.
www.tomralstonconcrete.com
Tom Ralston of Tom Ralston Concrete in Santa Cruz, Calif., is a third generation concrete contractor, getting his first introduction to the business as a young boy in 1964. Ralston wasn't sure about making concrete his life's work until he took on his first decorative project in 1989; since then he has shaped a company that performs all types of decorative concrete work, structural concrete and masonry. Ralston now employs 36 people and does work mainly in a 50-mile radius in the San Francisco and Monterey bay areas Other projects, demonstrations and consulting have taken him and his company to Italy, Hawaii, Newyork, Atlanta, Las Vegas and most recently Panama.
TOM'S TOOLBOX INCLUDES:
· Bull float
· Pool trowls
· 9-cu.-ft.mixer
· Grinders with 4-in. diamond blades
· Dremel tools
· Hand made edgers and pointer trowels for very tight spots
· Sheet rock taping tools
· Backpack sprayers
· Airless sprayers and air brushes
· Tuck pointers, rakers and other implements used in brickwork
· Various sized chisels and rat tails to carve lines
· Axes to carve in random lines
· Hand polishers with diamond pads
Ralston's list of often-used products includes acid stains, acrylic stains, colloidal dyes, alcohol dyes, wood dyes, silicon carbide grit, color hardeners and even shoe polish. He often keeps seashells, aquarium sand and beach glass handy for certain projects such as decorative floors and countertops, and uses copper and brass imbeds for drain boards and trivets on countertop jobs.
When it comes to equipment, Ralston utilizes a few unique items that allow him to achieve the one-of a-kind finishes his customers want. By pressing wrinkled plastic on a wet acid stain floor, Ralston can create the distinctive look of batik, an ancient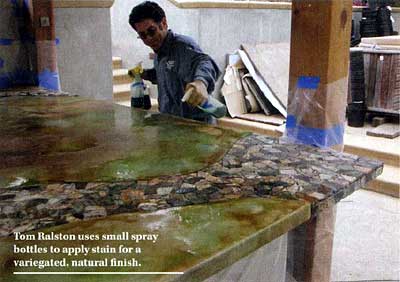 textile dying technique. And for a recent project, Ralston turned to a tool more traditionally used in the kitchen. "I just finished a job in Panama on which I used a turkey baster to apply droplets of retardant or) the floor, so when the floor was washed the retardant created crater-like pockets to replicate seaside shelves along the coastline. It is a very cool treatment." Ralston says.
One of Ralston's favorite decorative tools is an ordinary small spray bottle. He fills multiple spray bottles with different colors of stain and uses them to apply and blend colors on a project. "The reason the spray bottles work so well for acid staining is they produce a very natural variegated finish similar to colorations you might seen in a natural hardscape Ralston explains. "We always spray wet on wet, which leaves a randomly blended coloration that you cannot easily get any other way. This technique is especially important when using two or more colors together."