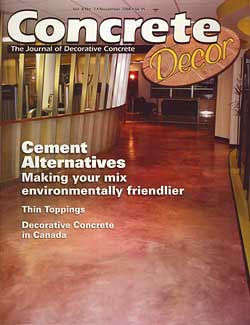 Magid House Backyard
Aptos, Calif.
by David Searls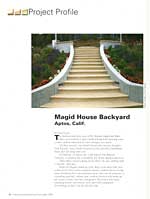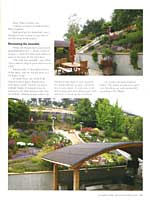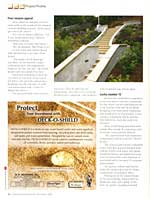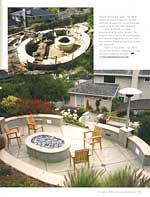 The husband-and-wife team of Dr. Morgan Magid and Mary Alves were looking to add a modest basketball shooting court to their shallow backyard for their youngest son, Jared.
"All they wanted," says family friend and concrete designer Tom Ralston, "was a small extension to the patio for a basketball hoop. just one hoop and a net."
For Ralston, of Santa Cruz, Calif.-based -Tom Ralston Concrete, it sounded like it would be one of his simplest jobs ever.
"Then Mary started asking me for ideas: "he says, adding with a chuckle, "Bad idea."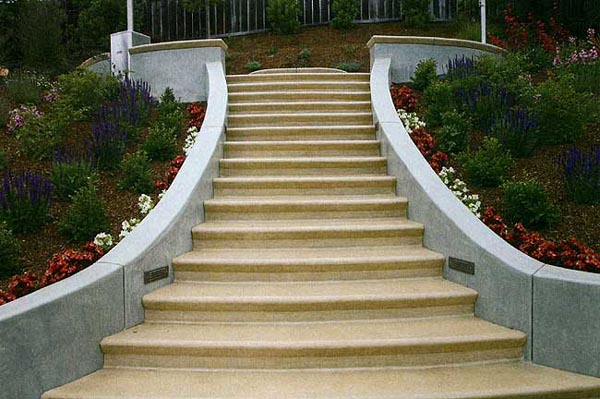 What the Magids ended up with, after a year and a half, was a three-level, four-season stamped-concrete outdoor luxury living space featuring three entertainment areas, four sets of staircases, a cascading waterfall, radiant heat, outdoor kitchen with barbecue pit, stereo system, mini-bar, refrigerator, flat-screen television, warming drawer, two-burner stove and trash compactor. Everything, in short, but the kitchen sink.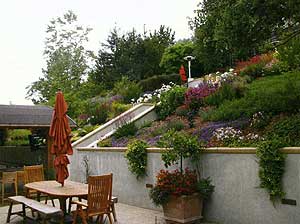 Wait. That's in there, too.
I always wanted a second kitchen," Mary explains.
And Jared got his basketball court, though it's easy to miss as you take in the full sense of the project.
Reclaiming the unusable
While the Magids have a generously portioned backyard - about a third of an acre - most of it falls away almost as soon as you step out the back door.
"The yard was unusable," says Alves. "Just a narrow strip of grass and trees on a hill."
Ralston adds: "it had about 14 feet of flat space, and the rest fell away in a 30-degree slope."
To make better use of all of the wasted vertical space, Ralston first took down a wall. Then he cut patios, multiple flights of stamped concrete staircases and other features right into the hillside. Helping people make it up
and down that slope in style required the loving addition of some 220 linear feet of steps, about 33 stair steps in all, with seating and entertaining space here and there to break up the monotony.
Or, to put it in more practical terms, "The patios are places to catch your breath as you walk up the hill," according to Dr. Magid.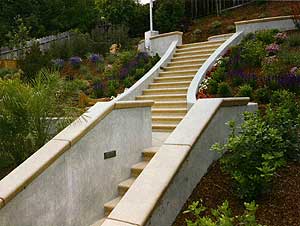 Four-season appeal
Alves asked her designer friend at some point as she pondered the stamped concrete building material, "Don't patios get cold in the winter?"
Yes, even in sunny California. "Not if you install radiant heat," Ralston remembers replying.
"Have you ever done that before?"
"No," he admitted. "But I'd like to try."
So seat walls with radiant-heated wall caps became a cozy part of the project.
"Tom made a lot of drawings," says Mary. As the married couple's enthusiasm grew and imaginations began to run free, she says, "the whole project took on a mind of its own."
You'll find something to draw the eye wherever you look. At the top of the hill is a fire pit with colored glass broadcast into the concrete. "A really cool multicolored look" is how Dr. Magid describes it.
The greenish-hued concrete patios and steps ('They fit right into the landscaping," says Alves) were strikingly finished with a sandstone color hardener with weathered sage release agent.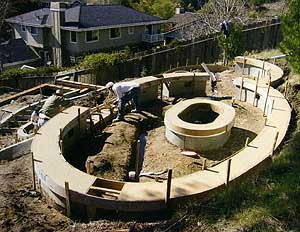 Lucky number 13
Ralston has established a reputation as an innovator in concrete countertops. For his clients' kitchen and barbecue pit at the bottom of the hill, he set-about designing a two-inch-thick countertop that would serve as a focal point. It was a project component that he and the wife half of the client duo took very seriously.
Alves recalls being presented with sample after sample of countertop, each prototype constructed by Ralston.
"We experimented with numerous compositions and hit it on the 13th try,"_ he says.
The selected slab features embedded stones from Bali and was finished with a blend of three acid stains: fern green, weathered bronze and faded terra cotta with an oyster-white color hardener. It was sealed with a two-part UV-resistant, polyurethane.
The greens, yellows and browns make the countertop, a one-of-a-kind composition, according to Mary.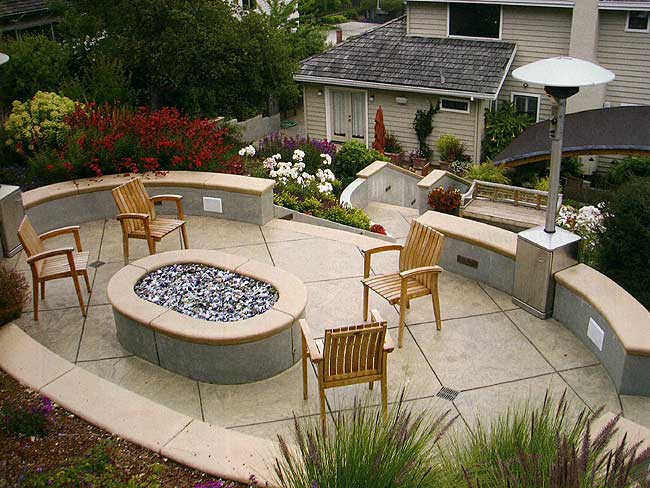 Picking up on the natural beauty of the surroundings, Ralston had his landscaper add "softscaping" in the form of a gently cascading waterfall behind the kitchen space. The whole multilevel area has been set off with furniture designed by a local artist and constructed of teak from Thailand.
"One of a kind" is a valid description of the entire project. The property was a big hit on a local garden tour, and the Magids have hosted their first outdoor Thanksgiving feast in their new backyard.
"Tom is a real artiste," says Alves, voicing the ultimate compliment to any decorative concrete designer.