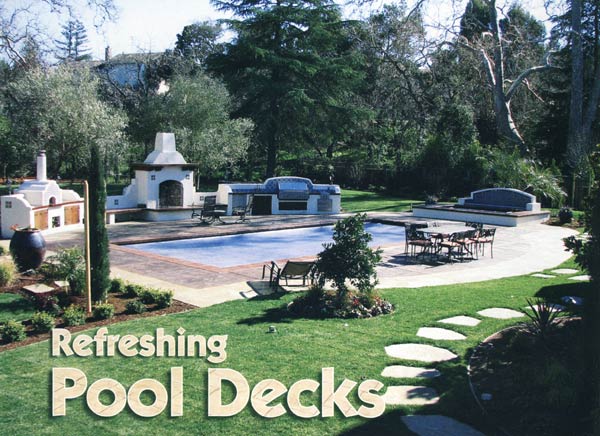 With the summer heat now hovering over the country, it's time to bust out the air mattress and floaties and head to the pool. Since it's the season, Concrete Decor interviewed two leading designers about recent pool deck projects. One project highlights an exquisite outdoor kitchen, while the other features a high end outdoor living space. Reading about these cool projects will help you beat the heat.
Unconventional Convention
Saratoga, Calif
Contractor: Tom Ralston Concrete
At this Saratoga, Calif., home of an NFL star, there is no such thing as simple. The quarterback had visions of a pool deck connected to an outdoor kitchen that featured a fireplace, barbecue and trash compactor.
Tom Ralston of Tom Ralston Concrete, in Santa Cruz, Calif., was chosen as the man for the job. "He wanted the pool to have somewhat of an organic feel," Ralston says. "But at the same time, he wanted to have more of a conventional look."
The customer's wishes were met by Ralstons team painting the kitchen components white. The pool deck was also tied in to the look. .
"The concrete is acid-stained, and what that does is play off his conventional-looking barbecue and pizza oven with organics," Ralston says. "I always view acid stain as an organic because it comes from the iron oxides that are in the Earth. The way the iron oxides play out, they have this variation that is hard to reproduce with any other medium."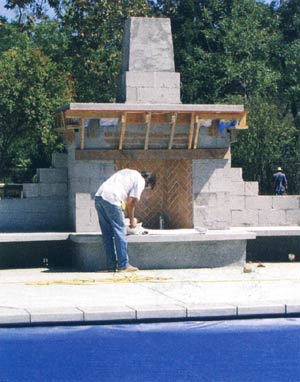 To create the color on the pool deck, Ralston blended L.M. Scofield Co.'s Padre Brown and Faded Terracotta acid stains. Three Rivers Flagstone was employed to create a band around the pool.
Although Ralston and his project foremen did a large amount of work, no one person can take credit for the design. "It's really a result of many minds," he says. Preconstruction meetings were held with Ralston and his crew, an architect, a landscape architect, a pool contractor and the homeowner. Ralston suggested what hardscape mediums to use and provided samples for the group.
"It was like a Mr. Potato Head," Ralston says. "We pieced things together and mixed and matched until we came to agreement with all parties."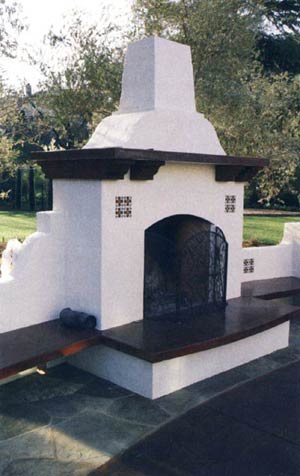 In order to keep all of the deck's elements cohesive, the same tile was used in a spa, around the pizza oven and barbecue, and in the pool coping.
"It ties itself together that way," Ralston says. "It's really nice to have juxtaposition in our hardscapes."
Because there were so many elements to the kitchen, there were a lot of different types of workers in the area. "It was a challenge to keep everything coordinated between the electrician, pool contractor, landscaper, architect, and the homeowner's desire to have t is built in three months," Ralston says. The project ended up taking around five months to complete.
Thankfully for Ralston, he had three foremen on the site - a masonry foreman, concrete foreman, and staining and sealing foreman. "All of those guys have years and years of experience with me," he says. "A key to success is to have people in the field who really know at they were doing."
TEL: 1 (831) 426-0342
www.tomralstonconerete.com