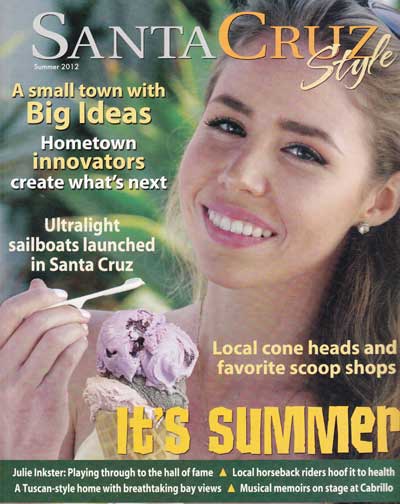 Rustic Elegance - A Tuscan-style Farmhouse with Breathtaking Bay Views
by Kirsten Fairchilds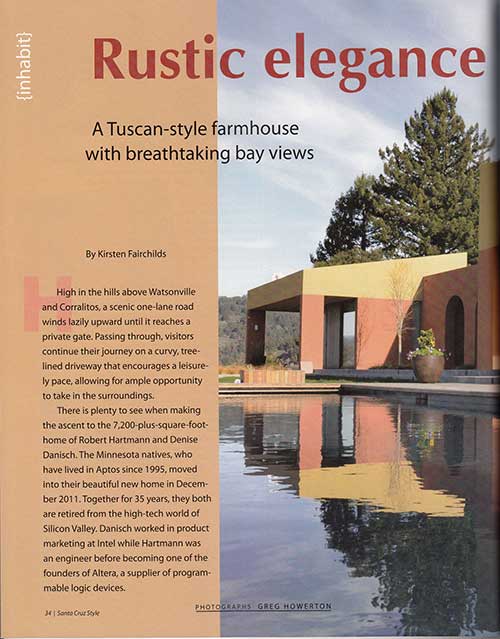 High in the hills above Wastonville and Corralitos, a scenic one-lane road winds lazily upward until it reaches a private gate. Passing through, visitors continue their journey on a curvy, tree-lined driveway that encourages a leisurely pace, allowing for ample opportunity to take in the surroundings.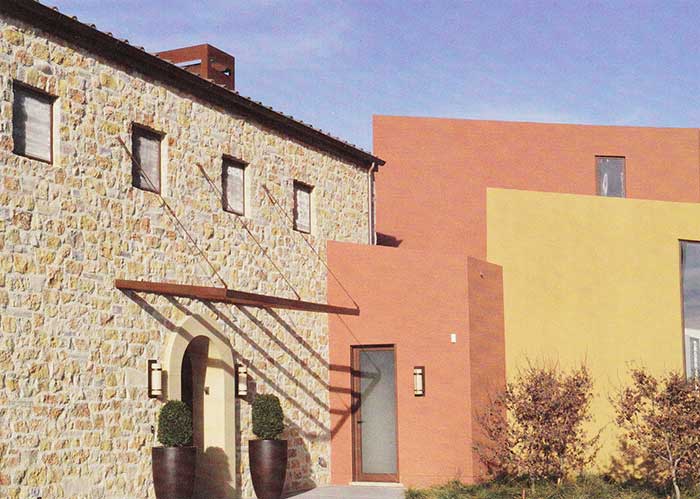 There is plenty to see when making the ascent to the 7,200-plus-square-foot-home of Robert Hartmann and Denise Danisch. The Minnesota natives, who have lived in Aptos since 1995, moved into their beautiful new home in December 2011. Together for 35 years, they both are retired from the high-tech world of Silicon Valley. Danisch worked in product marketing at Intel while Hartmann was an engineer before becoming one of the founders of Altera, a supplier of programmable logic devices.
Their spectacular home is a combination of two stone buildings - one is reminiscent of an Italian country house known as a casale. While the view and open land were the initial draws for Hartmann and Danisch on their first visit to the underdeveloped property back in 1999, the pair has happily settled into a home that continues the concept of open space indoors as well.
"We wanted room because we have a lot of family - we have a lot of grandchildren," Danisch said. "Our first night we stayed here was Christmas Eve - it was just the two of us. Then we had 12 people to dinner on Christmas Day. Between Christas Day and the middle of April, we have had 63 people stay here overnight."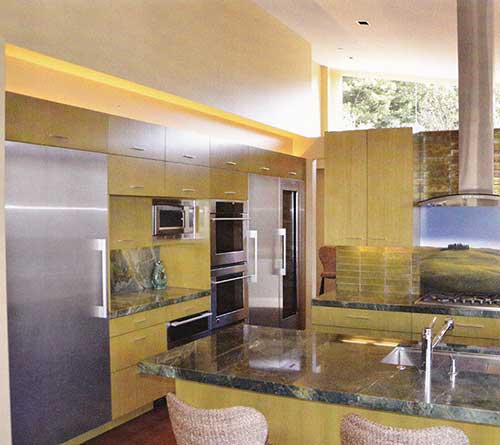 Actively involved in all the decision-making, the pair worked closely with New-York based Italian architect Aldo Andreoli as well as Los Gatos-based architect Louie Leu, general contractor Greg Howerton of Howerton Construction in Aptos and interior designer Dani Ingle of Home by Design in San Jose.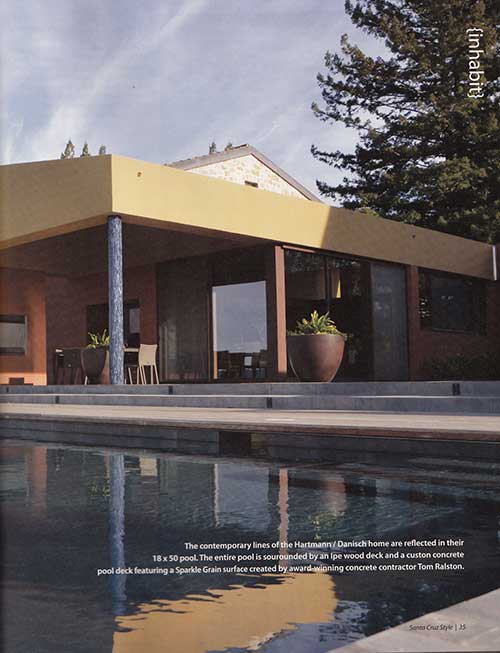 "I wanted the whole house to feel warm and inviting," said Ingle, who brought more than 30 years of design experience to the project." This project - my third with Bob and Denise - was all about their family. It was for their siblings, their children, and their grandchildren to all be able to come and stay at one time. A lot of the tile and color choices were chosen because they were fun and light-hearted and perfect for the family setting."
With a detached three-car garage and 800-square-foot studio nearby, the house has a total of four bedrooms and six and a half bathrooms. It also has an inviting game room, complete with a curved bar that can change into eight different colors at the click of a button. But the major ooh-and-ah factor of the home's interior is the great room. At 45 feet wide and 25 feet high, it is the largest single room ever built by Howerton.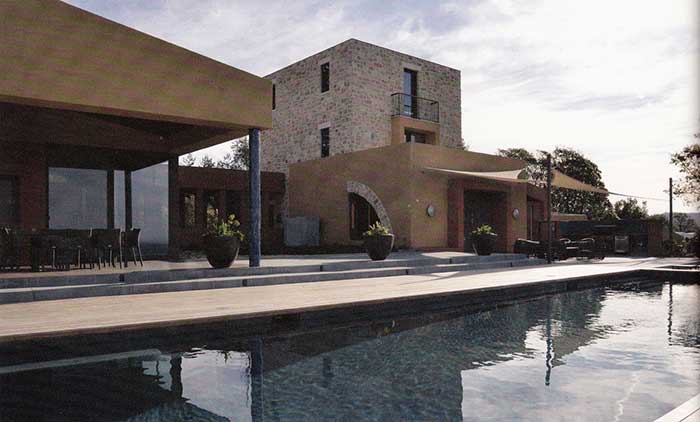 "It is truly the greatest room we've ever built," said Howerton, who credited his crew of five as well as numerous subcontractors for their exemplary work on the project. "It's the anchor of the house. The volume, all the stonework, the decorative beam work, the 20-foot-wide pocketing glass doors all added up to a challenge. We're ecstatic about how it turned out. In the end, everything came together."
Noteworthy details include two interior murals painted by Santa Cruz artist Laurel Bushman, the custom interior doors by Robin Kopit of Extraordinary Doors in Santa Cruz and the integration of native grasses and plants by landscape architect Randy Thueme Design of San Francisco.
"It really is one of the most architecturally striking homes in the county," said Howerton, who broke ground on the project in April 2009. "The juxtaposition of the old and the new - the marriage between Italian countryside and contemporary - and how well it's incorporated really makes this home unique."
The home's sleek elegance belies the amount of planning and effort involved in creating it.
"When you look at a contemporary house, everything seems to be so simple - clean lines, not a lot of trim," Howerton continued. "But to make it all look simple is an incredible amount of work. To get through a project like this where everyone is happy with the finished product, and to be able to give bob and Denise our best work and have them appreciate and love it, really is the most satisfying thing."