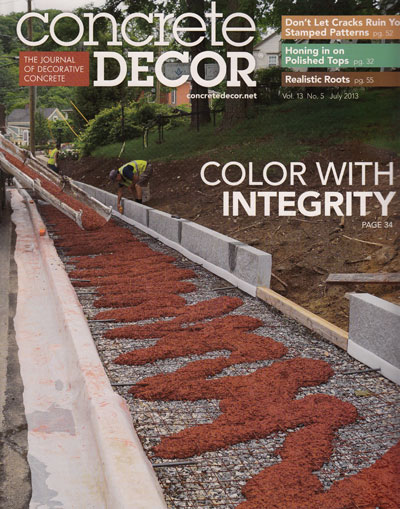 Contractors' Show-Stopping Showrooms
by Emily Dixon
In today's digital age, many contractors are increasingly using the Internet, social media and iPads to highlight their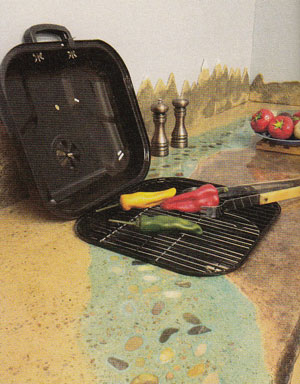 portfolios and suggest options to potential clients. However, at the same time, some decorative concrete professionals are turning back to the traditional showroom.
"When I do sales, I carry around samples, color charts and an iPad with pictures on it. But there are so many different parts of decorative concrete that I'd have to have a trailer to haul around all the samples," says Wayne Payne, president of Custom Concrete Coatings and Designs Corp., in Tallahassee, Fla. "So I decided to open up a gallery as a showroom."
Payne's gallery totals 1,350 square feet. The floors have been given various treatments in a variety of colors, and nearly 80 sample boards line the walls. In addition, two flat-screen TV's display photographs of the company's work to people outside the building.
Ryan Wilmer, owner of Wilmer Concrete, Fort Wayne, Ind., opened his showroom nearly a decade ago for reasons similar to Payne's. The 1,500 square-foot Wilmer Concrete showroom features samples of stamped concrete patters and textures, acid-staining examples, color options, and an outdoor space with a fire pit, seating area and more. In addition to decorative concrete, Wilmer Concrete offers natural stone and paver options.
"We tried to set it up in a way that people can come to the showroom and pick out stamped concrete, natural stone for a fireplace, and the tumbled block for a wall. Here they are able to see everything in the same place. they can compare colors on-site versus taking samples around town," Wilmer says.
While Payne and Wilmer have their showrooms at locations separate from their work space, other contractors are simply choosing to renovate their existing offices as showcases for their work.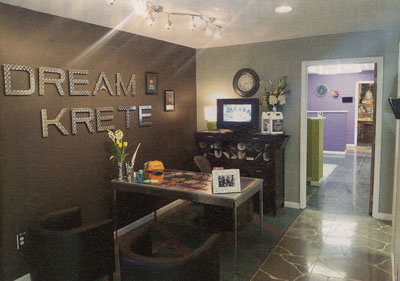 The main lobby of DreamKrete in Virginia showcases a cut, colored
tile pattern under the desk, a cut and grouted stone pattern, and
an oriental rug pattern at the door.Throughout the 1,100-square-foot office of Richmond, VA.-based DreamKrete, the company has polished the floors to varying grit levels and added details like an oriental rug floor design, stone and tile patterns, saw cuts and a range of colors. The office of one employee was even colored to look like a forest floor, complete with a creek and deer tracks.
"People really don't know what they want until they see it and can put their hands on it," says Jeremy Wilkerson, owner of DreamKrete. "We wanted a place where they could come and do that. It's easier for us to sell them a product when they can see what it's going to look like."
Like DreamKrete, Table Mountain Creative Concrete, Golden, Colo., transformed its 3,600-square-foot office and warehouse into a selling tool. Of that space, 600 square feet is a dedicated showroom with stamped, troweled and stained floors, a vertical application and concrete countertop. The space also includes sample boards highlighting different textures, colors and sealers, as well as product literature and color charts. Like Custom Concrete Coatings and Designs, Table Mountain Creative Concrete utilizes televisions to show off past projects.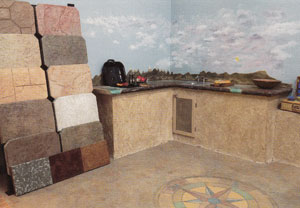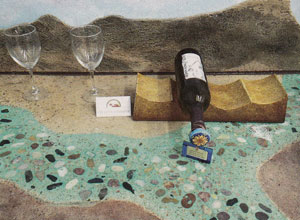 Table Mountain Creative Concrete, of Golden Colo., has installed decorative concrete throughout its office and warehouse. The company's in-house showroom features sample boards and a replica of an outdoor kitchen.
The rest of the facility is decked out with additional concrete floor treatments and countertops, a concrete bathroom sink, and polished concrete in the warehouse.
"The whole idea is to give people lots of ideas," says Table Mountain co-owner Sheila Squires.
Increased business
Table Mountain has had its showroom for approximately a year and a half now, and typically at least one customer per day visits. While most are customers coming to pick out colors and finishes, many are walk-ins who are looking for inspiration. The showroom has an easy-to-read sign out front, and it's advertised in local media.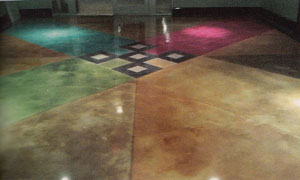 The Custom Concrete Coatings and Designs gallery
in Florida includes examples of various flooring
techniques, including polished, as seen here.
Different colors and grit levels were used to highlight
the versatility of polished applications.Payne of Custom Concrete gets some of his potential clients into the facility by working with a partner who rents out the gallery for private events. "There have been several baby showers held there," he says. "You get women looking at the floors and they start thinking about what they could do at their home."
Payne estimates the facility has been rented about a dozen times since it opened at the first of the year and he's received five jobs as a direct result.
"Not only is it helping with the decorative concrete business by renting it out for events, it also supplements income for my partner," he says. In fact, the gallery has done so well for Custom Concrete that the company has been booked out six to eight weeks in advance since the showroom opened. "It's been a good year for us so far."
Three of the contracting outfits have also held "open house" events, bringing additional recognition to their showrooms. These types of events tend to bring in eager clients that might normally end up hiring a competitor.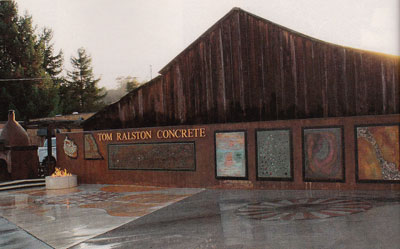 The Gallery Wall at Tom Ralston Concrete, Santa Cruz, Calif. Larger
samples from previous projects are framed to make them look like
concrete paintings. Their size capitalizes on the cars driving past.At a recent open house at Table Mountain builders, architects and the Better Business Bureau attended alongside homeowners. "(The showroom) has certainly lent itself to more commercial work," Squires says.
While Wilmer has not held an open house, his showroom still draws in area architects and general contractors. "It's been easier to build really solid relationships with not just homeowners, but architects and other contractors as well," he says.
Wilmer notes the cost of opening a showroom is sizable, but the potential for increased business is work it. "It's hard to gauge financially what it does for you," he says. "I think it's a long-term investment."
Tom Ralston, of Tom Ralston Concrete, Santa Cruz, Calif., opened his showroom in 1999, and between purchasing the property his showroom, office and workshop is on, and the cost of the actual displays, he has spent hundreds of thousands of dollars. While he's not able to put a figure on the ROI, he feels the expense has been worth it.
"We don't know what generates the most business for us, but when something looks good and is representative of what we do, it helps. It's absolutely been worthwhile," Ralston says. "If I can get a client to my office, I think it increases my chances for a sale by 80 or 90 percent."
Happier customers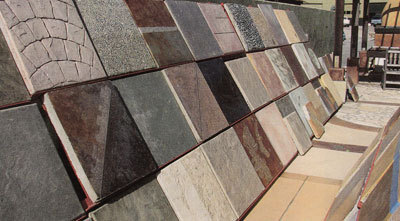 Almost every colored concrete job by Tom Ralston Concrete involves
a mock-up as a sample. Ralston repurposes the samples and turns
them into part of his show yard. There are more than 250 samples
on display.While an increase in customers is certainly a positive, it's just as important to keep those customers happy and properly manage their expectations. Showrooms can help with that as well.
"It has absolutely helped with expectations and callbacks," Wilkerson says. "Our floor is a real environment. You can see real flaws and spaces we had to repair. There's a control joint right down the middle of the office that helps give a more realistic expectation of what they'll get in the end."
Payne notes that clients who visit his showroom will often choose a higher-end finish than the one they originally envisioned.
"It's like if you decide you want a certain kind of car, and then you go to the dealership and see different cars that are really nice. You end up getting something a little nicer than you initially thought about," he says.
While there are many ways to incorporate a showroom into your sales plan, the most important part is to put thought into your displays. When you do, your client can see the full magnitude of options available in decorative concrete.
"It helps us because it helps them," Squires says. "It helps them figure out what they want. It sets up a different kind of relationship with homeowners. We can sit down, have a cup of coffee and share ideas. It's a very different feel from our old warehouse a year ago."