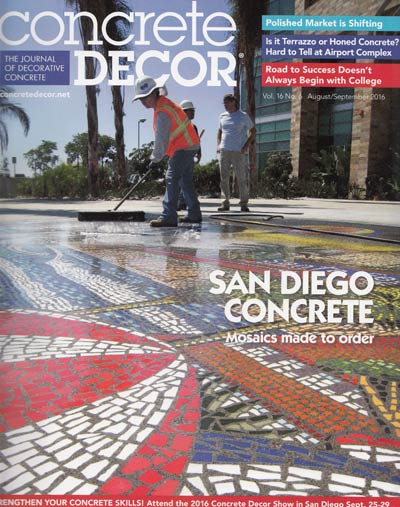 Aggregate can add pizzazz to projects
By Stacey Enesey Klemenc
Beautiful, durable and nonslip … what more could you want from a concrete surface that dazzles its beholders?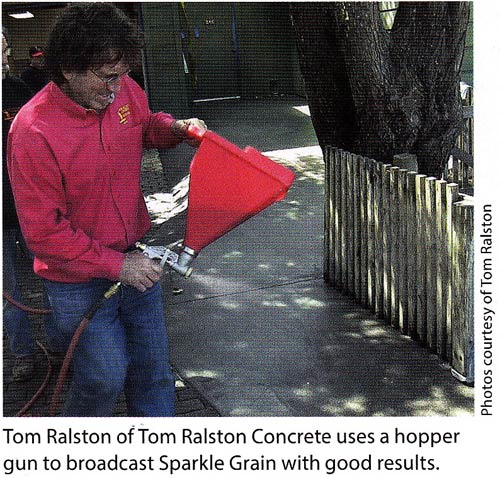 "Sparkle Grain is a way to expose brilliant sparkle on surfaces that look like a sea of diamonds when sunlight or streetlights hit it," says Tom Ralston, president of Tom Ralston Concrete in Santa Cruz, who's been using the product to dress up otherwise ordinary slabs for 20-some years. To make the sparkle even more prominent, he recommends integrally coloring the concrete mix.
A metallic aggregate from Pacific Palette Concrete Products that comes in black and white, Sparkle Grain is recommended where you want a decorative, hard, nonslip surface. The glitzy grit is designed for light to heave usage on floors, patios, walkways, driveways, steps and ramps in places from homes, shopping centers and wineries to museums, schools and stores.
"It gives you an aesthetic that many designers and specifiers will gravitate toward," Ralston says, adding that it's currently being applied to more than 50,000 square feet at the new Dallas Cowboy headquarters in Frisco, Texas. You also can see it in action on San Francisco's streets, Union Square Park and Moscone Park, as well as high-end homes around the country and airports in San Jose and New York City.
One architect summed it up with " It has a certain understated elegance about it."
Application Tips
Hand-tossed or mechanical applications of Sparkle Grain can be as light as one seeding, or broadcast, and as heavy as three seedings. It should be applied after the concrete has been screeded, wood floated, magnesium floated and troweled. Regardless of the method, for best results, the product should be broadcast by the crew member with the best hand and eye coordination.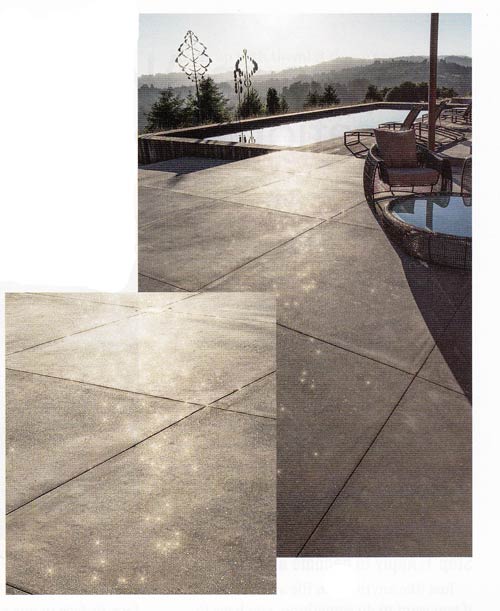 The same goes for applying the Sparkle Grain mechanically with a hopper gun you can get from any local building supply store. Whoever does the broadcasting, Ralston says, needs to now exactly what consistency the owner, architect or project manager wants on the slab – light, medium or heavy.
"Never broadcast Sparkle Grain so that it clumps up in pockets or make it so sparse that there are glaring bald spots," he recommends. Ralston says he's had good results with a a compressor that operates at 2.4 cfm at 90 psi.
"It's not an easy product to use but it's not extremely difficult either," Ralston says. He advises installers to do a sizable mockup reflecting the targeted coverage before sending out a crew for an actual job. He stresses that it's imperative that all parties responsible for the finished project be present for the first pour to see that the desired consistency is being met.
"The first broadcast should be applied when the concrete is set up enough to support knee boards," Ralston says. Subsequent broadcasts can be applied after each trowel procedure has covered up the product.
Finishers should treat Sparkle Grain the same way they would other exposed aggregate. "It needs to be pushed into the concrete and each particulate surrounded by the past, locking it in so it doesn't pop out," Ralston says. The following day installers should apply a muriatic acid and water solution to the surface, exposing the Sparkle Grain.
If desired, the surface can be sealed with a lacquer-based or an impregnating sealer.
Ralston says he really likes using the product that he predicts will become more popular in the future as more people discover it. "It doesn't lend itself to any gimmicky stamps or treatments," he says. "It looks organic when it's done properly and it serves a dual purpose. It provides a safe nonslip surface with an aesthetic that is subtle yet beautiful."
To watch an application video, go to https://vimeo.com/175971594.
See the Sparkle Grain website.