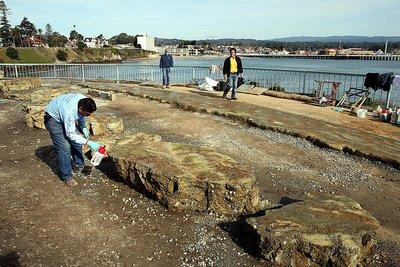 Photo Credit: Dan CoyroBy Cathy Kelly at Santa Cruz Sentinel
SANTA CRUZ -- An artist and others are creating a native garden along West Cliff Drive, in part to combat drug and litter problems at a picturesque oceanfront spot there.
Karen Toole, an artist and interior designer, became interested in the area while working at a home across the street.
The overlook area a bit east of the Shrine of St. Joseph previously had a raised mound of dirt with shrubbery, two benches and a dirt path. People sitting on the benches were not visible from the street.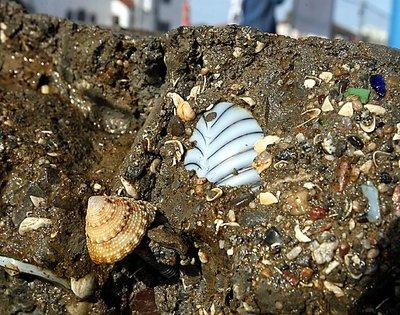 Photo Credit: Dan CoyroToole said it was a hangout for drug users and that she could see visitors who walked through were not comfortable staying.
She said she hopes the new design will change that, in what she calls the broken glass theory. In other words, if the garden looks whole and clean, people will feel inclined to spend time there and take care of it.
"It's really one of the most precious spots in Santa Cruz; people in the neighborhood should be proud of it and people should be able to linger there," Toole said. "My concept was to make a park for people to come in and look at the view and then to discover what was in the park and meander across the stones and see sea shells and plants and have this sense of discovery."
Toole joined with Tom Ralston Concrete, Granite Rock Co., the city and others to create a city-owned, privately funded garden. They started work there about two months ago and said one neighbor donated money to the city for the project.
The area, slated for completion in two or three weeks, can be seen at www.walknet.net, courtesy of a camcorder on a nearby home.
The half-moon shaped spot, at about 1,700 square feet, will contain native, low-lying plants, 13 flat-topped boulders, inlaid with sea shells, sea glass, shark teeth and other decorations and placed in a curvaceous line, inviting use as stepping stones. It will also include decorative concrete and two memorial benches that were there before.
Toole was earnest talking about her botanical vision of draping wild lilac and dark green foliage surrounding low, silvery-gray ground cover reminiscent of the ocean.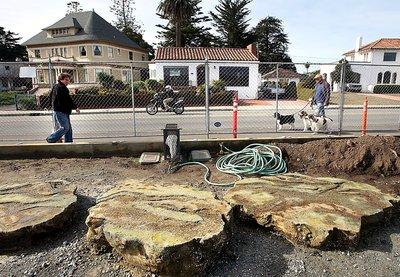 Photo Credit: Dan CoyroTom Ralston and his crew were working there Tuesday, color-staining the boulders and on a strip of undulating, decorative concrete and a 10-inch-high perimeter wall. They affixed oyster shells to the top of the curb-like wall, courtesy of Stagnaro's, to deter skateboarders, Ralston said.
He said he wanted the colors in the stones to reflect the colors along the nearby cliffs and for some of the rock detail to mimic the movement of water in a wave.
They used a new molding technique and some rubber substance in the rocks to create the designs they wanted, attributing the high-end craft to his employees Bill Goff, Tony Xilonzochilt and Russell Dennis.
"I feel great about it, I was born on West Cliff Drive and started surfing here in 1962," Ralston said. "This is my home."
One woman walking by, Yolanda Loza of Santa Cruz, said she thinks the project will add to the beauty of West Cliff.
"It's a perfect spot and I think it will be a nice attraction," Loza said. "It will add to the serenity and peacefulness. So many people walk here, for all kinds of reasons."
Ralston said the project will cost about $30,000.
Toole hopes for volunteers to help plant and maintain the park long term, though city workers will care for it. To contact Toole, email her at This email address is being protected from spambots. You need JavaScript enabled to view it..