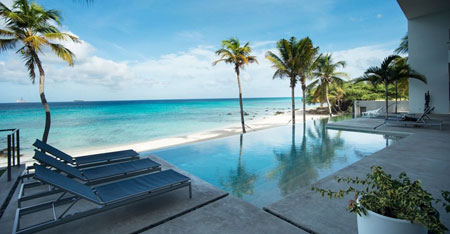 by Anne Balogh, ConcreteNetwork.com
Just steps away from the Caribbean and its white sandy beaches, this modern oceanfront home in Aruba blends in seamlessly with its surroundings, using concrete throughout to juxtapose the home's modern aesthetic with the breathtaking view.
"The homeowners had looked at other floor surfaces and concrete was by far and away a material they had their hearts set on," says Tom Ralston, president of Tom Ralston Concrete, Santa Cruz, Calif. In 2012, Ralston was recruited by the home's architect, Gary Ostermann, to tackle this challenging long-distance project, which involved pouring and hand finishing 16,000 square feet of interior and exterior concrete, including upper floors, lower floors, cantilevered stairs, a pool deck, and the side and front entries.
"The homeowners chose concrete functionally because they are in such close proximity to the beach and knew that sand would be constantly brought into the home and wreak havoc with carpet or hardwood. Aesthetically they liked concrete because the house was modern, and a material that could look organic with clean smooth lines would be best for their tastes," says Ralston.