Learning to live with bad concrete
Hiding cracks can be cheaper and more interesting than removing them
---
BY PETER O. WHITELEY
My old gray driveway wasn't what it used to be. Time, a huge oak tree, and expansive soil had conspired against it, leaving cracks down its length and across its width. Like so many homeowners with cracked concrete patios, paths, and driveways, I thought my choices were few: replace the whole thing or live with it.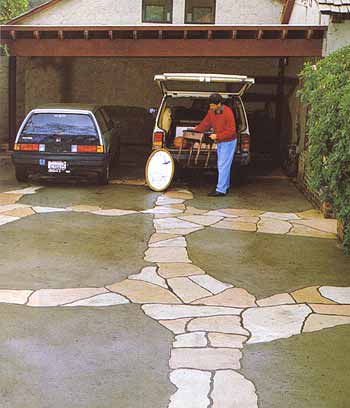 Replacing my old concrete slab would be a noisy, time consuming, and expensive process. And I'd have no guarantee that the cracks wouldn't reappear. Cracks alleviate stress in a broad area of concrete, and in the case of expansive soil, they mark where the fractured slab will move with the seasonal swelling and contraction of the earth below. A little research turned up less costly solutions that basically disguise the cracks while allowing the concrete to continue to move: bonding, staining, and top coating. I opted for an innovative bonding technique developed by contractor Neil Stringer of Woodland Hills, California, that gives an expanse of concrete the look of a flagstone patio.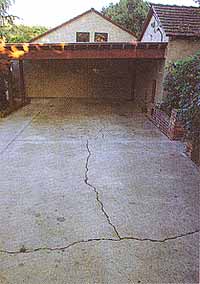 THREE-DAY MAKE-OVER
Stringer and Santa Cruz contractor Tom Ralston began by power-washing the driveway. (Sandblasting also works.) They then removed debris from the cracks and filled them with sand and a top coat of flexible caulking that would move with the concrete. A dusting of sand made the caulk look more like grout. To create a level surface with no straight lines to interrupt the planned scheme, Stringer and Ralston jackhammered out the one major expansion joint and filled the opening with new concrete. Then, after covering the driveway with a liquid acrylic bonding agent to hold the new coat to the old concrete, they formed thin faux flagstones with precolored concrete mix. To create the illusion of more grout lines, Stringer carved through the new top coat down to the original slab. The cost for the job was about half what it would have been for a new, custom, stamped and colored concrete driveway. Expect to pay $4 to $7 per square foot. My resurfaced driveway has been in use for almost two years, with no sign of deterioration. The old cracks are still there, but they're lost in the patterning.
Sunset Magazine - May 1995