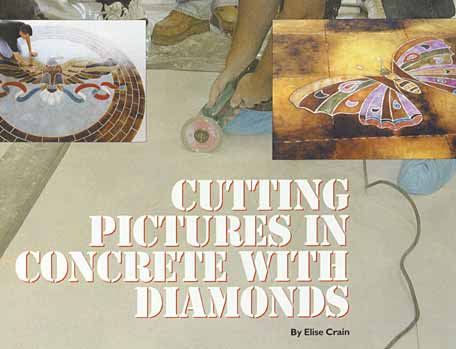 Darrel Adamson, Engrave-A-Crete Butterfly created with Kaleido-Crete, Engrave-A-Crete
Cutting Pictures in Concrete with Diamonds
---
BY ELISE CRAIN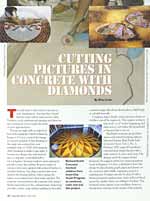 The only limit to decorative concrete is your imagination. You may have heard that for years and it is just as true today. Products, tools, professional training and ideas are just waiting for you to make the most of your opportunities.
Picture an eagle with an eight foot four inch wingspan! Darrel Adamson, Engrave-A-Crete, created this image at a recent seminar. A line drawing of the eagle was scanned into and enlarged with a CAD/CAM program. After tweaking to make it just right, it was put on a floppy disc and inserted into a computer- controlled mill to cut a template. Seminar students used carpenter's pencils to trace the outline. Reactive stains of various colors were applied with pointed brushes to simulate feathers. DecoSup concrete dye's were used for the flowing ribbon. After curing, the surface was washed and a clear sealer applied. The template was returned to the concrete and, using a Shark engraving tool, the cutting began. Engraving provides a clean, crisp outline resulting in beautiful concrete images like those shown above, Bald Eagle or colorful butterfly.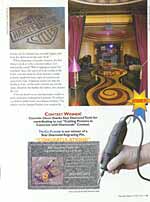 Company logos, family crests, pictures of pets or children can all be engraved. The caution is that it may look "cool" in the beginning and then not so cool when the household or business has to move.
Freehand creations are good for stones and natural looking surfaces. Marvin Dodson, Rare Earth Labs (Concrete Decor, Vol., 1, No. 1, February 2001, page 42) produces concentrated stains that provide a wide variety of colors and tones. His designs are both engraved and freehand. He suggests when not using equipment (such as Engrave-A-Crete or Kaleido-Crete) the design be placed using graph paper and drawn on the concrete with chalk, soapstone, pencil or marking pen. Designs can also be placed with a black permanent marker since stains will not bleed across the marker lines, according to Dodson. The freehand stone pattern is an excellent choice to incorporate existing cracks as part of the pattern. Cracks can be cleaned out, or made bigger, and form the skeleton for the new "look."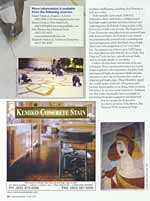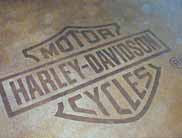 Trent Goossen, South DakotaWhen planning a concrete creation, the first thing to look at is the concrete surface. Is it structurally sound? Will a topping (overlay) be installed? Since the survival of an overlay is the bond, concrete must be clean and the overlay property applied if these types of creations are expected to last. Adamson points out that the hardness of an overlay and concrete are not the same, therefore the harder the surface, the cleaner the cut.
A broom finish on an existing surface makes a more authentic looking brick pattern. To achieve a polished marble look, smoothness is better. The surface can be changed before your creation by grinding, sandblasting, polishing, shot blasting or with an overlay.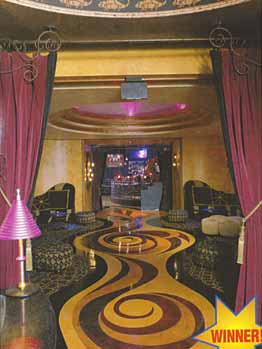 Tri-Co Floors, La Mesa CATools typically used include DeWALT, Milwaukee, Black and Decker or Mikata handheld right-angled grinders and saws, Dremel type engraving pins, the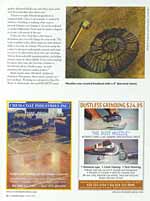 Kaleido'Crete systems, or the Harris Accu-Glide concrete saw. The Engrave-A-Crete System uses specialized electric-powered saws with diamond blades, the Kaleido-Crete System uses pneumatically powered tools containing fine steel rod impactors, while the Harris Accu-Guide allows cuts with straightness of +1/32 over thirty feet. An operator can achieve up to 5,000 linear feet of production a day with the Accu-Glide. Star Diamond Tools also has a special convex blade used in an angle grinder to cut circles.
Gerald Taylor, El Dorado AR Crafters develop their own favorite tools and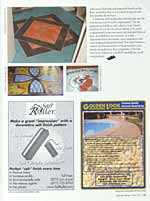 techniques. Every experienced creator of concrete images emphasizes the importance of quality tools and diamond blades. Inexpensive blades become expensive in the long run because they result in chipping and rough edges. These blemishes impair the overall quality of the job. Not getting paid because of poor quality is one thing, what you leave behind can be an even worse experience. Adamson says that achieving straight lines is as simple as purchasing the proper equipment and diamonds that are specifically designed for decorative grooving. John Bernat, Star Diamond Tools, reminds us "high quality diamond blades run smoother and cooler and always produce fine clean cuts."
Patience is right behind imagination in required skills. Once a cut is made, it cannot be undone. Grinding or making other cuts to provide balance can change it. It can be widened or angled differently. Stain may be used to disguise or create a diversion of the eye.
| | | | | | |
| --- | --- | --- | --- | --- | --- |
| | | | | | |
| Richard Smith Concrete involved children from Inner-City Youth Programs to construct, color and seal this project. | Gerald Taylor, El Dorado AR | | | Cindy Collins, Moultin AL | |
Is this art? Yes! And that is the basis to determine fees you will charge for your work. The tools available today allow someone with limited skills to become an artisan. The person using the correct tools must understand concrete and must try not to be affected by those who are watching. Advice from sidewalk superintendents, including owners, must be taken lightly. If you wear earplugs for safety, they may also provide a barrier to unsolicited advice. Dodson says, "as with anything else 'practice makes perfect.'"
Multi-media artist, Elizabeth Anderson, Anderson Enterprises, discovered concrete as a new medium. Working on a project for Bass Pro Shops in Islamorada, she used INCRETE stains with metal shavings and engraved fossils on the floor, including that of a seven-foot tarpon and the nautilus shown here.
Nautilus was created freehand with a 4" diamond wheel.
Jeffrey Grieve,
Carlsbad CA
Creativity, skill and product knowledge are the reasons you can be well compensated. You are using special skills to add value to your client's property. If you are shy about asking to be' justly compensated, your customers can interpret that as lack of confidence on your part. It is also important that your trucks, your equipment and your workers look professional. You want business owners and homeowners to be proud that your trucks are parked on their properties. One last hint from Adamson: install ID medallions on all your projects.