Industry Events Learning Opportunities, Essential to New Skills and Improving Old Ones


Last month Concrete Decor had the opportunity of participating in a Scofield Institute training seminar in San Jose, Calif. The evening before this two day event we enjoyed a great dinner hosted by the L.M. Scofield Co. The sold-out event included a unique blend of both new and seasoned tradesmen to this "Interiors Workshop."

Like any seminar that covers lots of ground in a short timeframe, the Scofield Institute provided its students with excellent pre-printed guidelines for fast and effective notetaking. Several Q&A opportunities provided for active interaction among Scofield staff and student, during every session of this hand workshop. Mr. Bob Harris, Director of Training and New Product Developments at the Scofield Institute, was the keynote speaker and our trainer for the seminar. Also on hand were representatives from the USF Surface Preparation Group, best known for the Sawtec and Blastrac product lines. (see their ad in this issue). They demonstrated new products and provided for an effective hands-on use of their tools during the course of the event.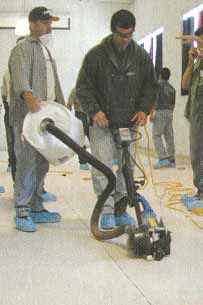 From surface preparation to overlay application, design creations, and implementation, the seminar offered everyone ample opportunity to physically involve themselves in all aspects of the overlay, design/sawcutting, staining and, sealing processes. These two days of training also provided several tips and techniques to students that can only become fully understood in this type of learning environment. Although the day ended at five o'clock another dinner engagement gave everyone time to compare notes and discuss the day's events.
If you want to learn valuable skills that support your business development efforts, learning opportunities like these are essential. Thanks to the Scofield Institute and many others like them, placing importance on education has significantly improved the interest there is today on decorative aspects of concrete work as a reliable and beautiful alternative to other product offering.
If you are considering this type of learning opportunity Concrete Decor invites you to visit us on-line at www.concretedecor.net. Select training from the menu bar and you can find a growing list of companies that offer educational training services throughout the year. Many are companies with extensive and proven records for providing students valuable tools for improving their skills, their business and level of profitability.
Concrete Decor - Fall 2001