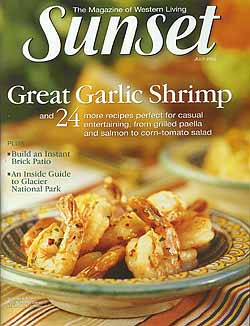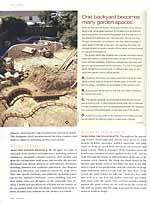 One backyard becomes many garden spaces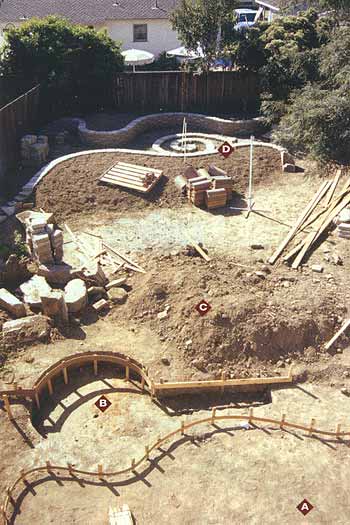 When he first saw the house, landscape architect Irving Tamura faced a flat, rectangular backyard dominated by a tall redwood tree rising behind the freestanding garage and shading much of the space from afternoon sun. Tamura's plan, shown part way through construction, is to preserve the tree, take advantage of sunny areas to the rear of the yard, and use free-form lines and changes in level to create a variety of living areas and add interest to a typical rectangular lot.
The garden will be drip-irrigated with a system of emitters tied to multioutlet valves in underground boxes, except for the small lawn, which will have sprinklers. Buried low-voltage lines will power path lights to lead guests beyond the main patio. The rest of the garden will be divided into a bocce court, a children's play area, an elevated herb garden, and a cutting garden.
A. Closest to the house, two steps down from the family room, will be a broad outdoor living and kitchen patio. A low wall -perfect for sitting -will define the boundaries of this outdoor room.
B. A pizza oven will be built into the wall, its position marked by the framed half-circle.
C. The garden gradually becomes less formal beyond the low wall and pizza oven. A decomposed-granite path will run between a small curvilinear lawn and the shaded area beneath the redwood tree, just out of the photograph on the right side of the garden.
D. A pair of curving walls of dry-stacked interlocking concrete blocks will act as retaining walls to create level changes.
- P.O.W.
Sunset Magazine - July 2002