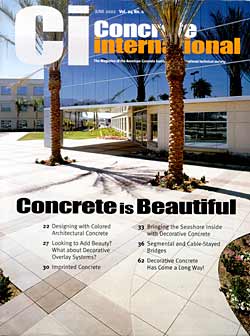 Showing How to
Make Concrete
Beautiful

DCC Spring Event an indicator of the dynamic growth predicted for decorative concrete
BY KEITH A. TOSOLT
Decorative concrete has been a definitive trend in the construction market for some time, and the popularity of its use keeps increasing. Several members of the Decorative Concrete Council (DCC) referred to their industry's potential during presentations at the group's 2002 Spring Event, April 5-6, in Oklahoma City, Okla. More than 70 attendees learned about the techniques commonly used to color and add texture to concrete. Skilled decorative concrete contractors also demonstrated the step-by-step techniques of creating artistic designs in concrete slabs and shared some of their job-site experience in the process.
A specialty council of the American Society of Concrete Contractors (ASCC), the DCC formed 4 years ago; its current Council Director is James D. Engelman, Engelman Construction, Inc., Macungie, Pa. "Our goal is to train and educate our peers on the importance and necessity of decorative concrete in the marketplace," says Engleman. "It's a booming industry across the country, and it may be the fastest-growing segment of the concrete industry right now. Consumers are seeking information on decorative concrete from contractors, designers, and architects... so that's what we're trying to do -get the message out."

KNOW YOUR CONCRETE CHEMISTERY
DCC's program at its Spring Event began with a look at enhancing slabs with stenciled and stamped patterns. Stenciling offers the advantage of faster installation at about one-third of, the time compared to stamping, according to Doug Bannister of The Stamp Store, Oklahoma City, Okla. He is a founding member of the DCC, its current Secretary/ Treasurer, and an ACI-certified Flatwork Technician.
A stenciling application involves laying out a kraft paper stencil pattern on top of a slab of fresh concrete and slightly embedding the stencil into the surface with a long-handled roller. The crew then throws a color hardener onto the surface and works it in; the hardener also adds an element of wear resistance. A final pass with a textured roller adds the look and feel of stone, tile, or brick. Once this surface has hardened enough to walk on, workers pull the stencil and natural-looking grout lines remain. Bannister cautions against embedding the stencil too deeply, which could cause defects in the finish after the stencil is pulled. Removing the defects may require hand-retouching. It is also important that the slab formwork be absolutely square.
Stamping and texturing are other ways of imprinting integrally colored concrete, or concrete with a shake-on color hardener. The stamps are plastic or metal platform tools that usually leave deep grooves, which can later be grouted or left open. Contraction joints can be disguised as part of the pattern. Stamping mats imprint a shallower pattern of grooves and produce a texture that resembles slate, field stone, or other materials. Mat-texture skins impart only a seamless, free-flowing texture. To produce a pattern or texture, workers tamp the stamping mats or skins into a surface that has been treated with a release agent to permit removal without disturbing the imprint texture.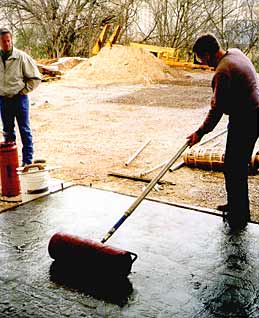 Texture is roller-applied
Knowledge of the complex chemistry of concrete helps to ensure the successful completion of decorative concrete projects. Contractors should:
Notify owners and clients in advance of the variable nature of color in concrete. Joe Nasvik, Concrete Construction magazine, Addison, Ill., advises that contractors explain to owners and designers during pre-project meetings how efflorescence can shift color hues; and


Develop different mixtures to compensate for hot- and cold-weather concreting. In hot, windy conditions, surface crusting will adversely affect stamping projects, and it may be necessary to accelerate hardening. The Stamp Store's Bannister encourages anyone entering the decorative concrete field to consider first being certified as a flatwork finisher.
EXISTING CONCRETE ENHANCED
When decorating existing concrete with overlays made from polymer-modified cement mortar, the ability to identify causes of problems in previously placed slabs may be the determining factor in whether to take on a project. As versatile as spray-texture decorative concrete systems are, DCC board member Frank Lewis suggests that a contractor answer this question first: "Is this particular piece of concrete something I want to put an overlay on?" Lewis is Director of New Product Development and Traing for Sundeck Products, Inc., Arlington, Tex.
If concrete surfaces are cracked or spalled, the conditions that caused these distress symptoms have to be corrected. This may be difficult because contractors bidding on an overlay for an existing slab may not have much information about subbase conditions or concrete quality. But if they can't identify causes of existing problems -and correct them- the overlay is likely to fail.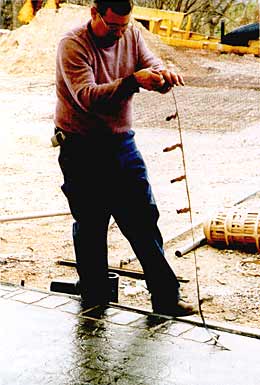 After the stencil is removed, the grout tine is visible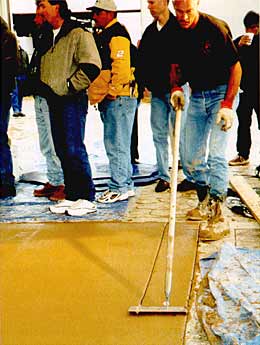 Adding a joint line
A large market exists for cementitious overlays applied approved waterproofing membranes. Spray-texture overlays simulate tile and marble patterns on newly placed concrete slabs. Decorating the surfaces around new swimming pools is an especially viable segment of the market, as are interior floors, outside walkways, and driveways in housing, office, and retail developments. The technique is also used vertically as well-overlays can provide the look and texture of brick during remodeling of existing concrete walls.
Jim Rome of the Miracote Division of Crossfield Products Corp., Thornton, Colo., discussed the use of troweled and stamped overlays of polymer-modified cements that offer high adhesion and resistance to wear and water. These overlay are applied to a depth of 1/4 to 1/2 in. (6 to 13 mm). This thin-topping approach is very conducive to interior design applications. For example, homeowners can have striking, one-of-a-kind counter surfaces that are extremely durable and relatively maintenance-free at a cost comparable to that of traditional materials (and in some cases, at lower cost).
EXPANDING THE COLOR PALETTE
Proper surface preparation is critical to successful results with acid-etch staining and sandblast-stenci ling techniques to decorate concrete. When making sawcut designs in a slab, Bob Harris, Director of Product Training, Scofield Institute, at L.M. Scofield Co., Douglasville, Ga., advocates dustless grinding to keep contaminants from the surface, followed by pressure washing. Many contractors will use glass shotblasting when doing stencil applications because there is less fine residue to clean up before staining.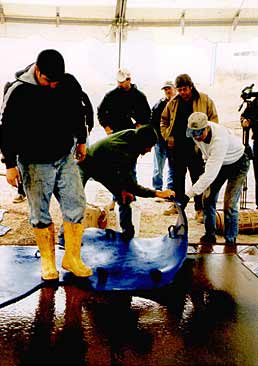 Seamless mat-texturing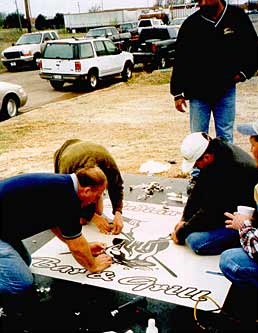 Preparing a sandblast-stencil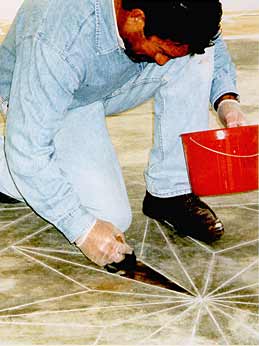 Acid-etch staining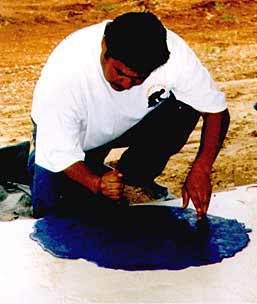 Imprinting a polymer-modified overlay
The polishing of acid-stained concrete to a high-gloss finish that doesn't need sealing represents the cutting-edge process in the field of decorative concrete today, according to Tom Ralston, Tom Ralston Concrete, Santa Cruz, Calif. He blends stains to create a highly artistic marbleizing appearance that is enhanced after polishing. Faux techniques, such as ragging or stippling (in which a clear acrylic sealer is sponge-applied randomly first and then the entire surface is stained), can add unique effects. For fine accents and blending of color, Harris prefers to use an eyedropper when working stain into intricate designs.
Decorative concrete contractors need to document the details of their projects and record the techniques and colors used in case a client wants a certain look repeated. While there is much opportunity to experiment with various color and seeded-aggregate combinations, contractors should prepare test sections in advance. The best piece of advice given quite possibly was this: "Mock-ups prevent foul-ups."
TAPPING INTO THIS BOOM
Jim Peterson, President of the Concrete Network, Yucaiga, Calif., predicts an exploding market for polished concrete floors. He recommends that concrete contractors consider positioning their businesses for this dynamic growth. Across the spectrum of residential and commercial construction, decorative concrete is being specified for its uniqueness as well as for the durability it offers.
In the future, emphasis in the concrete industry will shift toward making concrete as "green"-environmentally friendly and energy efficient-as possible, which can only improve its position as a construction material of choice. Marketplace demand will also increase as more consumers realize that concrete has the potential for artistic and aesthetic expression-after skilled decorative concrete contractors transform it into something quite beautiful.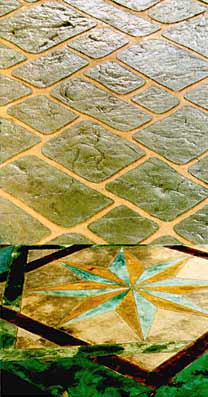 Some results of the DCC Spring Event demonstrations
Contact ASCC's Decorative Concrete Council toll-free at (866) 788-ASCC; web site: www.ascconc.org. Information on ACI certification is available by calling (248) 848-3788 or on the ACI web site: www.concrete.org.
Keith A. Tosolt is Managing Editor of Concrete International. A graduate of the University of Michigan, Ann Arbor, Mich., with a Bachelor's degree in journalism, he has an extensive background in writing, editing, and magazine publishing.