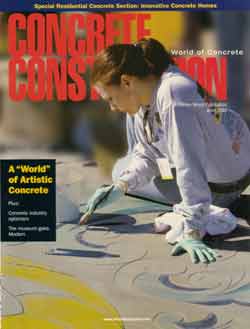 Being Artistic with Concrete

At the World of Concrete, huge crowds watched as creative concrete contractors demonstrated the leading edge of the decorative concrete market
by Joe Nasvik
At a time when other segments of the concrete industry are struggling to keep busy, the decorative concrete industry is growing and evolving. One reason is that decorative concrete can be used in many areas of concrete construction. New commercial projects (although currently a struggling market) continue to specify decorative treatments, existing properties are willing to spend money for rehab work to stay interesting and in good repair, and homeowners, despite their current frugality, are still willing to upgrade their homes and living spaces with decorative concrete.
But another reason for the excitement about decorative concrete is the seemingly infinite possibilities. To showcase the most interesting work being done today, CONCRETE CONSTRUCTION magazine and the American Society of Concrete Contractors (ASCC) through its Decorative Concrete Council (DCC) sponsored, for the first time ever, a demonstration on artistry and creativity using decorative concrete as the medium. Thousands of World of Concrete 2003 visitors came to the demonstrations over 3 days and saw decorative concrete work that should allow them to be more creative with their own offerings.
Gary Jones is applying a coat of overlay cement.
Before the show started, our volunteer team cast a 10x10-foot slab for each presenter. Those artists who would use diamond saws and polishing equipment needed very hard concrete to achieve the best results. Mike Clokey, manager of quality control for Nevada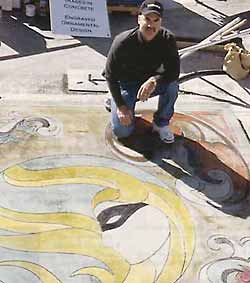 The Taylors transferred an image, along with graphics, onto plastic and then ingeniously transferred It to the slab. Through careful handwork the design was cut into the concrete surface and colored.

Plouffe and Roman completed a stencil sandblast patterned slab. They used stains, chemical and solvent-and color hardener broadcast on the freshly placed concrete to provide the coloring.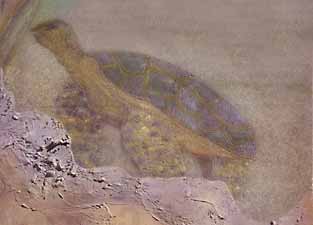 Working with chemical stains, dyes, tints, and a limited amount of water-based stain, Dana Boyer produced this mural. She used a "wasp" to etch her drawings onto the slab through transfer paper.
Braaksma cut shapes of sea life from marble and aluminum and placed them In the plastic concrete. Graf used his skills with large floor polishing equipment and diamond polished a 3000-grit finish on the concrete surface. The result is high-gloss and maintenance-free.
Readymix, Las Vegas, adapted a Clark County-approved concrete mix design that had a 0.38 water-cement ratio and used polycarboxylate superplasticizers to get a placement slump of 6 inches. Clokey conservatively estimated that, over the 4 days between casting the slabs and the start of the demos, the concrete achieved a compressive strength of 4000 psi.
Artists and artistry
As you can see by the photos, each concrete artist's work was unique. And even though you may not have seen anything like these works in public places, all of the presenters have installed decorative work using these techniques.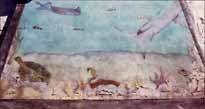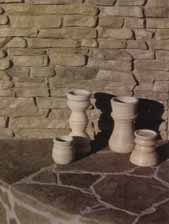 Yoder's trowel-applied concrete mix, built up as much as 3 Inches, Is a combination of hand-carved rock patterns and stamped rock Impressions. Note the vases, which were cast and then turned on a lathe with woodworking tools
The materials used for the demos included:
• Chemical stains
• Water-based stains, dyes, and tints
• Color hardeners
• Overlay cement
• Polymer cement capable of 4-inch troweled buildup on vertical surfaces
• Water-cut marble and aluminum shapes that were embedded into the plastic concrete
• Polymer cement with metallic powders
• Integral color
• Adhesive template stencil material-PVC plastic sheeting with an adhesive backing
• Transfer paper-paper with an adhesive backing used for layout work Colored aggregates
Tools used by the artists included:
• Angle grinders with an assortment of diamond blades and crack chasers
• Sand-blasting equipment
• Rock-texturing stamps
• KaleidoCrete cutters (with reciprocating teeth that nibble into concrete)
• "Wasp" (a reciprocating pencil stylus for marking patterns on concrete)
• Planetary head diamond floor polisher
• Handheld planetary head diamond polisher
• SuperCompact saw for cutting circular brick patterns
• High-volume, low-pressure (HVLP) spray guns
Sandblast stenciling
Andre Plouffe, owner of Designs in Concrete, Thousand Oaks, Calif., and Glen Roman started their work on a buff-colored slab cast with dry shake color hardeners broadcast at twice the normal rate (1.2 pounds per square foot). They cut borders and pattern lines into the surface to separate different applications of colored chemical stains. After washing and sealing the slab, they applied a sandblast-resistant template with an intricate vine pattern. Sandblasting through the open parts of the stencil removed the chemical stains to reveal the color hardener.
Freehand concrete engraving
Gerald and Meredith Taylor, owners of Images in Concrete, El Dorado, Ark., worked out their design on paper first, transferred it to polyethylene plastic, and then to the concrete slab, using an ingenious system. Gerald used an angle grinder with a 4-inch diamond blade to very carefully cut the tightly curved lines of the pattern into the surface of the slab. Finally, they applied chemical- and water-based stains to complete the image.
Hand carving and impressing patterns Andy Yoder, Stan Yoder, and David Witbeck from Flex-C-Ment, Tryon, N.C., trowel-applied a special mix of polymer cement on vertical surfaces, building up a 3-inch thickness. When the mixture was at the right stage of plastic set, they applied molds of rock shapes and hand-carved rock shapes, creating a rock masonry wall and an arched door opening. On the following day they added water-based stains to complete the look. Visitors were also shown vases that were cast from the same material and turned on a wood lathe.
| | | |
| --- | --- | --- |
| Brandon and Darrel Adamson's American eaglea 3-dimensional engraving using water-based stains. | | Arellano and Kidd's finished artistic piece, where they built up the elements of their graphic pattern with overlay cement-spraying everything with an HVLP sprayer. Metal powders were added to the pattern portions of the graphic to achieve the copper surface. They used patina chemicals on the center. |
Creating with chemical stains, dyes, and tints
Dana Boyer, owner of ConcretiZen, Apache junction, Ariz., created an undersea image using several techniques to provide a 3-dimensional effect. She started the process with a hand-held planetary head diamond-polishing tool to reveal aggregate in the concrete --cutting a swath about 2 feet by 10 feet.
Next, she applied overlay cement to build out from the slab for the sea floor. By sticking down transfer paper with images of fish and turtles on it, she transferred the images to the slab with a "wasp" tool. Coloring the scene with stains, dyes, and tints completed the work.
Engraving a 3-dimensional eagle
Darrel and Brandon Adamson from Engrave-a-crete, Sarasota, Fla., provided the patriotic touch to the event by creating an American eagle with a 10-foot wingspan. They first cut the lines of the eagle into a plastic template and transferred the graphic to the slab with spray paint. Coloration with stains followed, and then an acrylic
sealer. Using a system they developed called KaleidoCrete, they worked through their original plastic stencil to cut the lines of the eagle into the slab. The tool they use pulverizes the concrete, resulting in a 3-dimensional cut. A final protective coat of sealer completed the process.
Polishing concrete
Artist Carolyn Braaksma, Braaksma Design, Denver, cut shapes of sea creatures in 1 -inch-thick marble and 1/4-inch aluminum using a high-pressure waterjet cutter to produce the precise shapes and intricate detail. Her design required carefully embedding the objects into the surface of the freshly placed concrete. Tom Graf, president of Graf Architectural Concrete, Hudson, Wis., then finished the slab with a large planetary head diamond polisher. After removing enough concrete with coarse diamond cutting blocks to reveal the embedded objects and make the surface flat, Graf then polished to a 3000-grit finish, creating a finished surface that looked like a concrete slab with a piece of glass on top.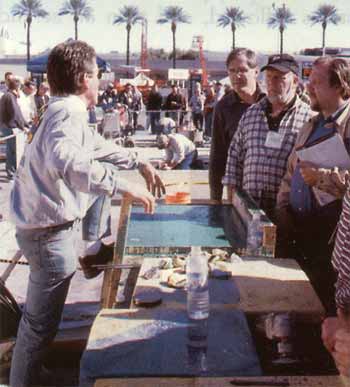 Above: There Is currently high public Interest In concrete countertops. Here people crowd around Tom Ralston to see how the process works and to ask questions. Below: Workers use a hand-held planetary grinder to diamond polish a countertop.
Imaging with metallic powders
Jerry Kidd and Hector Arellano with Creative Visions, Pine Grove, Calif., developed their own materials for their presentation. The first step was to color the slab with a thin layer of colored polymer cement, using an HVLP sprayer. They then placed an adhesive template with a precut graphic design. The same sprayer was used to build up polymer cement, with powdered copper in it, on the parts of the slab not covered by the template. The copper in the overlay behaves as would solid copper, so Kidd and Arellano were able to treat parts of their graphic with a patina chemical to achieve the same effect as on a bronze casting-giving the metal an aged appearance. Following this, they spent time on hands and knees with steel wool to polish the copper on other parts of the graphic before applying acrylic sealer.
Overlay cement techniques
Kelley Burnham, who owns Sensory Concrete, Clayton, Calif., likes to build relief into her work using overlay cement, coloring each layer with chemical- and water-based stains.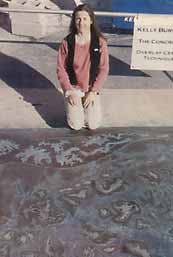 Using several layers of overlay cement, stained after each application, Burnham created this panel, which suggests a topographic map of a watershed landscapes.
Her work for this demo looked like a topographic map of an eroded and fissured landscape. After covering her slab with a colored overlay, she used an adhesive template as a masking tool, cutting the shapes she wanted. She then troweled a thin layer of overlay cement into the unmasked areas, coloring it afterwards. She repeated the process of masking and applying overlay cement and coloring three or four times to complete the work. Her final product was also protected with sealer.
Concrete countertops
Tom Ralston, owner of Tom Ralston Concrete, Santa Cruz, Calif., demonstrated the possibilities of cast-in-place concrete countertops --a decorative concrete medium that currently enjoys very high interest from concrete contractors and homeowners alike. He cast a small countertop before the demo started, to show the possibilities of using color and special aggregates. He then used a handheld planetary polishing tool with diamond cutting pads to put a high grit
finish on the surface. Ralston also showed the forming, casting, and finishing of a countertop onsite.
The meaning of creativity to the Industry
Twelve manufacturers provided financial support for this event, and approximately 7000 people viewed and photographed the work in progress and the finished results. In addition, approximately 25 people (thanks to the ASCC-DCC) volunteered their time to place concrete, clean up, and help with crowd control.
The artists, who also volunteered their time, are representative of the creative force that continues to add new dimensions and direction to this industry. Decorative concrete changes and grows through the efforts of people like these. We hope that the focus on creativity at this demonstration will encourage further interest in the decorative market.
If you would like contact information for the artists involved in the demos or for any of the sponsors, circle I on the reader service card.