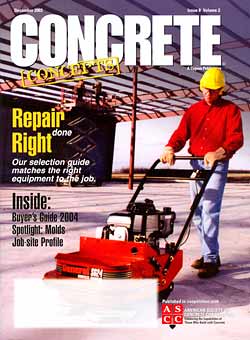 Strategies for Success
by Jim Peterson
What makes a decorative contractor stand out among his peers? Two successful decorative contractors discuss the importance of employees, ongoing education and forward thinking.
At the recent American Society of Concrete Contractors' Annual Conference in Dallas, I had the opportunity to spend time with two successful decorative concrete contractors from different parts of the country and find out a little about how they do what they do. What has contributed to their past success, and what do they see as the key to their future success?
Tom Ralston Concrete
Tom Ralston follows in the footsteps of his father, Jim Ralston, and his grandfather, Wilbur Thomas Ralston, who founded the company in 1928. Ralston has been involved in the Santa Cruz, California-based company since 1964, taking control of the company when his father retired in 1989.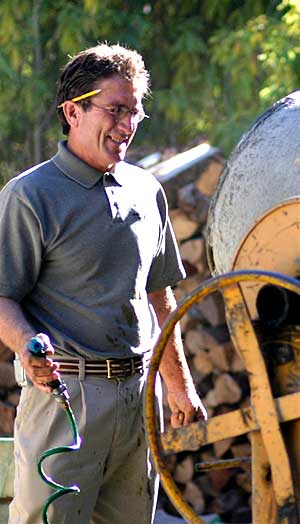 Tom Ralston believes in the importance of keeping employees motivated to do good work.
Ralston credits his success today to passion and having a goal, working long and hard hours, and having and keeping a talented crew.
"Keeping a talented crew is accomplished by keeping the crew pumped up," says Ralston. "For our company, that means paying people fairly, providing them with interesting projects, treating them with respect and decency, and providing rewards with other things besides just money."
Ralston feels he finally has key employees on board for the long haul, instead of always wondering when key employees would be leaving the company.
"People want potential, security and some excitement," he says. "Without the right people working the business with their hearts, not just their bodies, the business is not going to go anywhere."
Ralston notes that communicating with employees about the future requires a lot of one-on-one time, talking to each employee about what he would like from them and what he can do for them. One major goal he has right now is to spend more time managing versus tinkering with new construction processes.
"I am not doing my company a good service if I'm totally focused on the creative side and not working with my people," Ralston says.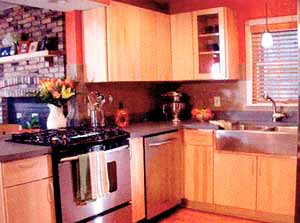 Dave Verlennich plans on performing more
interior jobs in the future
Another goal Ralston has on his plate is continuing to develop unique, cutting-edge products in many different arenas: outdoor pizza ovens, decorative masonry, chemically stained floors, pool decks, thin topping overlays and water features.
"We do everything from structural concrete to concrete countertops for our clients, many of whom are baby boomers who are working very hard," says Ralston. "These customers want a one-stop shop that can handle everything for them. They don't want to be shopping around for all the components for the job."
Therein lies the conundrum for Ralston. He knows he does his company a disservice if he spends a lot of the time on the creative side, not working with his people and managing his company. Yet the lifeblood of Tom Ralston Concrete is innovative products.
"My solution is to bring along an employee who can innovate both on his own and under my direction," says Ralston. "Then I have the best of both worlds—an innovative and well-managed company."
Verlennich Masonry and Concrete
Dave Verlennich of Verlennich Masonry and Concrete in Staples, Minnesota, credits part of his success to the continuing education in which his company invests.
"When we started our decorative concrete business, we decided to be ultra-educated on the products and processes involved in producing top-notch decorative work," says Verlennich. "We attended any educational opportunity in the decorative concrete field, such as is provided by the Decorative Concrete Council. We still attend many educational events and benefit from networking in these events today."
One of Verlennich's immediate goals is marketing for and doing greater amounts of interior work. "Architects and designers love interior concrete," he says. "It provides them with an artistic flair not possible with tiles or stone. The market wants interior concrete and is asking for it."
Another goal Verlennich has is building a design center, something he considers a necessity. He notes that several large general contractors in Minnesota have built large facilities where prospects come and look at their work.
"If we build it, they will come, is my motto," Verlennich says. "And we have general contractors tell us they don't want to take a client to look at one of our projects on another contractor's job because it's awkward to take the client to a competitor's project. A facility where we could display our work opens up endless possibilities for us."