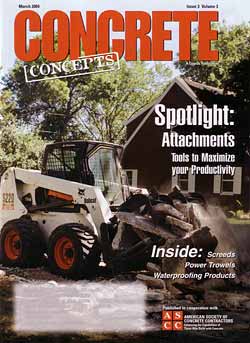 Clay to Concrete
The Evolution of
Buddy Rhodes
Concrete craftsman Buddy Rhodes goes national with his cutting-edge concrete mix.
By Jim Peterson
What do pottery and concrete have in common? Not much, unless you're Buddy Rhodes. For the man considered to be the father of the concrete countertop, pottery was an open window into a new, creative world.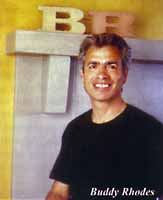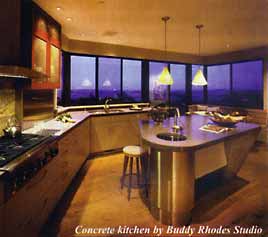 The foundation of Rhodes' work was laid when he was a student at Alfred University in New York, a school that boasts such noted alums as actor Robert Klein, travel writer Peter Jenkins and spy novelist Robert Littell. Studying pottery and considering himself to be a functional potter, Rhodes was selling his wares at craft fairs with moderate success. At this point it would have been hard to predict that he would go on to have his concrete work showcased in the nation's top home and design publications, including Architectural Digest, Home, Metropolitan Home, Kitchen and Bath, Sunset, Fine Homebuilding, Luxury Kitchens and Baths, Beautiful Baths and Home Remodeling.
Art of the Mix
Back then, Rhodes dreamed of creating bigger, yet functional, pieces. Fully aware of the limitations of clay (shrinkage, glazing issues, etc.), Rhodes embarked on a journey that led him to concrete. He soon discovered that concrete bag mixes contained larger rocks that made the material hard to manipulate. Wanting it to be more malleable, like clay, Rhodes set to work experimenting with his own mixes until he struck gold.
Rhodes created a concrete mix composed entirely of cement, sand and binders, and reinforced with an expanded galvanized steel diamond mesh. This new concrete mix could be hand-packed into molds of different sizes and shapes. And once removed from the mold, different surface characteristics could be produced with a trowel.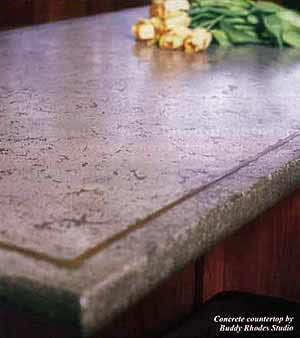 For years, Rhodes has been producing stunning projects. "The most common projects we encounter are kitchens and baths, which include vanity tops, kitchen counters and islands, tabletops, custom-cast sinks and tubs, shower basins, backsplashes, and tiles for floors and walls," he says. "Kitchen counters still exceed all other residential fabrication orders."
While residential projects make up about half of his workload, Rhodes also cites an impressive commercial client list, including more than 60 Pottery Barn stores throughout the United States and Canada; more than 30 Illuminations stores; a retail store at the Venetian Hotel in Las Vegas; Jamba Juice; Levi's; NBA Store in New York; Bed, Bath and Beyond; Bank of America; and Apple Computers.
Going National
All along, Rhodes has fine-timed his concrete mix to be more workable and more durable. Finally it became time to roll out Buddy Rhodes Concrete Mix. The first step he took was hiring Jim Mason, a former account manager with Burke Concrete Accessories, to build national distribution. In five regions of the United States - the West, Sunbelt, East Coast, Central US. and Midwest Rhodes and Mason intend to have a blending facility and a distribution warehouse to facilitate timely and cost-effective deliveries to their distribution network.
One of the biggest steps taken has been to hire topnotch trainers to instruct contractors in using the mix. On the west coast, Tom Ralston, president of Tom Ralston Concrete, will hold training at Buddy Rhodes' Studio in San Francisco and at distributors' facilities across the west coast. On the east coast, Bob Harris, president of the Decorative Concrete Institute, will train in Douglasville, Georgia, at the Decorative Concrete Institute and at distributor's facilities along the east coast. Both Ralston and Harris are respected concrete-industry veterans, are speakers at the 2004 World of Concrete trade show and are prominent members of the American Society of Concrete Contractors.
Rhodes and Ralston's first Concrete Countertop Seminar was held in San Francisco on December 13-14, 2003. Participants learned about making forms, molds, various types of reinforcement, mix design, color, sanding, polishing, sealing and finishing countertops. Castin-place, precast and "hand-pressed" techniques also will be taught in future workshops, in addition to batching the Buddy Rhodes Countertop mix.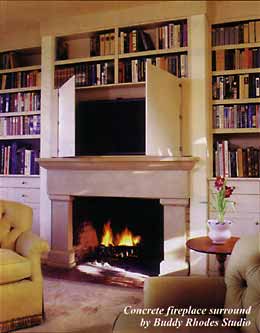 According to Mason, "A big selling point of the Buddy Rhodes Concrete Mix offering is that we offer everything contractors need to build concrete products - the mix, liquid concrete colors, waxes, edge forms and sealers. We take a systems approach to providing products. Our research and development department is working diligently to add caulks, slurry mixes, knockouts and fireplace forms to the product line."
Moving Forward
Rhodes is not at a loss for new ideas. "Often it's the competition that inspires me," he says. "The great creators out there are the ones that push me. Inspiring artists and craftsmen like Fu-Tung Cheng and the work done by Sonoma Cast Stone - that's what excites me."
Rhodes also is excited by the possibilities with Buddy Rhodes Concrete Mix. "For years people have been calling our office asking how they can learn. I think that now we are able to offer a port-to-port solution with our training and our product line," he says.
For information on upcoming seminars or for product distribution opportunities, contact the Buddy Rhodes Studio at 1-877-706-5303, or visit www.buddyrhodes.com.
Jim Peterson is founder and president of ConcreteNetwork.com (www.concretenetwork.com), a Web site serving more than 400,000 visitors per month, and a principal in High Grade Form, a foundation contractor located in Perris, California.