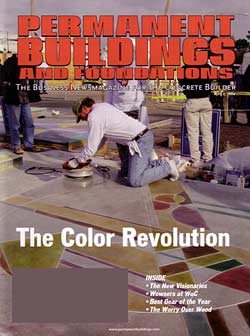 A Color
Revolution
Creative opportunities in decorative work are turning naked concrete into an artist's canvas.
by
Jamie Montague Callister
The next time you visit Campbell's Harley-Davidson, check out the concrete floor. You can't miss the Harley-Davidson logo reproduced by Vince Schrementi, Everlast Concrete, Steger, IL, using a micro topping over existing concrete. Projects like this one have made business boom for decorative contractors. "There is so much concrete out there in need of color and repair," says Schrementi.
Concrete stamping and other decorative techniques first appeared in Southern California, Las Vegas, and south Florida; eventually the trend started to pick up across the whole southern belt. Now that it has the public's attention, the industry is exploding.
The Beauty of Concrete
Consumers and contractors alike are discovering that concrete always an economical and durable choice-is also an attractive alternative to wood, stone, or brick.
Schrementi says the beauty of concrete is that it can be shaped, colored and textured into a very personal creation. "Granite is beautiful, but it's stone. There's only so much you can do with it," he says. The possibilities of concrete are endless.
With such variety, decorative concrete contractors inevitably become color and pattern consultants. "Instead of just pouring concrete, you have to help customers make decisions about the finished product," says Schrementi. He ruefully remembers an unsightly job at a hotel chain. "They had me stamping field stones in this awful eggplant color to match a purple stripe on their building," he laughs. Although he strongly suggested a more neutral tone, the client was adamant. "I thought it was a hideous driveway, but it matched their corporate graphic!"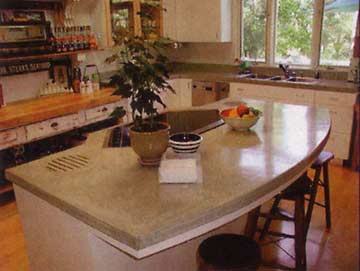 ARTISTS' MEDIUM: Consumers have chosen concrete to build everything from water features to artsy flooring to custom countertops.
Most people have better sense of aesthetic appeal. Larry Ross, Richard Smith Custom Concrete, West Hills, CA, says many of his residential customers want the "loft" or industrial look in their homes: hard floors, neutral colors, and dean lines. In the 40s and 50s, nearly all homes were built with hardwood floors, vinyl tile or sheet flooring; during the 60s and 70s, rugs and carpets covered them all up. These days, homeowners are ripping up carpet and vinyl to make use of the existing hardwood or concrete underneath. "With all the allergies, dust, and cleaning costs, the carpet is coming out," says Mike Verlennich of Verlennich Masonry and Concrete in Staples, MN. "People are looking for ways to save money; if the concrete is already there, you can use it as a canvas rather than cover it up." Brother and partner Dave Verlennich points out that you can have handsome and detailed patterns using concrete stains and saw cut lines for about
$7-10 per square foot. That's a huge savings over stone or imported ceramic tiles but still yields -a spectacular floor.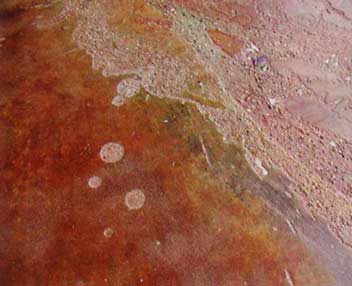 Beautiful textured concrete floor
by Tom Ralston Concrete, Santa Cruz CA.
Customize Your Concrete
New products and applications are constantly shaping the decorative concrete industry. Credit-card thin micro toppings are one such trend. The cementitious topping bonds to almost any substrate and provides more vibrant colors than the earthy tones found in staining. Micro toppings are commonly used in renovation and remodeling projects. "Most of the projected growth lies in overlays and toppings," says Schrementi.
The popularity of decorative concrete is also growing in custom kitchens. Blayde Penza, Advanced Concrete Enhancement, Sun Valley, CA, says integral sinks and drain boards are common requests-for his company, which specializes in decorative flooring, countertops, and fireplace surrounds. Schrementi has poured countertops embedded with pieces of metal or glass and then polished smooth. "The concrete takes on a whole new look," he says. "It becomes sculptural, artistic, and beautiful."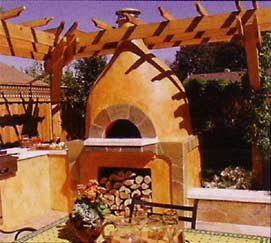 CREATIVE OUTLET: Decorative concrete options Include three-dimensional projects, such as this beautiful add acid stained pizza oven/barbecue by Tom Ralston Concrete, Santa Cruz, CA.
Vertical stamping and sculpting of wall surfaces has also started to snowball. Applied with a trowel, the concrete material is a hybrid of polymers and fibers, which can create the illusion of carved stone to make pillars or fireplaces. Of course, using actual rock in these remodels would require structural readjustments, whereas concrete can be applied right over the existing wall and is far less expensive.
Another popular choice is acid stained flooring, which involves the addition of reactive, metallic salt to the concrete. The process leaves permanent color that is surprisingly rich. "You can pick a patina to make something look aged; other colors make the concrete appear leathery or even moss-like," says Mike Verlennich.
Theme parks have been creatively using concrete in their decor for years. Sullivan Concrete Textures of Costa Mesa, CA. had the task of replicating nature with concrete during the construction of Disney's California Adventure. "We've done flatwork in Toontown, along Main Street, and in Jurassic Park (Universal Studios)," says owner Reenie Sullivan. "Most of the time, you can't even tell it's concrete," she says.
The outdoor stamping of patios, pool decks and sidewalks comprises most of the decorative concrete . industry. Schremend estimates that 70% of his jobs are exterior stamping projects. Most customers arc looking for a way to beautify ugly old concrete.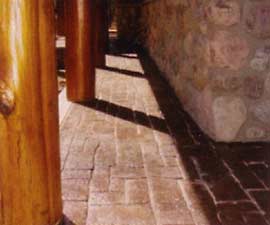 CONCRETE UP-SELL: "Decorative concrete is great value-added service," says Mike Verlennich -Why not add revenue to your pocket and add value to your customer's package by offering to provide another service with the same company?"
Acquiring Artistic Know-How
"Decorative concrete is great value-added service," says Verlennich. "If you're already doing other concrete work on a job, why not add revenue to your pocket and add value to your customer's package by offering to provide another service with the same company?" Many contractors are sending jobs down the line because they haven't considered trying decorative work themselves.
The best way to learn how is through education and hands-on training from the experts. When Verlennich was starting out, he did research with his readymix association and found experienced contractors in other parts of the country who were willing to collaborate. By attending some seminars and demonstrations, he got a feel for the flavor of the industry and found he enjoyed it. He continued to delve into new products and various techniques by calling contractors, manufacturers, and distributors around the country.
For those who are interested in learning, the American Society of Concrete Contractors generally hosts at least two decorative concrete seminars a year. Several of the mega demos at the recent World of Concrete featured stamping or stenciling techniques. The Decorative Concrete Council is offering their Spring Fling event in San Diego this April, where attendees can learn techniques in staining, scoring, acid etching, and more.
Before you begin dabbling in decorative concrete, make sure you have the proper tools. To get started stamping, for example, stick to one pattern and try it out on a small patio. In that situation, Verlennich says the most common mistake is not buying enough texture mats (interlocking rubber mats that impress patterns into new concrete). "As a rule of thumb, there need to be enough mats to go all the way across the surface, and two or three on the way back, so that you can start the next row and maintain continuity of the pattern." Many beginners only buy a few mats, get stuck in the middle of the driveway, and end up "leap frogging." Meanwhile the slab hardens, and the impressions get progressively weaker and shallower.
To be honest, not everyone has an aptitude for decorative work, says Verlennich "It's much akin to framing and finishing.' You don't typically have the guys who stand up the 2x4s and the walls also doing cabinetry or crown molding," he says. In other words, the crew that can pour a 100,000 sf slab is usually not the best one for staining or score cutting a 1,000 sf patio.
"There is definitely a steep learning curve," comments Penza. "You really have to work at it to perfect your technique. But when you do, there is the potential for real art."