OUTDOOR ROOMS
GROW IN POPULARITY
HOMEOWNERS ARE REMODELING AND RENOVATING LIKE NEVER BEFORE. MANY WHO LOVE TO SPEND TIME OUTSIDE ARE INTEGRATING DECORATIVE CONCRETE INTO THEIR OUTDOOR RENOVATION PROJECTS.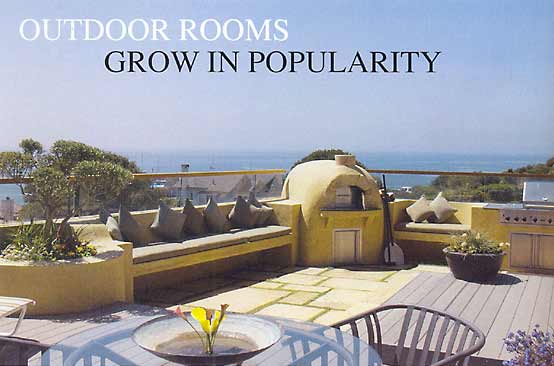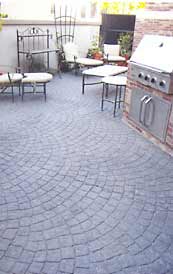 Decorative stamped concrete often costs less to install than stone, brick, or tile while permitting endless color and pattern combinations.
Today people want their own private vacation spot, somewhere they can retreat to every day," says Mike Boeddeker of Pristine Concrete, Paso Robles, Calif. He says residents in the central California area are clamoring for home improvement projects conducive to outdoor living. He is receiving a lot of requests for outdoor kitchens with barbecues, sinks, burners, warmers, refrigerators, and even storage areas. "Homeowners often want an extension of their house: they want an exterior surface that flows with the indoor flooring materials they have used."
AMCON, located in Gaithersburg, Md., is seeing a large increase in pool related projects. "Many homeowners not only want a pool, but a total package—a backyard retreat in which they can escape and relax at the end of the day and on weekends," says Mary Amaro of AMCON. "We're seeing more homeowners getting away from dull, gray concrete. They're becoming familiar with what's now on the market."
Homeowners are learning about the aesthetic options with decorative concrete by seeing installations in restaurants, stores, and salons. "People don't know anything about it, Then they see (a decorative project) in a magazine and they have to have it," says Bill Guthro of Distinctive Concrete, Rowley, Mass.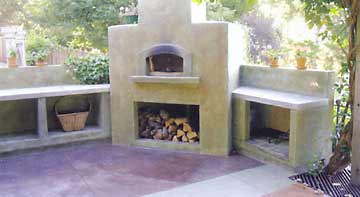 Combination concrete ovens and fireplaces are becoming essential elements in outdoor kitchens.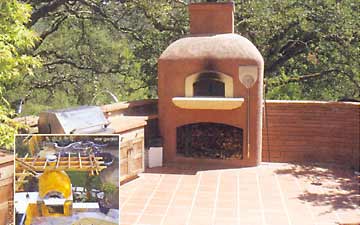 Creating an outdoor oasis is becoming a top priority for homeowners across the country. Many are discovering that concrete offers unlimited design options in the shape, color, texture, and pattern of exterior hardscapes.
Inspired by this new breed of concrete with its beautiful colors, variety of patterns, and ability to meld with its environment, homeowners are now incorporating concrete into their home improvement projects. "With the availability of custom colors and penetrating stains, the looks that can be achieved have become more natural, making concrete more appealing to homeowners," says Mark Foreman of Apex Concrete Designs, Auburn, Calif.
"Decorative concrete has become more popular than stone, brick, and tile (for exterior projects) because it costs less, is better in quality, and has the unlimited ability to be created into whatever the client wants as for as color, texture, and pattern go," he says.
USING CONCRETE TO CREATE OUTDOOR RETREATS
BY JENNIFER BARLEY, THE CONCRETE NETWORK
As the nights become longer and the weather warmer, homeowners begin to dream of outdoor spaces that will allow them to entertain, spend time with their families, and unwind after a long day. Here are some ways homeowners are using concrete to create outdoor rooms for cooking, alfresco dining, and relaxing:
Countertops and prop surfaces. Complete backyard kitchens with cooking surfaces, sinks, bars, and storage areas are becoming increasingly popular, allowing all cooking and entertaining activities to move outdoors. Concrete is often the countertop material of choice because it is highly functional as well as decorative. Homeowners can have it custom molded into any shape, permitting surfaces with soft curves or sharp angles.
They can also incorporate sinks made of concrete or stainless steel. Applying a sealer makes concrete surfaces water and stain resistant.
Terraces and patios. Homeowners are using decorative concrete flatwork to help define their outdoor rooms while adding visual interest and color. Stamped concrete offers unlimited design possibilities, with countless colors and patterns available such as slate, cobblestone, brick, and fieldstone. Or contractors can sawcut patterns in existing concrete and apply chemical stains to give homeowners colorful concrete "rugs" to accent seating areas.
Fireplaces. Outdoor fireplaces, some with built-in ovens, are becoming popular focal points for backyard settings and create intimate, warm spaces for evening gatherings.
Concrete is an ideal material for building fireplaces because it is naturally fireproof and able to retain heat Homeowners also like the versatility of concrete, and are asking contractors to mold it into custom curvilinear or rectangular shapes accented by hearths, mantels, pillars, and corbels.
Furniture. Chairs, benches, and even couches cast in concrete function as permanent, low-maintenance outdoor furniture. Adding cushions with vibrant colors and textures soften the look.