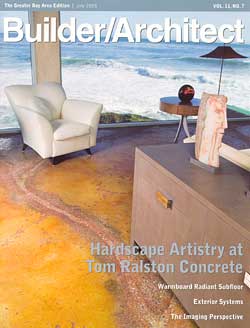 Hardscape Artistry at
Tom Ralston Concrete
By Deborah Teramis Christian
How can a concrete contracting company separate itself from the rest of the pack in the red sea of competition? With material, fuel and labor costs on the rise, contractors everywhere are looking for ways to both survive and be profitable. This is further impacted by the precarious economy of late.
Tom Ralston, owner of Tom Ralston Concrete, has developed his company as a specialist in hardscape and concrete interiors to answer these challenges, It is a field that sparked Ralston's artistic eye and creative inventiveness, yielding remarkable results for the customer. "I am always looking for ways to turn concrete into art or make an ordinary project extraordinary," says Tom. 'My creativity has stemmed from a passion to learn everything I can about concrete and design, You wouldn't have convinced me of this in the first 10 years of my business," Ralston laughs, "but now I'm considered by many to be an artist in this trade."
It wasn't always so. A graduate of UC Santa Cruz, Tom uprooted to Kauai in 1978 to spend time surfing and enjoying beach life. He had worked for a time in his father's concrete trade, and though carpentry and building fascinated him, "There was nothing I'd rather do less than work in concrete," This changed radically, however, after he returned to California and architect Mark Primack asked him to do some specialty hardscape work on a Victorian in 1989. "1 was asked to do something unique and different with this medium I'd thought was so drab and blase. This Victorian, owned by businessman George Ow, piqued my interest so much that I became really enthused, This work served to spark a passion that I didn't know existed."
As a result, he started to look at masonry and other elements he could incorporate into hardscape, and began to investigate other creative ways to use the medium. Over time, Tom Ralston Concrete has grown into a full-scale decorative concrete contracting firm featuring a variety of specialized finishes, techniques and features to realize a client's vision.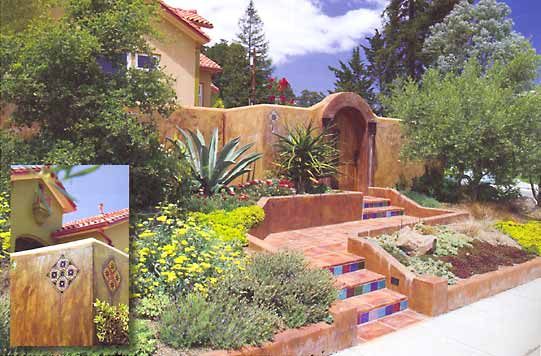 Mediterranean-style stucco walls achieved with Antique Amber acid stain; a darker Padre Brown acid stain was used to highlight the arch. Imported Italian tiles make a statement on concrete risers. Inset: Defining Italian tiles play off the Earth Tone Amber stained wall.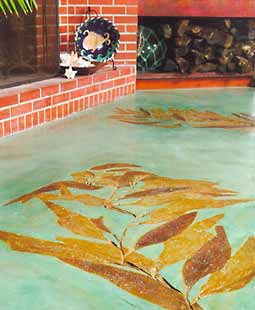 Using actual seaweed from the Pacific Ocean not more that 100 yards away, molds were made for this living room floor that literally touches the beach. The result was described by one visitor as looking "like strewn seaweed that awashed an the floor from a winter storm." Inset: Seaweed impression used blended acid stains dabbed with sponge and brush for texture. Color f or the body of the floors used a combination of blue and green acid stains to actually look like the ocean next to the Santa Cruz wharf.
Ralston takes his inspiration from many sources - paintings and skyscapes., for example, Hillside rock formations are echoed in concrete patterns and textures. Natural items like seaweed have been used as a pattern model, and acid-washed concrete and various overlays are used to emulate classic designs in tile or stone. A constant process of experimentation has allowed many compelling effects and textures to be incorporated into the company's offerings. One such is Ralston's brand of sand finish, in which the top surface of hard-troweled concrete is broken to expose the fines of the sand, not the aggregates. With the addition of a little pigment to the concrete, the result can be an old, worn, weathered look that especially complements Victorian and older properties, or any hardscape where the brash newness of fresh concrete is undesirable.
Another polished touch is the Victorian swirl, a troweling technique that imitates the fine swirled finish plasterwork of European artisans found in old Victorians, The swirl finish is less stark than the traditional broom finish for exterior concrete, and it is especially popular in driveways and pool decks where it adds slip resistance to the surface. Similarly, the creative use of grid patterns with deep joints makes a surface significantly more handsome for minimal or sometimes no additional cost.
Ralston brings this refined sense of aesthetics to projects when advising clients on decorative options. Sometimes stone and tile work can be overdone, he notes, presenting a heavy and busy facade to the viewer. The tasteful use of concrete can allow a refined backdrop that sets off the stone or tile work. Often, concrete can be used in stunning decorative ways at clients may not be aware of; the Ralston Web site is set up in part to illustrate these applications and the visual appeal that results. The company's work is reflective of Ralston's personal philosophy. "I love the idea of navigating through design, texture and tactile things. I love, for example, a project with hard geometric patterns bordered by free-flowing serpentine curves so you get the ying and yang effect, I like doing that with colors, with textures, and more often than not in subtle ways, making for a nice juxtaposition."
While Tom is admittedly a fan of subtle coloring and composition, he nevertheless aspires to serve the client's needs well. "I'll give alternatives," he says, "but then if someone tells me they want screaming cobalt blue next to fire engine red, I say, well, by cracky, that's what you'll get."
In the process of educating the client, Ralston takes care to explain the limitations of concrete. The medium may experience cracking, fading, color variation, and may require maintenance with sealants. Yet some of these very limitations can be appealing features when framed properly, lending, say, an Old World, Romanesque look to an exterior.
Ralston's work in client education extends to both industry and consumer groups through seminars he conducts periodically with the American Institute of Architects (AIA). The goal of this outreach is to heighten awareness about the decorative concrete medium and to inform the consumer of its benefits. "We can do a lot of this work for half the cost of masonry or stonework," he notes. Formerly an advisor to the Decorative Concrete Council, Ralston is presently on the board of advisers for Cabrillo College's construction management program, He does frequent career outreach to trade students, and recruits summer interns from the UC Santa Cruz School of Business for analysis of project management issues.
Last year, he began teaching classes at his Fern Street office on decorative concrete, and offers seminars by other industry experts. His book on concrete countertops should be out by the end of the year, just before his countertop seminar at the World of Concrete held in Las Vegas on January 17-20, 2006.
Effective project management is a high priority for Ralston, who has taken pains to streamline the workflow of his business. In doing so he is inspired by Robert Smith, CEO of FedEx. "Have you seen those FedEx guys in the morning?" he asks. "They shoot out of the building like an army. That's what we want to do. We want our efficiency to increase so that we can make far more profit than the industry average of 4 percent.
Random serpentine fissures in vertical walls and kitchen floors with blended Fern Green, Antique Amber and Padre Brown acid stains. The alcove also has an overhead light to display the marble tiki head.
Decorative contractors should make a lot higher margins; however, the risks are far greater, which constantly eat into profit margins."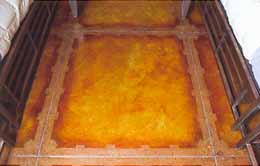 Matching children's bunk bed rooms in the home's lower level have floors poured with stainless steel grids. The finish is brown acid stain incorporating a sandblasted motif.One major tool that facilitates this aggressive project approach is a custom software package called Job Manager, which has been under development for use at Tom Ralston Concrete for many years. Job Manager takes leads, turns them into proposals, turns proposals into contracts, parses out costing and labor and materiel requirements from the contracts, and creates work orders and dispatching tools as well. "We continue to develop this program to be a comprehensive management tool for our company," says Ralston. Job Manager plays a vital role ensuring jobs are well planned and executed with accurate time and cost estimates and schedule keeping. Harking back to the FedEx model, Tom notes, "Our guys should be on the road at 7 a.m. We don't want them dragging around looking for materials or looking for their crews, We want to have disciplined employees like the military would have. Although," he adds, laughing, "we don't make 'em grab 50 push-ups when they screw up."
Tom Ralston Concrete brings a unique artistic flair to concrete, goes the extra mile for clients, stays focused on streamlining processes to help cut costs, and teaches best practices for the industry, Being involved and developing cutting-edge concrete has been fascinating, but Ralston has learned the hard way that being a starving artist doesn't help grow a company. There needs to be a constant focus on the bottom line, especially in the current competitive environment and soft economy.
Tom Ralston Concrete is located at 241 Fern Street in Santa Cruz. He can be reached at (831) 426-0342 or at www.tomraistonconcrete.com.