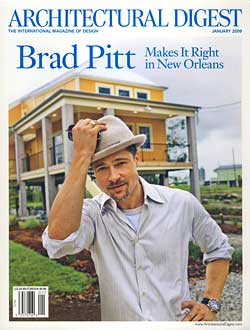 Sculpting Space on the Coast
A Northern California Residence Reflects a Global Perspective
Architecture by Ehrlich Architects/Landscape Architecture
by SSA Landscape Architects

Text by Patricia Leigh Brown/Photography
by Erhard Pfeiffer Published January 2009
Architecture is about being open to the discovery of the inevitable," observes Los Angeles architect Steven Ehrlich. "You just listen to the logic."
In Aptos, California, a quiet beach community just south of Santa Cruz, the inevitable came in the form of a corner lot, a breathtaking stretch of ocean, a neighborhood of intrepid walkers and a gregarious retired couple from Los Angeles with enough zest for life to relish it all.
"We were driving down the Pacific Coast Highway, and suddenly I saw a super stainless-steel-and-concrete house," Leland Zeidler recalls of the first trip he and his wife, Marian, took to meet their architect. "So I made a U-turn on eight lanes. My wife thought I was nuts. When we got to Steven's office, he told us he'd designed that house. He does some phenomenal work."
Compared to its Mediterranean-style neighbors on the ocean bluff, the jewel-like compound that Ehrlich has designed for the Zeidlers is an exercise in sculptural simplicity, with subtle reverberations of Morocco and Japan. The two buildings—a two-and-a-half-story main house and a separate guest structure—align to form an interior courtyard with a lap pool and an outdoor kitchen, one of three outdoor spaces on multiple levels where the couple entertain.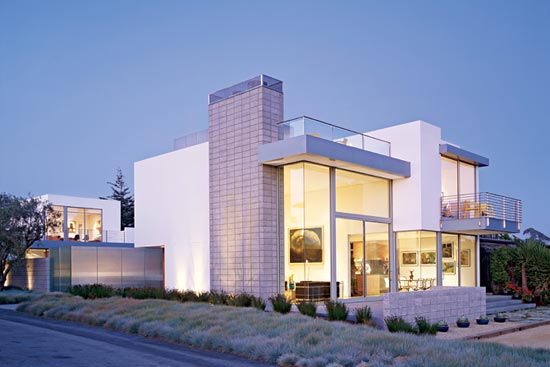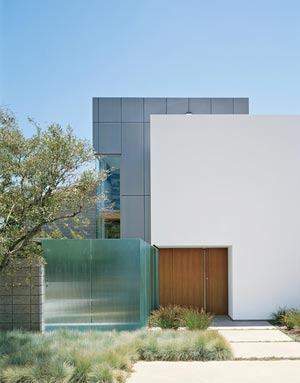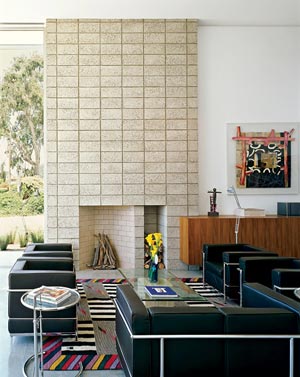 At once grounded and ethereal, transparent and opaque, the complex has an air of mystery about it that begins even before you walk in the door. A simple palette of materials—burnished concrete block, stainless steel and Rheinzink, a German-made alloy of zinc, copper and titanium—is joined at the main entrance by a cast-glass wall, which forms a corner of the courtyard. A magical bit of technology, the freestanding rippled-glass wall seems almost liquid, visually absorbing the color, light and shimmering movement of the unseen pool waters poised behind it.
"I like a sense of surprise when you enter a residence," explains the architect, who collaborated with partner Takashi Yanai. "I think of houses as being about more than frozen sculpture and capturing space. They are about people connecting to people, to nature and their own feelings."
In Africa, where he spent six years after architecture school in the Peace Corps and teaching, Ehrlich came to appreciate the power of the courtyard to shape public and private space. He went on to develop an approach he calls "multicultural modernism"—a term he's actually trademarked.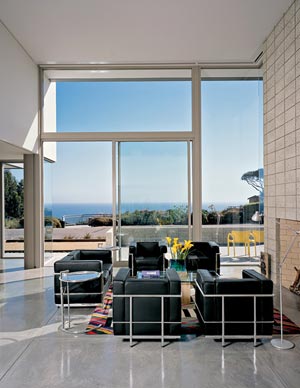 In the Zeidlers' living room, a sliding door allows the couple, who have been married 54 years and have four grown children and three grandchildren, to meld the interior with the courtyard, creating an outdoor living room that is shielded from ocean gusts.
The view from the courtyard is apparitional, with a bluish-gray Rheinzink stair tower, which leads to a roof terrace, intersecting a white cube that appears to hover in midair, supported only by glass.
Like the courtyard, where the couple recently barbecued steak for 60, the roof terrace sees heavy use, including family gatherings on July 4 to watch small-town fireworks up and down the coast. "We always have drinks over the ocean at sunset, with the fireplace going and a barbecue," says Leland Zeidler, of the eponymous menswear company (the couple also own a home in the Dordogne region of France). "We just have great times up there. For us, owning a house like this is something to share. You're the caretaker."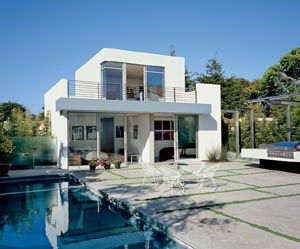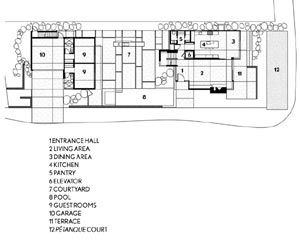 The residence is configured as two separate volumes, with the guest building organized as a series of three private suites. "They are very social," Ehrlich says of the couple. "Leland is the kind of guy who will bring along his oyster-shucking knife to a market in Bordeaux. Both he and Marian are very warm people, bons vivants."
The couple's engagement with their neighborhood is a case in point: It isn't every client who asks the architect to build a pétanque court in front of the residence—the Provençal equivalent of boccie played with a hollow metal ball. It is a public extension of their private residence. "When we're out playing pétanque, people will ask what we're doing," Leland Zeidler explains. "It's a nice way to establish new friends."
The Zeidlers spend much of their time in the living room, designed as a series of textural, intersecting planes with a tall, shallow Rumford fireplace at the core, chosen by the architect for height and proportion as well as its efficient conduction of heat. "You can slide the door to connect to the courtyard on a warm day or be enclosed on a cold wintry night with the fire going," Ehrlich points out.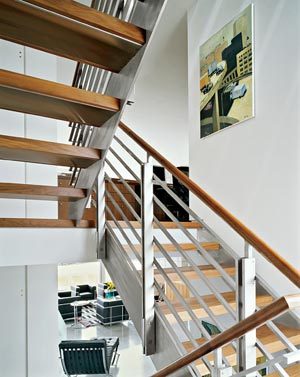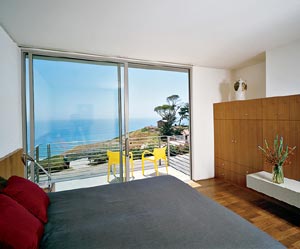 A frosted-glass sliding door, a contemporary spin on the Japanese shoji, opens to reveal the dining room. "I'm fascinated by movement and the transformation of environments," says Ehrlich. "I like the idea of very modern technology applied to an ancient tradition."
The couple are serious collectors of wine, often inviting guests to blind tastings in which they pit old vintage French against California—a framed needlepoint sampler on the wall reads, "Home Is Where the Wine Is."
But in truth, the residence has the feel of a place that would be equally at home in Morocco, Greece or Brazil. "The world is complex," says the architect, who is currently working in Spain, Nigeria, Taiwan and Dubai. "It's important for a house to be local and global simultaneously."
For the Zeidlers themselves, working with Steven Ehrlich has been the most exhilarating journey of all. "It's super," Leland Zeidler says of the residence. "There's not a day I don't get up and see something I haven't seen."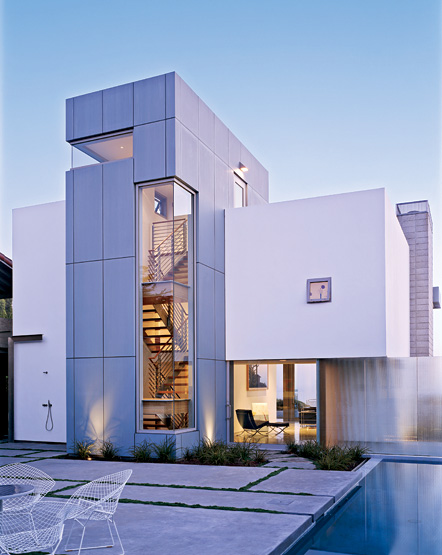 Tom Ralston Concrete is located at 241 Fern Street in Santa Cruz. He can be reached at (831) 426-0342 or at www.tomralstonconcrete.com.