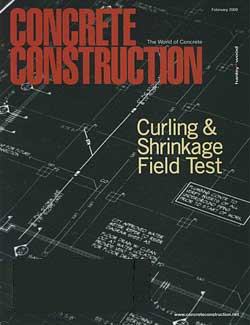 Managing in Tough Times
By Joe Nasvik
Senior Editor
For many decorative concrete contractors, 2008 was a difficult year and there's relief that it's in the past. The next challenge will be the 2009 construction year. Maybe it won't be as tough as 2008 but who knows? It would be nice if there was a foolproof plan that everyone could use. But there are no magic bullets and what works for one doesn't necessarily work for another. There are management decisions to make concerning marketing and securing work, managing overhead and job costs, and keeping up with accounts receivable. For some regions in the country, the task of staying afloat is more difficult than others. some regions have a lot of work and contractors aren't worried about where their next project will come from. Here's how a few contractors from around the country are viewing their business.
Tom Ralston
Tom Ralston Concrete, Santa Cruz, Calif.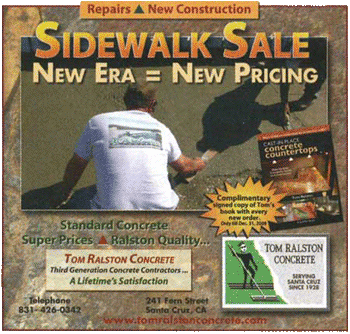 Tom Ralston placed this ad in a local newspaper to get new work and also to help change the public perception that his prices are higher than his competition.
PHOTO: TOM RALSTON CONCRETE
>>As the third generation to operate his business, Ralston says everyone is looking for work in his area and the competition is very intense. "We are bidding at the level my father did when he started the business," he says. They are getting work and the goal is to squeeze out a profit of 1 %.
Sometimes they give away parts of the job in hopes they can make profit on other parts. Being a sharp manager is critical. He constantly searches for ways to cut costs and pays close attention to cost accounts for each project. Sometimes they can sell upgrades to contracts and that helps. He is perceived as being expensive so he runs newspaper ads to counter the perception. They've also been featured in four publications recently, including Architectural Digest. "We are working to keep our name out there," he says.
Dave Pettigrew
Diamond D Concrete, Capitola, Calif.
>>Pettigrew's 2008 year was pretty good, with solid booking through the end of the year. He even had to turn down work until the beginning of 2009. He credits his success with the decision to diversify, getting some work with several different products. Diamond D installs a full range of cast-in-place decorative concrete, precast concrete items, slab-on-grade residential foundations, city sidewalk work, and epoxy floors. Pettigrew says they do more home addition work now and thinks that when people can't afford to buy new homes they upgrade what they have. He advertises in a local residential publication, gets work through a decorative computer network, and works to keep a strong customer base, including architects and general contractors. His crews- are busy and he's optimistic about 2009.
Todd Schneider
Schneider Contracting Co., Alexandria, Va.
>>His advice is to "hang on to whatever cash you can and don't skimp on your marketing efforts." He says they were very fortunate in shifting from primarily residential work into larger commercial work in 2008; he hopes to continue in that direction for 2009. His bread-and-butter work has been colored, textured, and stamped concrete, but he is pushing more into microfinishes, acid washes, and exposed aggregates.
Many designers in his area prefer natural stone or more subtle concrete finishes. "They like the durability of concrete and my sense is that if we can expose them to these 'more tasteful' finishes, we can expand the decorative concrete market here." He admits that up until this year, with the demand for work so high, he had allowed his business to settle into a reactive stance from a sales standpoint. "With this market slowdown, I now am pushing the finishes that I think will marry the purist tastes of some of our more promising clients with the durability and beauty of these other finishes." He also has reactivated memberships in local business groups to provide more networking opportunities.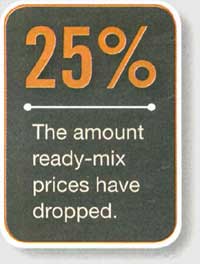 Mike Riggs
Progressive Concrete Works, Phoenix
>>Riggs says the work situation in the Phoenix area has really changed and his work load is 36% lower than last year. He carefully watches his overhead costs and trims where he can, including some staff layoffs. His efforts to advertise in the residential rehab market have been successful. He also gets a return doing box-lunch programs with local architects, landscape architects, and engineers. Riggs also increased his Internet marketing using Google and staying high on the list for keyword searches. His company no longer pays for phone book ads because they didn't generate leads but he does have a phone listing in them. Ready-mix prices have dropped 25% in the past year and he is grateful for that.
Chris Becker
Becker Architectural Concrete, South St. Paul, Minn.
>>Serving the Twin Cities area, Chris Becker says, "It's been a fantastic year, our best by a long shot. And we can't keep up right now." Becker's background and training is in marketing and that gets special emphasis in his business. He says they've been in business long enough to learn important lessons, and rising profits are the result. They position themselves as a value-added business, focusing on custom work and innovative work that the competition can't do. He seeks face-to-face meetings with specifiers and develops trusting relationships, always providing the service needed. In leaner times, they provided the best work possible, sometimes at the expense of profits. The payoff now is that their company gets specified to do the work. Becker also has significant revenues from architectural concrete applications for residential remodels and thinks it's a way homeowners can increase the value of their homes at a time when home values are depreciating--keeping home values higher than their loans.
"Be personal, provide service, and work at developing meaningful relationships with those you serve."
Becker regularly looks at his expenses to decide what they really need and what they don't need. So workers no longer take company trucks home and many company cell phones have been turned in (reimbursing employees for using their personal cell phones). The company also has a flawless safety record resulting in a $9000 drop in its insurance bill last year and it pays for materials upfront now (including ready-mix), getting preferential rates in response. As a result of all these efforts, sales increased 15% last year while profits rose 60%. By concentrating on decorative precast concrete sales, revenues for the winter months will match the summer months this year.
Mike Clements
Roy Clements Concrete, Palatine, III.
>>Working as a nonunion contractor in the Chicago area, Clements says their focus since the company started in 1948 has been foundations and flatwork for custom homes. He adds that they started a decorative concrete division a few years ago to do stamped concrete and chemical
stain work on driveways, patios, and basement floors. Until recently, decorative sales accounted for little of the company's gross sale. Lately, however, decorative work has become more important. However, sales last year were down 2S% from the year before. Like many companies, they are reducing expenses, cutting back on their workforce, and cost accounting every job to understand how they are winning and losing. They devote more time to learn about upcoming projects and make contact with architects, builders, and building departments-things they have never had to do before.
A penny's worth of advice
The best advice for managing your company during a challenging time is to take a hard look at what you need and dispose of the rest. Marketing shouldn't be an item on your short list though. Decide what products your service area wants and market to that. Be personal, provide service, and work at developing meaningful relationships with those you serve.
Tom Ralston can be reached at Tom Ralston Concrete: 241 Fern Street, Santa Cruz CA. Tel: (831) 426-0342 or by visiting www.tomralstonconcrete.com.