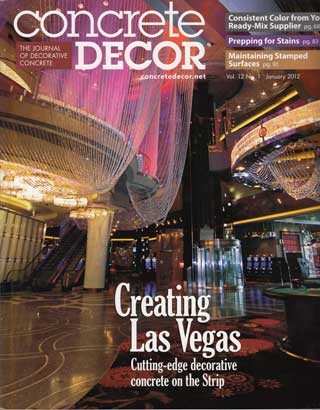 Silicon Valley Sculpted Hillside
Saratoga, Calif.

by Chris Mayo
When we think of sculpting, most of us probably picture statues or abstract artistic shapes, not a combination of walls and steps and terraces that enhance the natural surroundings. Yet that is what the sculpting of a hillside is... shaping the landscape into an attractive blend of man-made and natural elements.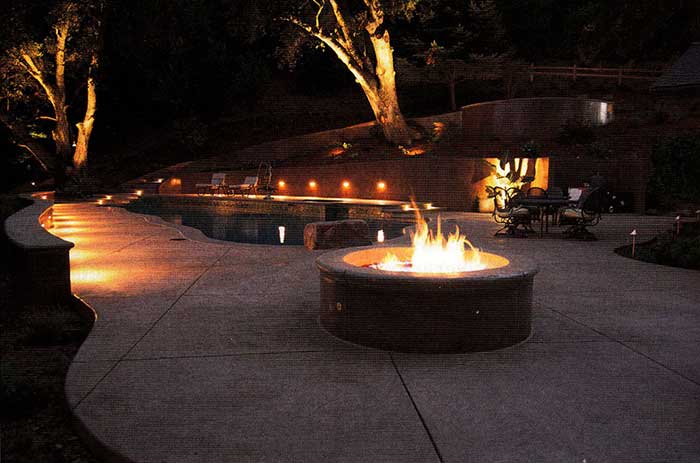 A great example of hillside sculpting done right is a job that California-based Tom Ralston Concrete recently completed in Saratoga, Calif.
"When I met with the customer the first time, I realized that we were looking at an opportunity to do something special," explains Tom Ralston. "The property is in a great location, on a hillside which affords a fantastic view of the Silicon Valley. It's absolutely stunning at night. There was an existing swimming pool, a deteriorated exposed aggregate pool deck, a pretty feeble retaining wall holding the hillside from eroding onto the deck, and some stones cut into the slope for steps. All in all, it was a fairly decrepit backyard in need of a serious facelift."
The owner viewed the whole expanse as something he wanted to dramatically improve, so Ralston went to work on planning and designing.
He had to consider a number of issues: what the owner wanted, the structural engineering requirements of terracing a hillside with retaining walls, steps and an upper circular deck, and how to make it all blend together to appear as though it was meant to be there.
Zen and the art of hillside hardscaping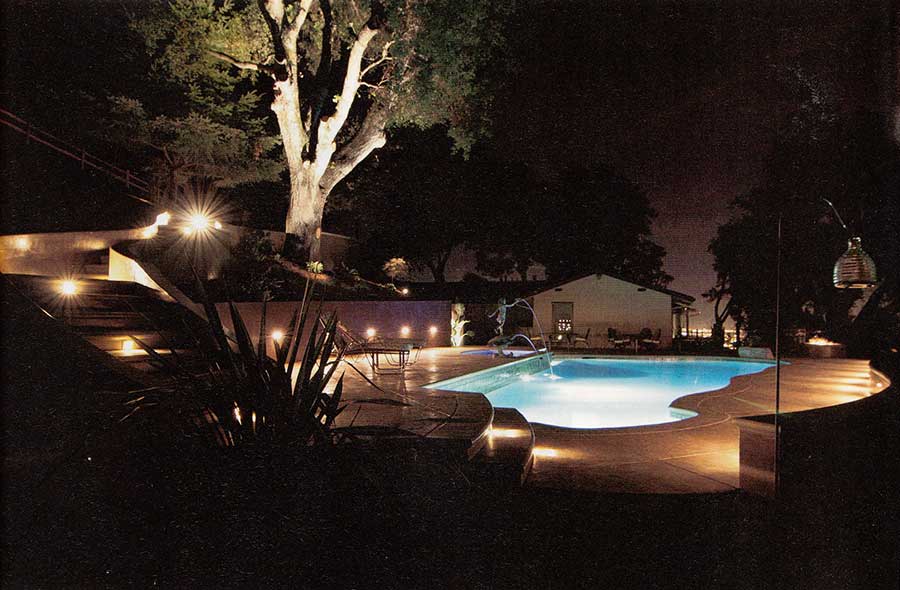 There is an element of Zen, or maybe tai chi, to Ralston's approach to sculpting a hillside with concrete. His goal is to allow the landscape to show him what to do rather than impose a design upon the site.
"The key is really to work with the existing landscape to enhance it rather than to try to force something upon it," says Ralston. "At the same time, however, you have to take structural components into consideration. You have to make sure retaining walls and footers are strong enough, that drainage is accounted for, and that you still end up with something that blends with the natural surroundings in an artistic and attractive way."
According to Ralston, planning and designing is the key to success. Rushing the design process can doom a project to failure. Ultimately, this job required three site visits and about 24 hours of desk time to get all the components onto paper. Then there were additional meetings with the customer, an engineer and other subcontractors.
"We ended up with 44 separate line items on this job," says Ralston. "We had to consider how much dirt we were going to move and how we were going to move it, how deep the footers for the retaining walls would need to be and at what intervals we would place piers for added structural strength, how we would manage drainage, how we would incorporate vertical and horizontal curves and arches into each aspect of the job to provide artistic continuity, and ultimately, how we would manage it all from a manpower point of view."
---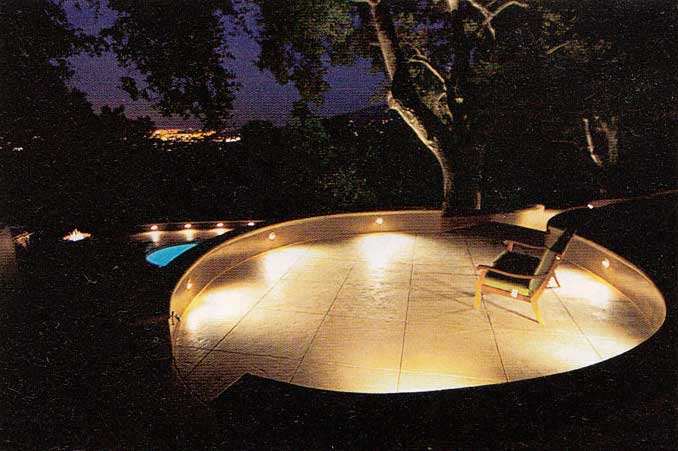 Project at a Glance

Client: A homeowner in Saratoga, Calif.
Contractor: Tom Ralston Concrete, Santa Cruz, Calif.
Project Description: Create a series of retaining walls, stairs, and an upper deck on a hillside. Remove and replace existing pool deck and add a new jacuzzi.
Challenges: Achieve a blend of horizontal and vertical curves, and color the concrete to blend in with and enhance the natural surroundings.
Materials Used: Alcantar color hardener in Nutmeg, Matcrete Dustone colore hardener in Limestone and Phoenix Tan.
---
The end result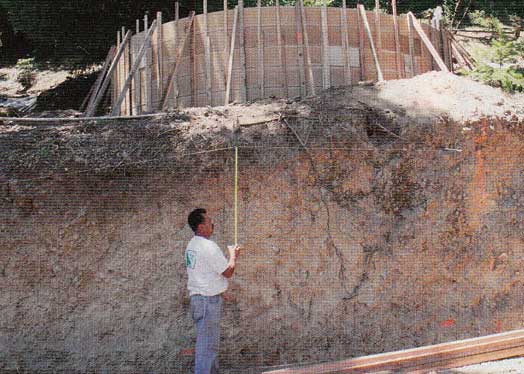 When Ralston's crew went to work they were faced with the daunting task of moving more than 200 yards of dirt to accomdate footers, piers and steps -- and they had to move most of it by hand, because they couldn't get any excavating equipment onto the upper section of the site. They removed the existing pool deck and retaining wall and formed for three separate new retainig walls, which create terraces within the hillside. They also formed for stairs curving upward to a new upper deck and a curved coping for a new jacuzzi next to the pool. The walls, stairs, upper deck and jacuzzi all sport curves with matching radii, blending with the natural curves on the hillside.
Drainage was directed to two separate 4-foot square by 5-foot-deep perc pits (percolation pits) which were lined with filter fabric and filled with 3/4-inch gravel, with the fabric wrapping over the top of the rock. The filled pits were then covered with topsoil, which allowed for planting shallow-root landscape plants.
The crew placed 145 cubic yards of concrete in six separate pours. On wall pours, forms were pulled within three hours, and the visible facings of the walls were trowled and finished with color hardener. The vertical contact facing alone totaled 1,326 square feet. The dirt-side face of each wall was waterproofed to prevent staining from water seepage into the exposed, finished faces.
From beginning to end, the job took more than three months and 2,263.25 man hours.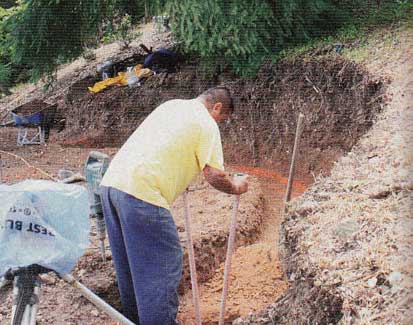 Function and form

"Taking on a challenging hillside like this -- the desining, engineering, planning, and then doing the actual work -- can be really stressful. You have to constantly stay on top of the detials," says Ralston. "But in the end, everyone involved gets to see how all the individual components end up in a beautiful blend of decorative concrete and natural landscape. It can be one of the most rewarding aspects of what we do."
Ralston approaches each hillside as an artist. His concrete palette includes more than 800 different colors, which he applies with a variety of techniques. To him, each project is an artistic collaboration with the homeowner, landscape and lighting designers, and his talented crew. "A hillside lends itself to letting us show off some of the beautiful ways a hardscape can enhance the softscape," he says.
The results can be breathtaking.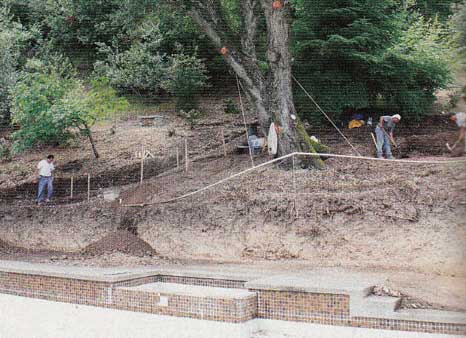 "There's nothing more dramatic than seeing a beautifully sculpted set of stairs traversing down a hillside between curving retaining walls that mimic the undulations of the natural landscape," Ralston says. "Combined with plants and lighting it can be stunning."
What Ralston wants above all is to make his clients happy.
"It's a joyous thing to produce work that people are thrilled with," he says. "We develop a relationship when we're doing the project, and we often remain friends afterward. We're really happy when we see each other, kind of like a couple of dogs wagging their tails. That's what I love."