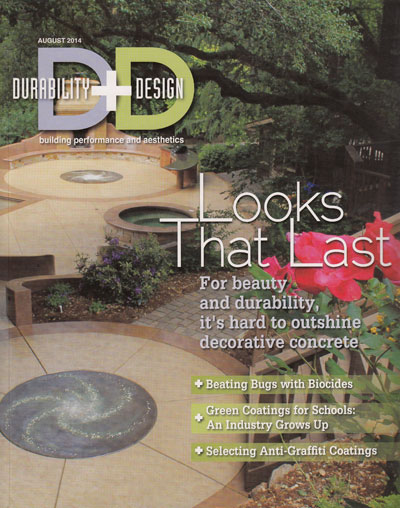 Concrete QA - Setting a Standard for Decorative Concrete
The ACI's new guide shows what's possible and tells contractors how to accomplish it.
By Jamie Farny, Portland Cement Association, and Larry Rowland, Lehigh White Cement Co.
This article answers concrete contractors questions about the new American Concrete Institute's (ACI) comprehensive new guide to materials and methods used to produce decorative concrete finishes. This is a 45-page Guide to Decorative Concrete (ACI-310R-13).
The following Tom Ralston Concrete project/image is featured in the article: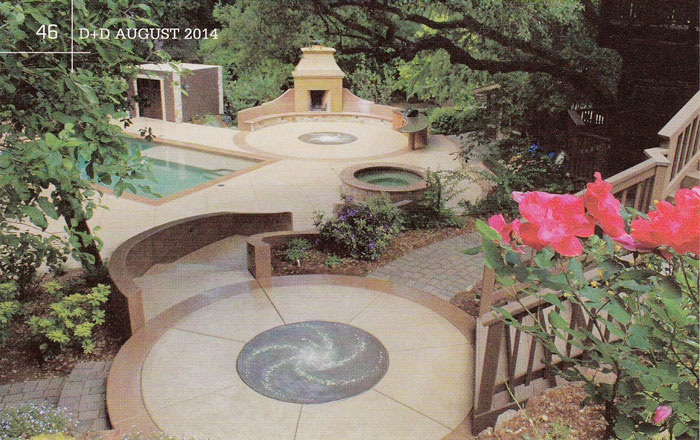 The guide aims to take the mystery out of producing decorative finishes. Here, the 5,000-square-foot (465-square-meter) stamped concrete patio at a residence in Saratoga, Calif., is colored with dust-on broadcast colorant in shades of nutmeg on walls and trim, and cappuccino on the deck. The spiral galaxy designs are created with a glow-in-the-dark aggregate. Photo courtesy of Tom Ralston Concrete.
See more of the Lumi Lumi Milky Way Medallion project.
Durability + Design Case Studies
Profiles in Decorative Concrete
By Gary Henry
Chinese Memorial Gate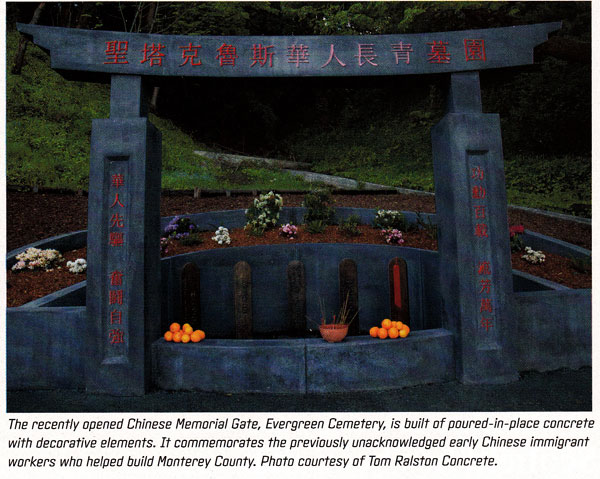 Decorative Concrete Contractor: Tom Ralston Concrete, Santa Cruz, Calif.
Scope of Work: Design and install a decorative concrete hillside memorial.
Products: Graniterock ready-mix concrete, Davis Colors Dark Gray (Iron Oxide) 860 powder pigment.
They say ghosts roam forested hillside Evergreen Cemetery in northeast Santa Cruz, Calif. They're said to be the spirits of Monterey County's early Chinese immigrant workers, buried and forgotten, with only narrow wooden planks to mark their graves, if that.
As railroad workers, fishermen and farmers, they helped build this prosperous California community, through their lives and accomplishments have long gone unacknowledged.
If you visit that hillside, you might not see or hear the restless spirits. You will see the decorative concrete Chinese Memorial Gate, only recently built to honor their memory and achievements.
Tom Ralston Concrete, Santa Cruz, constructed the memorial. The Santa Cruz Museum of Art and History commissioned it. Private donor and developer George Ow funded the project, which was unveiled in a public ceremony in March.
Ralston researched traditional Chinese architecture and Chinese burial grounds, and worked with scholars from the museum to create the gate design. The poured-in-place project's main feature is a 3,380-pound (1,760-kg_, 19-foot-long (6-meter-long) beam shaped like a Chinese rafter, atop two 13-foot tall (4-meter-tall) square pillars.
A dedication in red powder-coated, stainless-steel Chinese characters is emblazoned across the beam: "To our Chinese forefathers who helped develop the Monterey Bay area."
Ralston says he took this project more personally than most. "The oppression these people endured as they toiled so long and hard weighed on me," he said, "as did the project's cultural and historical significance." Ralston noted that he tried to express those perspectives in the concrete design, integrally colored with a dark gray iron oxide pigment.
Almost as important as the gate's architectural design, Ralston says, was the project's concrete mix design.
The third-generation concrete contractor used 20 cubic yards of self-consolidating concrete with nine admixtures, including two types of water reducers to make the concrete "rock-hard."
"It's probably one of the more structurally sound, state-of-the-art progressive mix designs," Ralston said. He estimates the gate is 10-15 times more durable than the concrete of the Roman Coliseum, which has been around for 2,000 years.
The project presented a few challenges, he said. One was the site, located on rough terrain halfway up a hill, about 200 feet (61 meters) from the nearest access road.
Ralston's six-man crew had to march all their equipment, including forms, up the hill. The gate itself - a structural project with decorative characteristics - was a first for Ralston's company.
He attributes the gate's crisp, clean lines to superior formwork by the company's master carpenter.
"We're all proud of this project," Ralston said. "And it was an honor to be asked to participate. But it has an energy and significance far beyond its construction."
See more about the Evergreen Chinese Monument project.