Santa Cruz Sentinel--February 1, 2012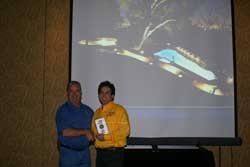 SANTA CRUZ - Tom Ralston Concrete won top honors in January at the 2012 World of Concrete in Las Vegas, his first best overall award.
The winning project involved revamping a hillside in Saratoga, installing undulating concrete retaining walls, a series of scalloped concrete stairs, patios, a pool deck and fire pit.
Ralston claimed first place for "Cast in Place Specialty Finishes," then competed against 50 other entries in 11 categories to be chosen "Best Overall Decorative Concrete Project" in 2011.
The Decorative Concrete Council, affiliated with the American Society of Concrete Contractors, St. Louis, calls it the WOW! Award.
This is the fourth time Ralston has earned first place in national competition. A third-generation concrete contractor from Santa Cruz, Ralston has worked on projects as far away as Panama and New York.
Tom Ralston Concrete landed 3-National Honors this year @ the World of Concrete. TRC won a second place for Best Vertical Applications; A First Place for Best Specialty Finish and Last but not Least TRC first place Specialty Finish Project was the receipient of the WOW! Award that had to compete against 50 other projects in 11 different catagories. TRC greatly appreciated this National award and knows that it is a collective effort in the TRC Company that makes all of this possible.