Saturday, July 16, 2011
San Jose Mercury News
CONCRETE Moves Uptown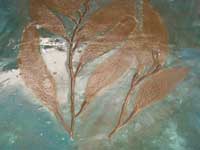 Inside homes, the gray industrial sidewalk component becomes a colorful, functional work of art. By Joan Morris
Concrete, that construction world staple that fills driveways and discolors the cityscape with its industrial grayness, is showing up in an unusual place these days—inside our homes.
But it's not the cold, bland concrete your may envision. In the hands of artisans—and with the use of dyes, acid, minerals, molds, forms, textures, finishes, polishes and sealers—concrete has moved seamlessly into kitchen countertops, bathroom vanities, showers, fireplaces, even interior floors. It's also a surprising green choice because old concrete can be recycled into new.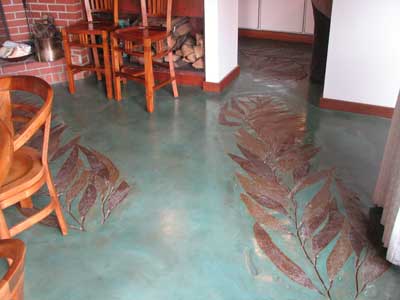 "We're really elevating concrete off the sidewalk" says Buddy Rhodes, a San Francisco craftsman involved in decorative concrete for 20 years.
The move has been slow but steady, says Jim Peterson, who founded the Concrete Network website in 1999 after seeing examples of the work—largely unknown to the general public—that was being done.
Fewer than 1,000 people visited Peterson's website in its first year, but last year, 12 million explored the site. "To be fair", Peterson says, "even now the common reaction is, "Wow, I didn't know you could do that with concrete'. It's still not everyday mainstream, but it's getting there."
Part of concrete's popularity is the green factor. It does not have to be harvested, shipped or manufactured, and if done correctly, a concrete, floor never needs to be replaced. Most owners of homes with concrete slabs simply pull out their carpets and subfloor and work with the slab already in place.
Rhodes says it can be re-polished, resurfaced and re-stained to make it into something new. "You don't have to throw it out after 20 years of service," he says. But if you did, you could break it up and use it as aggregate for another batch.
Concrete can be molded into almost any shape. It can be colored, stained, stamped, dyed, polished, waxed and sealed. The possibilities are limitless. Almost.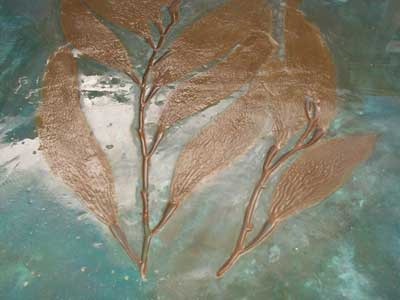 "I can't pour a concrete airplane and make it fly," says Tom Ralston, who has a reputation as a concrete rock star in the Santa Cruz area. "Everything else is good." Ralston, a third-generation concrete contractor, had little interest in pursuing a career in the family business. He earned a degree in political science and had plans to go to law school, but one day he went surfing and forgot about a law career. After moving to Hawaii and working in construction, he found people were lining up to have his decorative concrete in their homes. He eventually moved back to California, took over the family business and introduced decorative concrete into the company's offerings. Ralston recently was inducted into the Decorative Concrete Hall of Fame—he was as surprised as anyone to find out there was such a thing—and has written a how-to book on kitchen countertops. Ralston says concrete is so associated with construction that some people have difficulty thinking of it beyond the cement mixer. "A lot of people think of it as something industrial," Ralston says, "not aesthetic."
That's why decorative concrete practitioners emphasize the artistry of their work. Rhodes, who began his career as a potter and then moved into sculpture, sees his work and that of others as a craft, not a labor. He relishes the thought that each piece is carfully crafted as a work of art, and not something you can purchase off the shelf at your local home supply store. While Ralston typically builds forms and pours the concrete on site, Rhodes prefers to prefabricate pieces in his studio. He also makes concrete tiles. Both create original, one of-a-kind products that cater to the needs and desires of the clients, which includes custom colors, styles and even embedding decorative objects into the concrete.
Carolyn Ferris has been enamored of concrete for about 20 years, she says—right after she saw the work Rhodes was doing. Her first purchase was a concrete chaise longue created by Rhodes, who was just beginning to promote his ideas for using fiber-reinforced concrete. When Ferris remodeled a home in San Francisco a few years later, she sought out Rhodes to do vanities and countertops. She late sold that house but now owns a home in the city and one in Sonoma, and both feature Rhodes' work in bathtubs, floors, vanities, kitchen countertops and a fireplace mantle. He's an amazing designer," Ferris says. "I tell him what I want, generally, and we choose the colors. What he comes up with is just really amazing. The concrete is holding up well to use, Ferris says. "The kitchen counters receive the heaviest wear and tear, and sometimes hot pans or oil can create a slight change in the color, but it only adds to the complexity of the piece, she says. The main reason I like concrete," Ferris says, "is the feel. It doesn't feel cold. It feels warm and pleasant to the human hand."
For Layne Collins, who lives in an 1889 Victorian, her concrete work, done by Rhodes, was the perfect tool to bridge the vast divide between the past and the present. "I'm looking for something that can provide the practical surface that I want with an eclectic look." Collins says. "I wanted to be true to the Victorian qualities of the home while making room for my contemporary furnishings. My concrete counters do that."
Brad Wiles of Santa Cruz is another concrete devotee. Ralston has done three major projects for him—acid stained kitchen counters, concrete floors and a patio that includes an outdoor kitchen. "We built a very nice house," Wiles says, "that had those white tiles and dark grout that were so popular then. After 25years, we wanted to do something different. Granite was too trendy, and it was actually my wife who explored doing concrete." Acid staining has a slight risk to it. Ralston, who specializes in the form, says it's a process that doesn't guarantee an exact outcome. When concrete is dyed, pigment is usually blended into white concrete during the mixing process, and is much like blending a paint color. But acid staining is blended on a blank concrete canvas, with the acid reacting to various minerals and chemicals to create an organic pattern and color. You con anticipate the color and pattern, but can't predict it precisely. Once Wiles was satisfied with the look of his countertops, a sealer was used to help protect the surface and give it a smooth, glossy finish. "I'm a bit of a home chef," Wiles says, "and I worried about the concrete being durable. You have to be careful with any surface but we haven't had any problems at all."
Richard Zlatunich has discovered the same thing. Ralston did concrete floors throughout Zlatunich's house, installing radiant floor heating and creating a dar, luxurious look to the floors. Most people, Zlatunich says, compare the look to rich, aged leather.
"They've held up very well" Zlatunich says. Zlatunich a Santa Cruz area architect, says, "We have children and grandchildren, dogs and other animals, and they can't do anything to harm the floor. We have lived in homes with tile floors—all different kinds of tiles—but we like concrete."
While concrete is gaining in popularity, it's not everyone's choice. Peterson says those looking for symmetry and precision likely will be happier with other manufactured options. It's not that concrete doesn't have those attributes—it's just that it's more free-flowing and more of an art form, he says. Rhodes says he's not certain he would have found success elsewhere. "People here understand it more" Rhodes says. "I started out in the Bay Area, where people wanted to do something different. In other parts of the country, they probably wouldn't have allowed me in their kitchen."