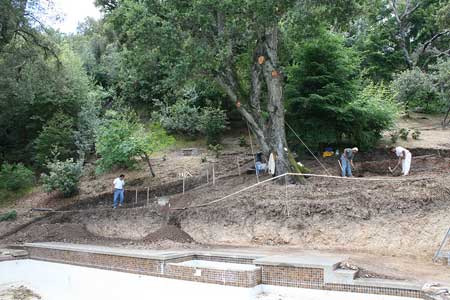 A MUST SEE!! Beautiful showing of how to sculpt hillsides thought unusable and transformed by Tom Ralston Concrete seen in the San Jose Mercury in October 15, 2011.
The art of sculpting your hillside hardscapes
Local concrete contractor in Santa Cruz collaborates with home owners for breathtaking results
Tom Ralston's grandfather was pouring concrete foundations, patios, and walkways on steep Santa Cruz hillsides in the late 1920's, but he would be amazed to see the beautiful organic hardscapes the family business creates today.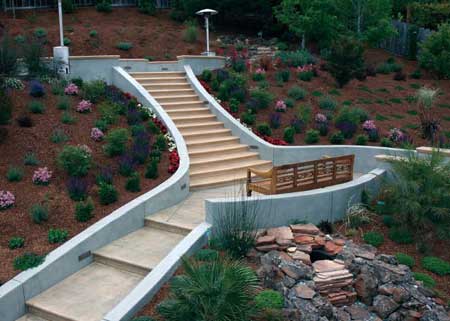 "I'm a fourth-generation Santa Cruzan and a third-generation concrete contractor," Ralston said.
"Some of the projects we've done have even my dad just shaking his head."
Ralston approaches each hillside as an artist. His concrete palette includes more than 800 different colors, which he applies with a variety of techniques. To him, each project is an artistic collaboration with the homeowner, landscape and lighting designers, and the talented Tom Ralston Concrete crew. The result can be breathtaking.
"There's nothing more dramatic than seeing a beautifully sculpted set of stairs traversing down a hillside,' Ralston said. "Combined with plants and lighting it can be stunning."
Ralston loves his work--and he loves doing it here in the Bay Area.
"There are so many artistically minded people on the West Coast," he said. "We are really lucky to have people here who want to do things that are different, that are artful, that make a statement. That's true in architecture, art and music." What Ralston wants above all is to make his clients happy. That's the big payoff for him.
"It's a joyous thing to produce work that people are thrilled with," he said. "We develop a relationship when we're doing the project and we often remain friends afterward. We're really happy when we see each other, kind of like a couple of dogs wagging their tails. That's what I love."
"A hillside lends itself to letting us show off some of the beautiful ways a hardscape can enhance the softscape," Ralston said. "The location is our canvas and our trowels are our artist's brushes."