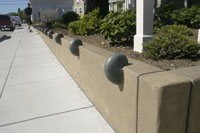 July 21, 2003 - After Tom Ralston Concrete recently finished a handsome concrete wall for the Pacific Gardens Chapel in Santa Cruz, CA, local skateboarders promptly began destroy it while practicing radical new "railing" and jumping techniques. Owner Gary Benito rapidly became frustrated and turned to Tom to brainstorm a solution.
Neither Ralston nor Benito were thrilled with the solutions around town that use bent rebar or metal plates to deter the skateboarders. Tom got an idea and within hours went to the Santa Cruz wharf to buy a seashell that was quickly made into a mold. From there a polymer concrete was used to cast a replica of the shell, adding a piece of rebar in the mold that could be used to fasten to the wall with epoxy. Ralston went one step further and coated the the concrete shells with copper epoxy that was polished with steel wool and "antiqued" to give a bluish hue for effect. Finally the walls were drilled and the shells attached. However creative, Ralston's son Zach, an avid skateboarder, was not too thrilled with his dad's idea...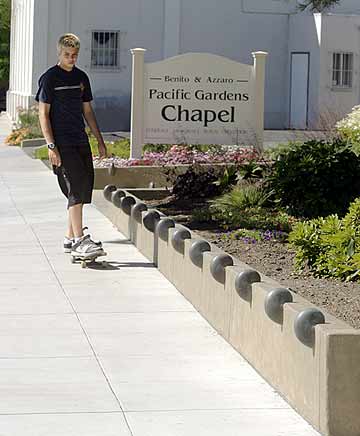 Santa Cruz, CA: Skateboarder passes by concrete wall at Pacific Gardens Chapel which previously had been damaged by skateboarders. Tom Ralston Concrete cast the decorative shells from a concrete polymer, which has prevented further damage from occurring. For more info call Tom Ralston Concrete, tel (831) 426-0342
About Tom Ralston Concrete. Tom Ralston Concrete was founded by Tom's grandfather Wilbur Thomas Ralston, in 1928. The company, based in Santa Cruz, California, employs 30, has two masonry divisions, and an on?site showroom. When Tom took the helm from his father Jim in 1989, he brought his creative flair, which naturally altered the company's focus from traditional concrete projects to modem, decorative concrete stamping, staining, and one-of-a-kind structural projects for residential and commercial clients. One of Tom's primary goals is to stay one step ahead of innovation by consistently scouting out new products and helping clients achieve the unique projects they envision. Tom is a frequent speaker and trainer of decorative concrete techniques at industry conferences and seminars, including CONEXPO and the Decorative Concrete Council. Tom Ralston Concrete does work from Carmel Valley to Portola Valley.