This volume of Decorative Concrete Master Q&A is inspired by a question that we received from concrete contractors in Australia about how Tom Ralston Concrete has used seaweed and other natural materials in decorative concrete. In this Q&A Tom references a project to highlight the process and use of custom made seaweed molds, check out the project here. Tom then goes into further detail about not only using seaweed in decorative concrete, but also the general aesthetic, function, utility and cost of using natural materials in decorative concrete jobs.

Tom, we are concrete contractors in Australia. I have been asked to see what we can achieve with seaweed. Are you willing to provide me with the process you use?

Tom Ralston: The way we made our seaweed molds was to harvest live seaweed from the Monterey Bay, bring it back, wash all the saltwater off of it, and make rectangular or square clay trays. We then embossed the seaweed into the clay - the clay was about a half an inch thick. If the seaweed were long strands, we had long rectangular frames filled with clay. If they were more square we'd have a square frame filled with clay. Then we rolled paint rollers on top of the seaweed to give it its impression. The next day we filled the clay molds with poly-urethane rubber and let that dry and cure, and it became a stamp - so that's how we made our stamps.
How can the use of natural materials add to the aesthetic and function of decorative concrete?
Tom Ralston: If you're talking about flagstone or rock, then that's pretty easy. Flagstone or rock is a natural material. If you make concrete that harmonizes in color with some of the elements of color in the rock or the stone or the flagstone, it will certainly enhance your concrete work. The other natural material you could use, that some may consider, are acid stains - which are made from iron-oxides from the earth, from minerals. The iron-oxide is turned into an acid. Myradic acid and water are used as a vehicle to take the iron oxide and transport them into the concrete matrix, and hence stain them. So that's another example of what I might consider, or someone might consider, to be a natural material - the acid stain. Again the other natural materials would be stone; however, placing wood in a close proximity of concrete can also be considered the use of a natural material.
Can you give examples of when you used seaweed or other natural ocean materials in your concrete?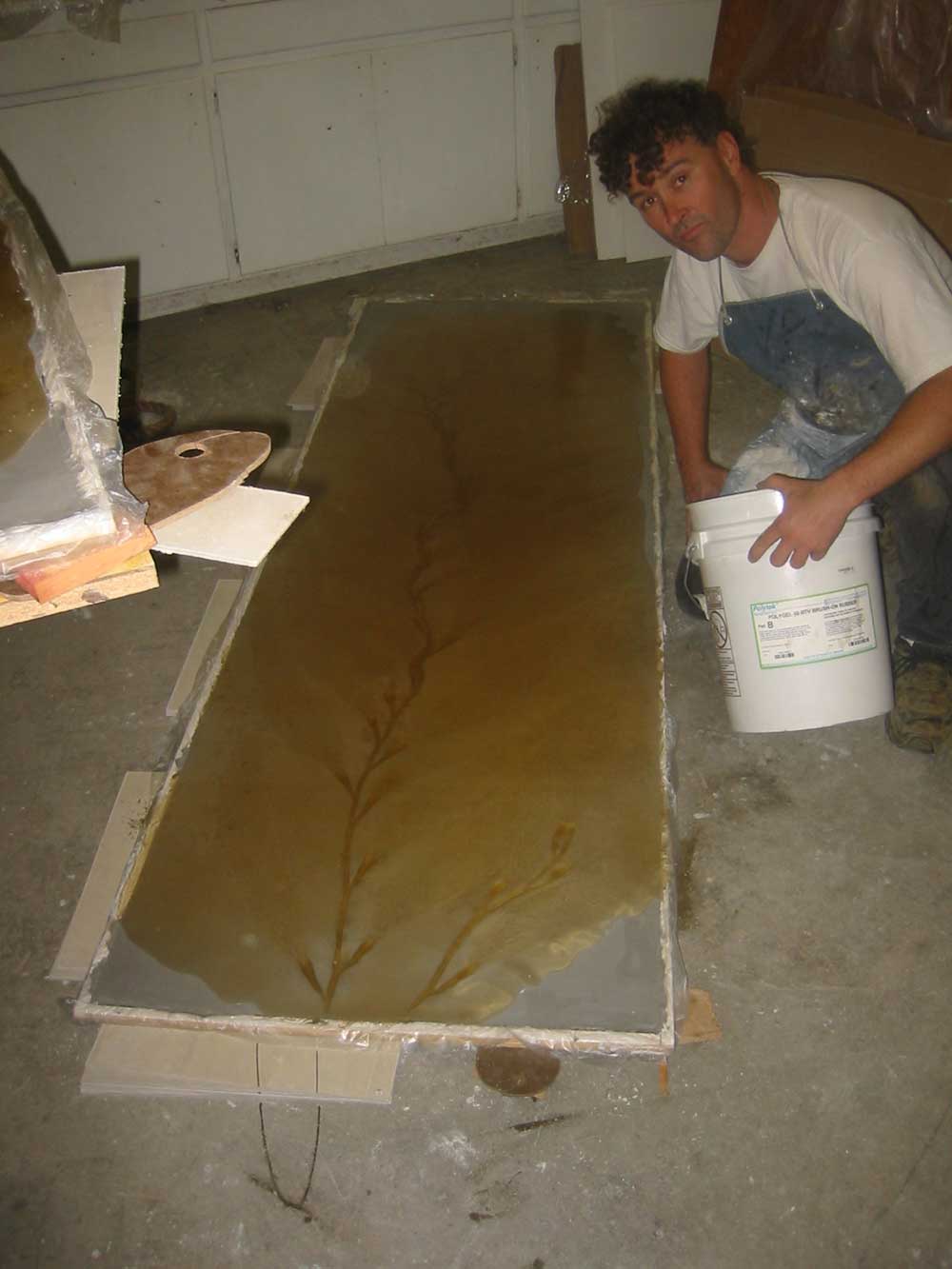 Tom Ralston: Yes, we used seaweed in a client's living room floor. The client wanted to have something that was ocean-themed. We started talking about how he lived right on the beach in Santa Cruz, and the conversation ended up at, "What would happen if there was a giant tidal wave? And what would your floors look like?". And I said, "Well the floors would probably look like they have driftwood and seaweed and other flotsam from the ocean that would indicate that there was a serious tidal wave, or flooding from the ocean's swells." That conversation was the genesis for this project.
So we made special molds, like I described earlier with the seaweed molds, and we stamped the client's floor. The floor was only ⅜" thick, ½" at the thickest point. And the molds, with the bulbs on the seaweed, were over a ¼" themselves, so it was almost to the point where the bulbs from the seaweed molds were going down to the floor, the bare floor, but it didn't do that. And then afterwards, we acid stained these pieces of seaweed that were stamped into the floor.
My associate Bill Goff did a technique that he came up with called a dry-rub, and it's where you take just little bits of acid on a rag and rub it in, very gingerly and carefully, rather than spraying lots of liquid. So we used Bill's dry-rub technique so that the top parts of the seaweed profile, the higher parts, got one color and then down in the lower parts, the trough, there was another. The seaweed bulbs became a dark Padre Brown and some of the leaves were a light Antique Amber, just like you see regular seaweed.They had some parts that were darker than others so it looked very natural.
The other job that we used the seaweed was for a memorial out on West Cliff Dr. in Santa Cruz, CA for Robert 'Wally' Waldemar. We had his brass plaque at the top, and then the seaweed wrapped around the face of a rectangular piece of concrete. It had a top that tilted down so you could read the plaque that much more easily. And it said, "Robert Wally Waldemar - The Ocean Was My Life and My Life Was The Ocean". So it was really cool. The seaweed for this job got acid-stained much in the same manner as I described earlier using the dry-rub technique. Then around the seaweed leaves, both for this memorial and for the previous project, we acid stained a green blue color - similar to the color of the Monterey Bay, the body of water that these jobs overlook here in Santa Cruz.
What is the process you used to accomplish the use of seaweed or other natural materials in the past?
Tom Ralston: It's basically just stamping concrete with the seaweed mold. We've done similar things with other natural materials - we've put Mexican pebbles and turned them up on edge so they look like dorsal fins. And we've turned rocks on their sides so that there could be patterns that flow in a serpentine fashion, some of them look like schools of fish swimming around a fountain, we've done that with bands. It's great not only used as a band looking like dorsal fins, but also to incorporate a functional drain below. So most of the rocks are grouted in, but where the drain is they're not grouted in so that it functions as a drain yet looks seamlessly incorporated into the pattern. So you have this aesthetic function and a function of utility - that being the drain.
What is your favorite aspect of using materials like seaweed in your concrete jobs?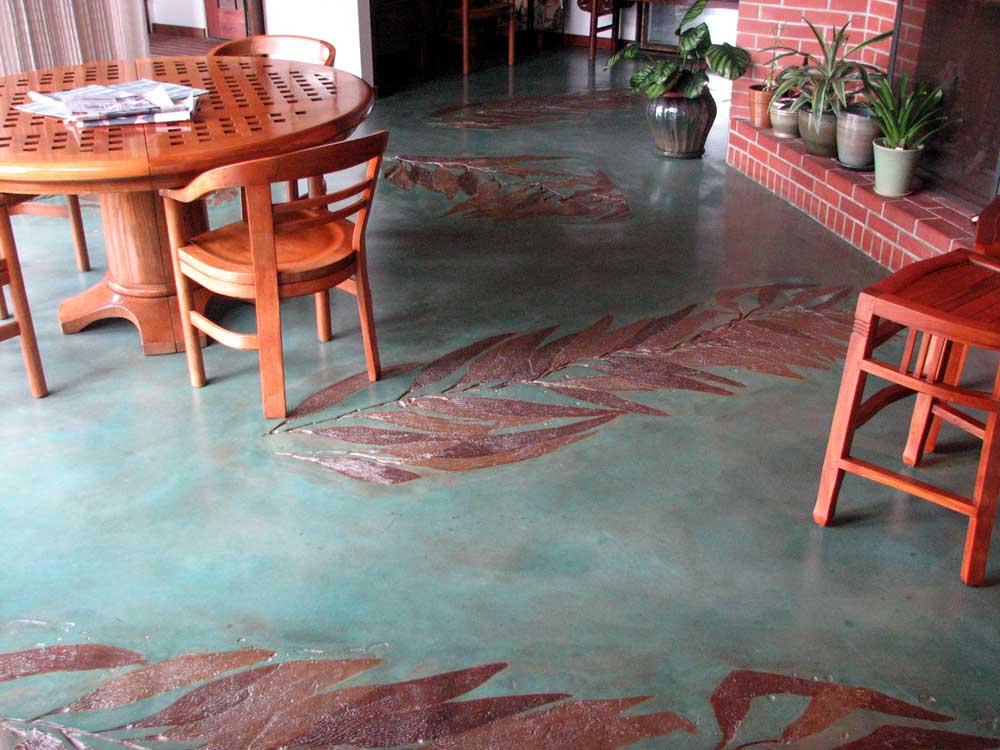 Tom Ralston: My favorite aspect of using natural materials like seaweed is that it's so unique, it's so different. It's such a wonderful way to express concrete in an artistic way. Not a lot of people know this but, Pablo Picasso was a huge lover of concrete and made sculptures out of concrete. Antoni Gaudi from Spain is another that used concrete and stucco as an artistic medium. Thomas Edison made concrete pianos, and concrete cabinetry, and wanted to mass produce concrete houses so that he could have houses that were like Henry Ford's cars, houses that were mass produced - but it didn't work out. Again, coming back to the question, my favorite aspect is that you can create concrete jobs that both last forever and are very unique and very artful. The Chinese Memorial Gate that we did at the Evergreen Cemetery is an example of using concrete as a medium to express not only art, but cultural and historical significance. That project was a wonderful way to use concrete to accomplish all three of those things.
What is the cost benefit of using seaweed or other natural materials in concrete?
Tom Ralston: I don't think there is a cost-benefit. I think that when you start incorporating art like this into concrete, the costs rise. So there's no real cost-benefit of using seaweed or other natural materials in concrete, unless there's a situation where someone wants very expensive stone imported from Italy, but instead they opt to use a really nice decorative concrete that actually is less money. Some of the stone from Greece and Europe, England, Italy, France - they have some outlets and vendors that use real cobblestone from the streets of Europe. I mean that's hugely expensive, so you could compete with that kind of product using an artistic decorative concrete. But for the most part, these kind of artistic applications are not cost beneficial.
What are the most common applications for seaweed or other natural materials in decorative concrete?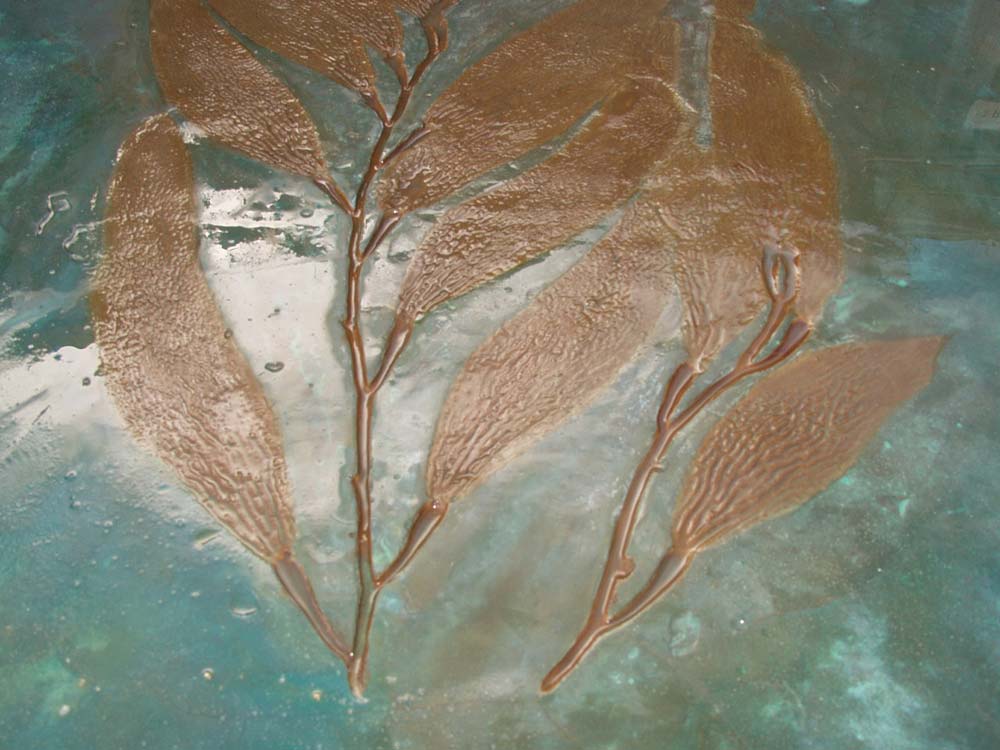 Tom Ralston: I don't think there's a common application for any of those, there's unique applications. They are called out randomly, there's no formula for using them over and over. We are going to be making arrows for a roundabout at the Santa Cruz Wharf, and we are going to be using fish instead of those commonplace arrows that are usually painted on, and are boring as can be. You see so many of those roundabouts in Europe, but they just have little arrows to point the direction. We're going to be casting fish and schools of dolphin that will all be floating and pointing in one direction. That is a great application for utility and art, but it's not cheap. Nonetheless, it is a great way to apply art and concrete for a utility purpose, such as a roundabout.
Alright folks, that's it for this edition of Decorative Concrete Master Q&A, join us next time for more insider knowledge from decorative concrete master Tom Ralston. We post these Master Q&A's on the first and third thursdays of each month.
Did you enjoy this edition of Decorative Concrete Master Q&A? Submit your own question here, or check out one of Tom's renowned decorative concrete books. Also, we'd love it if you'd come over and say hello on one of our social sites. Follow us or like us for more expert decorative concrete knowledge on Houzz, LinkedIn, Facebook or Instagram.