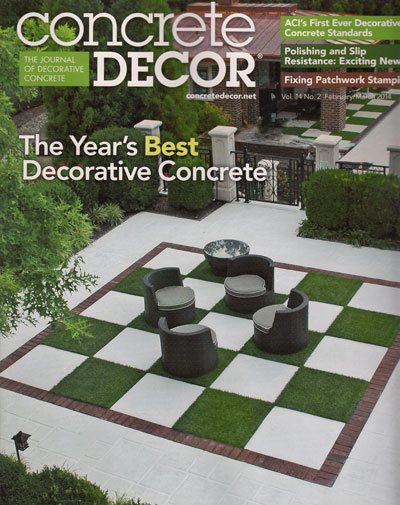 The 2014 Decorative Concrete Award Winners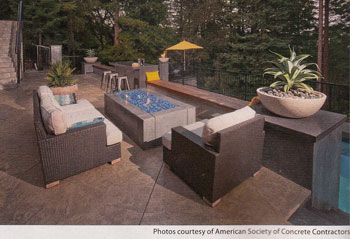 WOW! Award
Tom Ralston Concrete, Santa Cruz, Calif.
---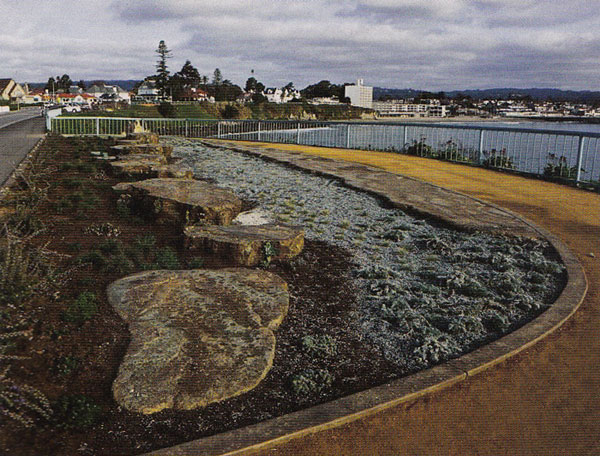 Concrete Artistry, Under 5,000 Square Feet, Second Place
Tom Ralston Concrete, Santa Cruz, Calif.
---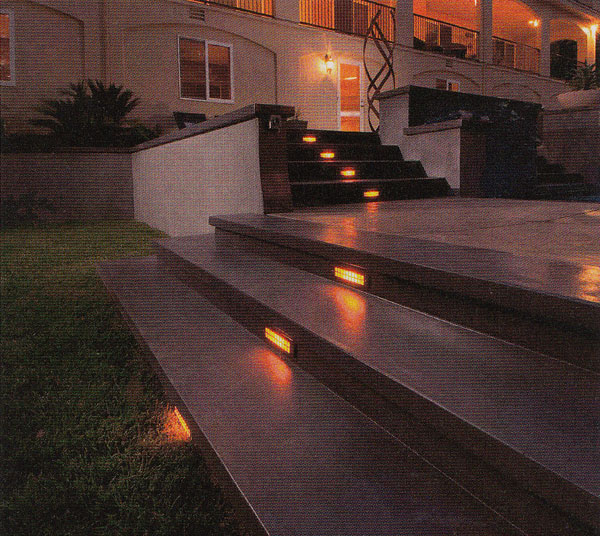 Multiple Applications, Under 5,000 Square Feet, First Place
Tom Ralston Concrete, Santa Cruz, Calif.
---
An Award-Winning Engineered Backyard
Turowski Lap Pool and Dec, Scotts Valley, Calif.
by Chris Mayo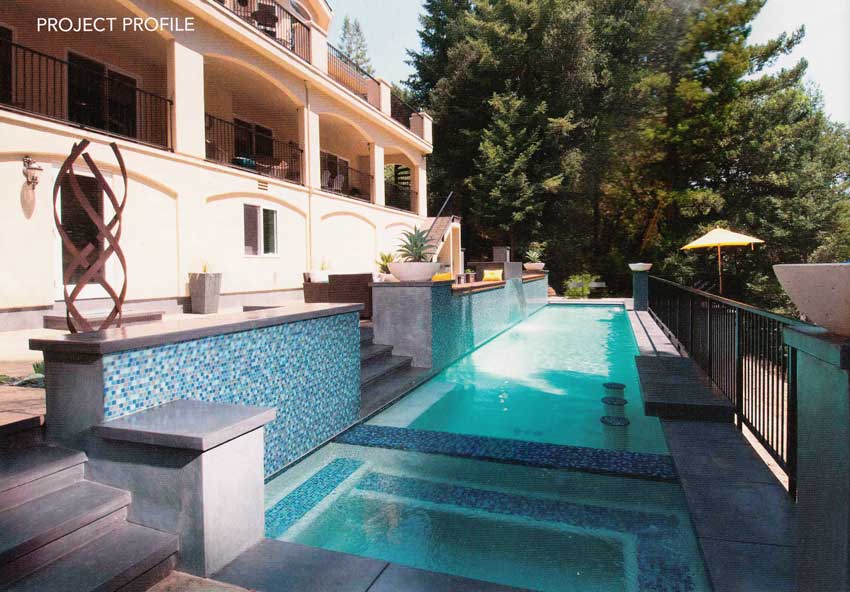 When Tom Ralston Concrete took on the job of building Todd Turowski a lap pool in the backyard of his hillside house in Scotts Valley, Calif., they did so with eyes wide open.
Project at a Glance
Client: Tod Turowski, a homeowner in Scotts Valley, Calif.
Contractor: Tom Ralston Concrete Inc, Santa Cruz, Calif.
Architect: Dana Jones, Santa Cruz, Calif.
Structural engineer: Todd Lacher, Pool Engineering Inc., Anaheim, Calif.
Civil engineer: Dave Dauphin, C2G/Civil Consultants Group Inc., Scotts Valley, Calif.
Products used: Brickform Color Hardener, colored Sandstone, and Clear Release; Proline Concrete Tools Italian Slate seamless texture mat; Alcantar Color Hardener in Platinum; L.M. Scofield Co. LithoChrome Color Hardener in Classic Gray; American Specialty Glass' Large Blue Glass and Fine Glass with Amber and Green Colors; Super Stone Low Glass Concrete Clear Sealer.
Project description: Transform a steep backyard hillside by constructing a lap pool and terraced deck with several artistic touches.
There are a few things that define Tom Ralston and his company, Tom Ralston Concrete (TRC):
They like a challenge.
No job is impossible.
Customer input is encouraged.
Planning and visualizing is as important as any other aspect of a job.
All these factors came into play on the Turowski lap-pool job. "We started the preliminary work in February of 2012," Ralston says. "It took a lot of planning because of the challenges: a steep hillside, no easy way to access the site, severe drainage issues, and some serious structural engineering demands."
The customer had a general idea about what he wanted, a lap pool surrounded by attractive concrete decking with decorative features, but he didn't have a complete vision of the finished product. TRC needed to collaborate and brainstorm to come up with a viable plan.
"We wanted to sculpt something stunning with patios, stairs, lighting, polished concrete countertops - the works," says Ralston.
That left a simple question, he says: "How the hell are we going to get from this rugged hillside to an end result that matches the vision?"
Structural Details
To arrive at a feasible and structurally sound design, Ralston, as general contractor, enlisted an architect and civil and architectural engineers.
"There was an overwhelming amount of structural work that had to be done before the pool, pool deck and stairs could be built," recalls Ralston.
The structural engineer handled calculations and specifications for footing and wall thickness, rebar schedules and so on. The civil engineer took on the drainage plans. "We have done this on other occasions, " Ralston says. "I love to handle the communication interface because good coordination in a complicated project is key to a successful project."
Actually, the first challenge was access. The hillside is at an approximately 20-degree slope and, because of the proximity of neighboring properties, there was no easy way to get equipment in and out. Turowski worked out an access agreement with the florist next door, promising to refurbish the hillside afterward. It still wasn't ideal. The crew had to hump equipment and materials downhill and back about 250 feet. Concrete needed to be pumped.
"We asked a lot of our crew," says Ralston. "None of them needed a StairMaster while we were working on this one."
The next challenge was grading and drainage. The city uses parts of the property as storm drainage from the street above the house. TRC had to guarantee that this drainage wouldn't be adversely impacted by the project.
"We had to engineer a really extensive drainage system. This includes moving materials off the site, importing 3/4-inch engineered drain rock (a kind of high-grade aggregate base), compacting the base, and then importing enough material to build up a level surface on which to build the pool. Because we started during the wettest part of the year, we also had to take additional erosion control measures like storm fencing around all the vegetation. Without proper drainage and erosion control, the pool could eventually start migrating down the hillside. Not exactly something we wanted to deal with in the future."
Retaining walls on the downhill side of the pool had to be deep, wide and strong. They ended up being about 10 feet high and 10 inches thick with 2 inches of foam ridging and gunite on the visible surfaces. Thousands of pounds of rebar reinforce the walls. The swimming pool, with extra-wide coping, was designed to sit directly against the walls.
"One thing about decorative concrete work - on a lot of jobs, most of your work is underground and never seen after the job is done," muses Ralston. "Our first wall pour was a straight as a piano wire, and it's kind of a shame that no one will see it, but that's part of the deal."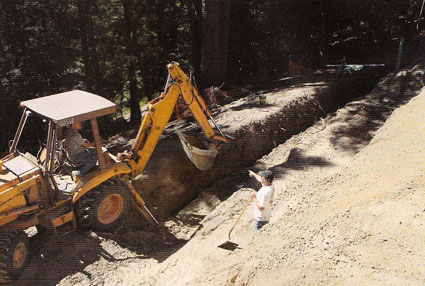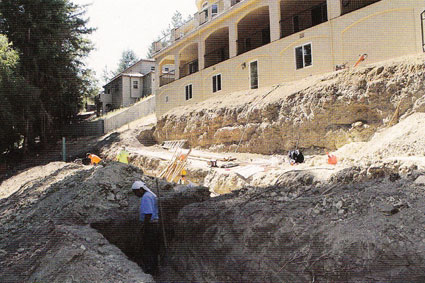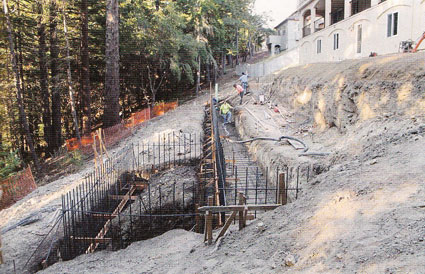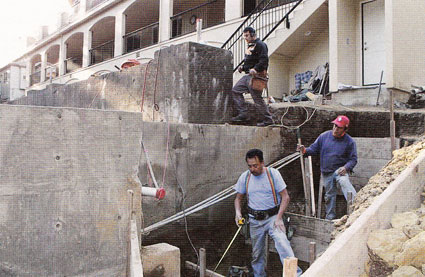 The fun part
With the site preparation and underground work done, and the pool finished by a subcontractor, Ralston and his crew began work on the part they truly enjoy: creating a piece of functional art out of concrete.
"We did much of the structural work with gray concrete," says Ralston. "The coping, upper and lower decks, steps, countertops - all of the visible concrete work used color hardeners from various manufacturers to produce the look that the owner was ecstatic with."
Alcantar color hardener in Platinum was used to tint the poolside coping, the countertops in the small kitchen, and gray elements of the deck. This hardener was also used for the cheek walls that flank the steps, as well as the bench seat walls, which are capped with Ipe, an attractive hardwood from Brazil. The concrete wall lodged into the hillside was also stuccoed with Platinum.
Two concrete countertops - one on the upper deck from which a waterfall cascades into the pool, the other on the coping with sitting stools underwater - were finished with Scofield's Classic Gray color hardener, as were the stairs and other surfaces. The countertop on the deck as a clean-tooled edges and a 10-inch cantilever. The pool edge countertop sports a 6-inch cantilever.
There's also a small kitchenette countertop under the stairs leading up to the porch area. All three tops sport a hard-trowel finish with a light diamond-pad polish.
The pool deck itself was treated with Brickform Sandstone color hardener and a clear release, and it was stamped with an Italian Slate seamless texture mat from Proline Concrete tools. A special concrete lid designed to disguise the sewer drain was stampled and colored like the deck.
In an effort to help reduce slipping around the pool, workers sealed the deck with low-gloss lacquer-based sealer and broadcast fine glass with amber and green colors.
The steps are illuminated with inset lighting that features yellow, white and orange swirled glass with a coppy frame, adding to the overall artistic feel of the area. The golden-yellow lights were designed to pop off the grey concrete.
Two pillars with gas-fire bowls and fire pit. At night the flames provide and extra touch of ambiance.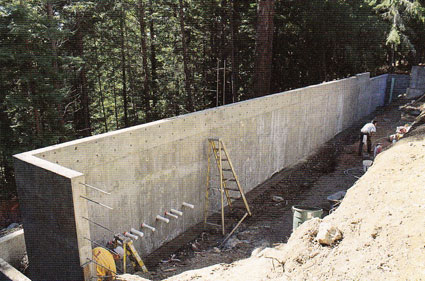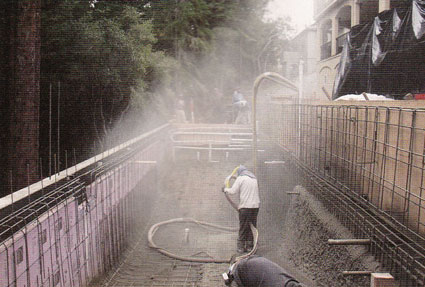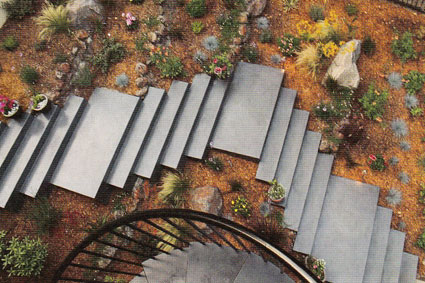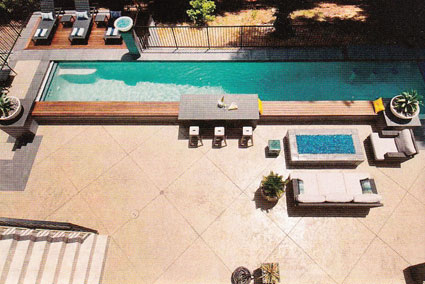 The impossible takes a little longer
Ultimately TRC transformed a rugged and unusable backyard into an elegant and functional area perfect for entertaining, exercising, or simply enjoying the beauty of a day.
"The Turowski pool deck was more than a year in the making with a total cost for concrete work of well over a quarter million dollars and 197 cubic yards of concrete," says Ralston. "Besides the many aesthetic applications, the pool itself was a very different challenges just to get the drainage and structural work completed. With the multiple aspects and extra artistic touches included in the job, we had to do an inordinate number of samples in order to get all the aesthetic cylinders firing together."
Ralston is justifiably proud of his crew. Many of them have been with TRC for more than 20 years, and the nucleus of the company has been together for more than 15 years. "Without an experienced and dedicated team who truly care about creating something special, there is no way we could have pulled this off. They take price in their work. And you know what? As soon as we put the finished touches on the Turowski job they were looking forward to our next challenge."