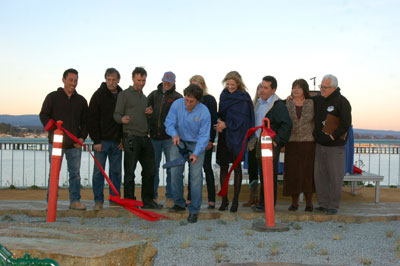 Ralston Concrete, Granite Rock, city and others create West Cliff pocket park
by Justine DaCosta, Santa Cruz Sentinel
A native plant garden overlooking Cowell Beach on West Cliff Drive is ready for the community to enjoy.
Karen Toole, Tom Ralston Concrete, Granite Rock Co., the city of Santa Cruz and others worked together to create the city-owned, privately funded garden. The accomplishment was recently celebrated with a ribbon-cutting ceremony, emceed by Sant Cruz historian Geoff Dunn.
At about 1,700 square feet, the garden contains a variety of low-lying native plants as well as flat-topped boulders inlaid with sea shells, sea glass, shark teeth and other decorations. It also includes decorative concrete and two memorial benches that were already perched on the outlook. Enjoy an ocean view from a garden setting, all thanks to some locals looking to bring a little more beauty to an already famously gorgeous spot.
See more about this project in the February 2nd news article and our gallery of the Cowell's Garden Project.