Master Q&A Blog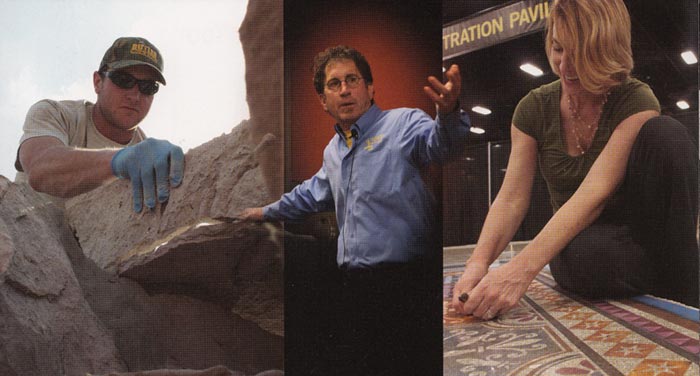 This series is inspired by real questions we get from customers and concrete professionals everyday. Instead of answering these questions one-by-one at events or through email, we've decided it's time to start sharing Tom's vast expert knowledge on a larger scale. We'll be posting these interview sessions with decorative concrete master Tom Ralston twice a month - answering all of the burning questions you have about the art, function and inside knowledge of decorative concrete.
To submit a question for consideration, please Contact us.
About Tom: Tom Ralston is a third generation concrete contractor out of Santa Cruz, California. Tom's passion has been decorative and specialty concrete. He has been at the helm of Tom Ralston Concrete since 1989 with 4 divisions including: structural, decorative, masonry and specialty concrete. Tom has given seminars for over 15 years, including speaking at World of Concrete for 7 consecutive years. His work has been displayed on the covers of more than 7 magazines and appeared in over 60 trade and design publications. Tom Ralston was inducted into the Decorative Concrete Hall of Fame in Nashville on March 16th, 2011.
Details

Written by:

Tom Ralston Concrete
When it comes to the world of concrete third generation contractor Tom Ralston has seen everything under the sun, and he's picked up quite a few lessons and tricks of the trade. Most of the advice found below is not limited to the concrete world and can be applied to running a successful business of any kind. Read on to gain years of experience in just a few paragraphs. What drives you to become the best in your field?
How have you seen the decorative concrete industry change over the decades that your family has been in the business?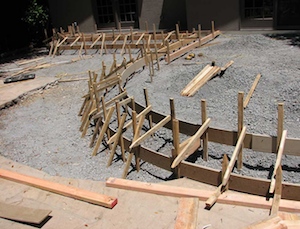 Tom Ralston: I should clarify that my grandfather and my father weren't involved in decorative concrete specifically. The work they did was more standard concrete work; the laying of foundations, sidewalks, and patios.
Occasionally they would cast and place an exposed aggregate patio, something with a little color. However, not really much in the way of decorative concrete when compared with what some folks are doing with concrete today.
So to answer the question, the concrete industry has changed dramatically. I come from a small family business where my father and grandfather used to do business on a handshake. Today there's just a lot more competition and now you've got to make sure you're covering your bases with contracts. People are more inclined to go to litigation these days and it's really somewhat rampant. So, you have to protect yourself a lot more, at least that has been my experience.
What has your experience been with specializing in decorative concrete?
TR: It is a risky business in that it's really hard to control every facet of what makes the concrete decorative concrete. Once you go with a decorative concrete piece the expectations rise exponentially. People look at decorative concrete work with a magnifying glass, exploring every detail. It's not like standard grey concrete where expectations aren't as high.
How do you make a profit in the concrete industry while running a successful business with happy employees and clients?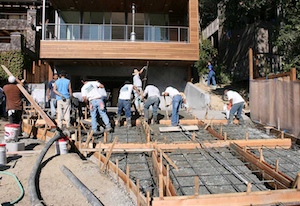 TR: The only way you can make a profit in the concrete industry is by having good employees. If you have good employees hopefully they're happy employees. That brings up the question, "how do I keep them happy?" To answer that the basic tenet is that you have to get work for them constantly.
You can't let your employees go without work. That's the key to an employee's satisfaction. He or she needs to work. So you have to be responsible as an employer to make sure that you have work for your employees. Of course you need a steady flow work to make a profit as well!
As for happy clients you just do good work, do what you say you're going to do, and show up when you say you're going to show up. Hopefully you not only meet a client's expectations but exceed them.
Going back to the first part of the question, it's a really tricky business to make a profit in. First of all, you need your estimates to be correct and have enough profit built into them. Much of the work that we do is so risky so we instate a contingency for each job.
Secondly, you need good management. Managers that understand what the project is and how much time you should have to do it. It's important to develop and manage efficiencies. You need to estimate your project well, manage your project well, and third, of course, you need to make a good product for your client.
What are some of the most important lessons you have learned from your experience?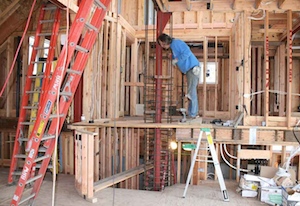 TR: Oh there's so many lessons that I've learned! To begin always stay green and growing, always be a student of what you're doing, and always learn. It's important to keep your talent, by that I mean keep your good employees. You need great employees in the decorative concrete field.
Usually you're only getting a five hour window of opportunity to get everything right. So you need to understand that and having great employees increases the chance of a successfully completed job.
In order to keep a successful business running, you have to keep the pedal to the metal. You have to be aggressive with your leads and go after work. You have to be revved up with a lot of energy so you can keep work flowing. You need that, it's very important.
What do you do try and do on a daily basis to keep things at TRC running smoothly?
TR: I'm always keeping my finger on the pulse of the company. I'm looking at details and processes, I try to be proactive with my procedures, and using foresight to see any potential pitfall so I can prevent a problem from occurring. Because, in the decorative concrete industry there are so many pitfalls and so many landmines that you need to be aware of and try to avoid.
Do you have any advice for dealing with those inevitable moments when things don't work out as planned?
TR: Take notes, make a study of what went wrong. Record the reasons things haven't worked out. Treat it like something that's continually growing and needs to be thought out and worked out. So then, in the future you don't make the same mistakes twice. That's achieved by duly noting what it was that you did.
For example; with decorative concrete sometimes we're mixing three or four different colors together or we're acid staining with one part acid four parts water as a ratio, or we're sealing concrete with an impregnating sealer and others with a satin or an epoxy sealer, and on and on... So you need to record all of these things and to be a student of process and study things especially when they don't work out.
If you could end this Q&A with some fundamental advice for a young person trying to break into the concrete business what would it be?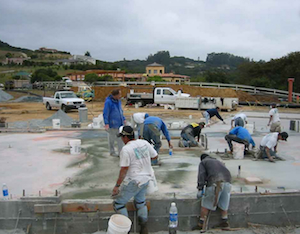 TR: Well, in hindsight it would be hiring great people. If you hire great people your company will become great. As long as you have the understanding of the necessity of talent. Be Careful for who you hire. I've made some bad hires and some incredibly good hires.
There's a book that James C. Collins, a stanford business professor, wrote called Good To Great. One part of the book talks about hiring and to paraphrase, there's a part that goes, "if you don't have the right people on the bus you're not going to have a very good journey."
I would say that it is key to know your own business, know what you want to do, and be driven to do it. Make those really good hires and be on the lookout for really good talent. Keep good records, watch out for really risky projects and watch out for clients who may be problematic.
Some of the best experiences I've had have been through failure. There's that old saying that goes, "necessity is the mother of invention", and I say, "desperation is the father".
When everything goes wrong it can be an opportunity to get really creative, and that's a good thing. Unfortunately, it can be painful at times but pain can drive you too. By the end you find out how resourceful you can be and moving forward every failure makes you a better contractor.
Alright folks, that's it for this week's Decorative Concrete Master Q&A, join us next time for more stories and knowledge from decorative concrete master Tom Ralston. We post these Master Q&A's on the first and third Fridays of each month.
Submit your own questions here, and to find more information check out Tom's books on decorative concrete. Also, we'd love it if you'd come over and say hello on one of our social sites. Follow us or like us for more expert decorative concrete knowledge on Houzz, LinkedIn, Facebook or Instagram.